California Wildfires Are Making Wine Taste 'Barbecued'
Certain wines are well known for their bold, robust and sometimes earthy flavors. But 2020 vintages hailing from places like California may have a new distinct taste: smoke.
The 2020 wildfire season in California has caused insurmountable damage with more than 6,400 fires burning more than 2.2 million acres of land as of September 20, according to CalFire.
That damage has also affected the state's northern wine country, where many producers had barely begun harvesting grapes when the worst of the fires began to emerge in August. And some winemakers are already beginning to taste the effects of the fire, smoke and ash that covered much of the land in wine samples.
"You could already taste and smell this ashy, barbecued flavor, kind of like a campfire," Noah Dorrance, owner of Reeve Wines in Healdsburg, California, told the San Francisco Chronicle in late August.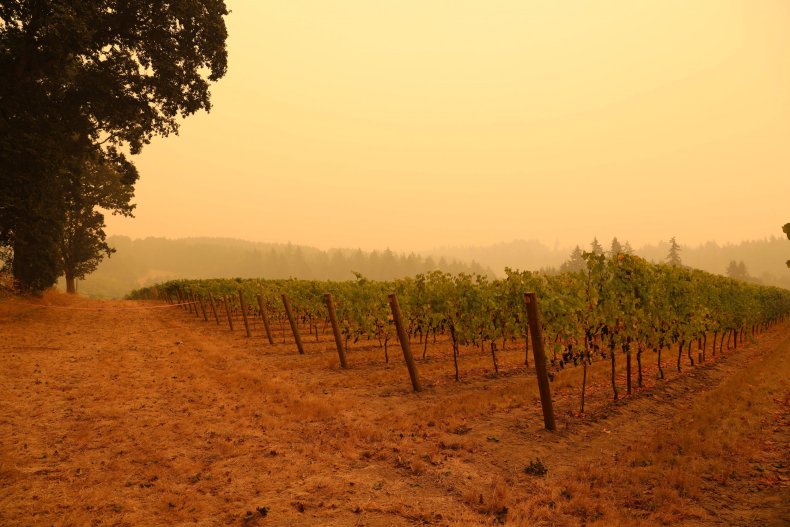 John Aguirre, the president of the California Association of Winegrape Growers, compared the taste of some wines that survived the fires to that of "fecal plastic."
"I tasted it and I went, 'Oh, my God. Bingo," he told the Chronicle.
Some wine from Oregon—where massive wildfires scorched nearly one million acres of land during wildfire season—has also been tainted by the smoke. "Pinot noir is a very thin-skinned grape, meaning it's very delicate in nature, and you can't mask any type of flaws in the growing condition or in the winery," Christine Clair, winery director of Willamette Valley Vineyards in Turner, Oregon, told the Associated Press recently.
Unlike the 2018 and 2019 wildfire seasons in California, the worst of the fires this year broke out ahead of harvest. Many producers in Napa and Sonoma Valley were reportedly just a week away from picking clusters of grapes that would go on to be sorted and fermented into wine. Grapes that weren't harvested were left exposed to ash and smoke and likely absorbed high levels of a natural compound called volatile phenols, which is released when wood burns. Grapes also contain volatile phenols, but when too much is present, it can have a not-so-tasty effect on wine.
Winemakers, residents and state officials alike have all pointed to climate change as a leading cause of the worsening fires that seem to last longer and cause more damage year after year.
"The debate is over, around climate change," California Governor Gavin Newsom said during an early September press conference. "This is a climate damn emergency. This is real and it's happening."