California Wildfires Containment Map: Camp Fire Latest, Death Toll Rises
Firefighting officials tackling the Camp Fire blaze in Butte County, Northern California, said in an alert on Sunday that the flames were now 65 percent contained.
The devastation in the region has been vast, with homes and businesses being burned to the ground and at least 77 people losing their lives, according to the California Department of Forestry and Fire Protection (Cal Fire). About 150,000 acres have now been left scorched.
More than 10,300 single residences and 410 businesses have been destroyed. Thousands of firefighters are deployed at the scene of the fire, where 14,500 structures are still at risk. The blaze started November 8, reportedly sparked by a vegetation fire at Camp Creek Road.
"Firefighters made good progress throughout the day to strengthen and improve containment lines," Cal Fire said in its Sunday update, the most recent advisory.
"Crews have continued to work in steep and rugged terrain to implement direct and indirect control lines which will aid in stopping the fire's forward progress," the advisory continued.
"Firefighters and utility cooperators worked within the fire's interior to patrol for heat and remove hazards. Multiple California Urban Search & Rescue (US&R) Task Forces and US&R Human Remains Detection Canine Search Teams have arrived to assist Butte County Sheriff with the search for, and recovery of, victims missing in the areas affected by the Camp Fire."
Active fires and incidents are shown on this map, provided and updated by Cal Fire.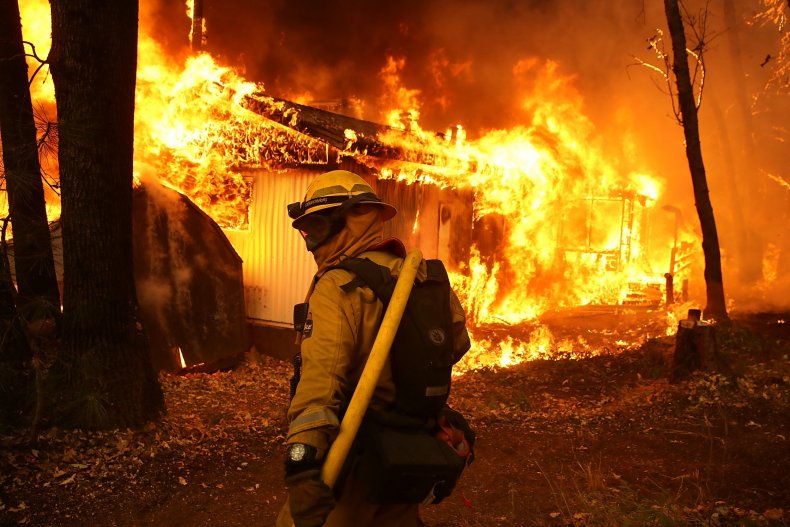 The local sheriff's department said on Sunday that there were still 993 people unaccounted for. It said the dead body of one person had been found this weekend. "Of the 77 fatalities, we have tentatively identified 67 individuals," officers wrote in a release, published to Twitter.
The Butte County website is maintaining a list of missing persons.
Last Thursday, the Butte County Public Health Department said that since the public shelters opened for Camp Fire evacuees 145 people had been sick with either vomiting or diarrhea. It said in an advisory that the sickness was linked to norovirus and gastrointestinal illnesses.
"The number of sick people is increasing every day," it warned. "Twenty-five people have been to the hospital for medical support. Staff serving the shelters have also been sick."
Cal Fire's latest update, posted to Twitter, contained the newest evacuation orders:
The National Weather Service based in Sacramento previously said air quality in the area was hazardous. It noted that wet weather was on the way, which could potentially help to suppress the fire spread and improve air quality. "Recently burned areas could see ash flow, though, and even have the potential for debris-flow if rain intensity is high enough," it tweeted.
But the rainfall had the potential to trigger mudslides, state officials warned on Sunday.
On Saturday, President Donald Trump toured the fire-ravaged region. During one briefing, he bungled the name of the town he was in by mistakenly calling Paradise "Pleasure."
Woolsey Fire Updates
In Los Angeles and Ventura counties, the Woolsey Fire is now 91 percent contained, Cal Fire said on Sunday in a separate update to the public. It has claimed the lives of three civilians and left three firefighters injured. So far, the flames have burned across 96,949 acres.
"Firefighting resources will continue to mop up and patrol," Cal Fire elaborated.
"Crews remain diligent in providing public service to residents as they return to their homes. Structures destroyed and damaged have been validated by damage assessment teams." The fire's cause was under investigation. It has left 1,452 structures destroyed, officials said.
Additional fires in the region include the Hill Fire, Sierra Fire and Morgan Fire. Containment of Camp Fire is estimated for November 30. For Woolsey Fire it is estimated for November 22.
But the situation is far from over.
As authorities hunt for hundreds of missing people, thousands are now living in shelters while supported by charity. Homes and possessions lie in rubble. Bodies have to be identified by DNA. At least 77 lives have been lost. Countless more will now have to be rebuilt from the ground up.