California Wildfires Update: Death Toll Rises, Hundreds Reported Missing, Smoke Forecast Map Worsens
As firefighters continued to battle wildfires ravaging the state of California, residents were left with no choice but to wait: to be allowed back into their communities; to find out what, if anything, remained of their homes; and for some, to hear from one of the hundreds of people deemed missing.
In Northern California, the Camp Fire has to date claimed the lives of 63 people and injured three firefighters. Since it ignited in Butte County, California, on November 8, it's spread to 141,000 acres as of Thursday evening and destroyed almost 12,000 structures, including 9,700 homes. In addition, 155 homes and 50 commercial structures were damaged in the fire.
Along with the widespread devastation to property and life, the fire has left hundreds of people unaccounted for. On Thursday, the Butte County Sheriff's Office published an updated list that included 631 names.
The more than 600 names on the list were a significant jump from the 130 people that Butte County Sheriff Kory Honea said were missing during a Wednesday evening press conference.
On Thursday night, Honea told reporters that officers were able to locate or resolve an additional 27 cases, bringing the total number of people who were no longer deemed missing to 227. However, he pointed out that there were about 500 names added to the missing persons list since his last press conference. The list was compiled from records of calls made to 911 during the most "intense portions" of the fire.
"The reason that number went up is because after [the people who compiled the list] gave me that 130 number that I reported to you, they didn't stop working. They continued to work into the night, and ultimately they updated it," Honea said.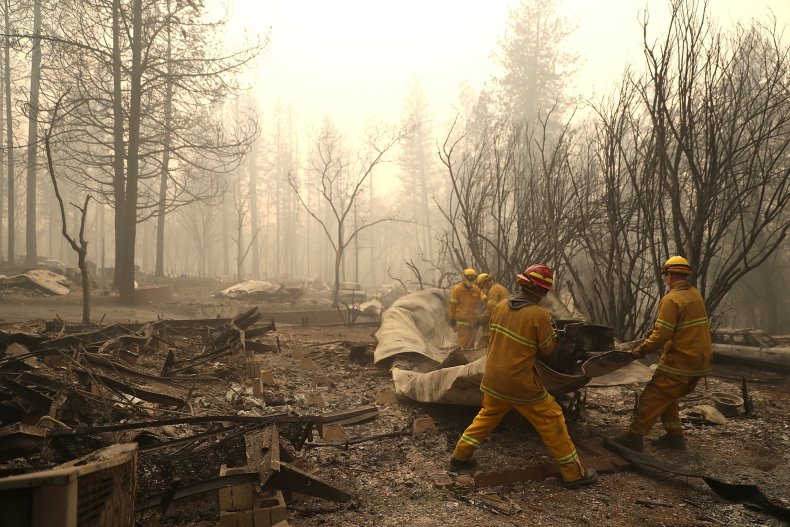 Although the large number seems daunting, Honea said a lot of people who are on the list could be displaced and safe but just unaware that the sheriff's office is looking for them. He asked everyone to check the list and if their name or the name of someone they have made contact with is on it, to contact the sheriff's office so the person can be removed. Removing names of people who have been accounted for would free up resources for people who are truly missing.
Honea also addressed the increase in the death toll and told reporters it's his "sad duty" to report the additional seven deaths, which brought the number of fatalities to 63. Three people were found in Magalia, California, three were found in Paradise, California, and one person was found in Concow, California.
Cadaver dogs and advanced DNA identification resources were brought in to locate and identify fatalities. Honea said a total of 53 people were tentatively identified but the sheriff was waiting for DNA confirmation before notifying next of kin and releasing the names of the deceased.
Mandatory evacuation orders were still in place for Paradise, Magalia, Concow, Butte Creek Canyon and Butte Valley. Honea explained that some evacuation orders were reduced to evacuation warnings so people could return home. He asked for the public's cooperation in leaving immediately if an evacuation order was issued.
"We're doing everything we possibly can to get people back into their homes as quickly as we can," Honea said.
Burning south of the Camp Fire is the Woolsey Fire, which also began on November 8. As of Thursday evening, the fire burned through 98,362 acres in Los Angeles County and Ventura County and destroyed 548 structures. Two people were killed in the blaze and three firefighters were injured.
Related: Paradise lost, inside the burned-out California town destroyed by deadly Camp Fire
Smoke from the wildfires had become so abundant it had damaged the air quality in California to the point of it being deemed hazardous by the Environmental Protection Agency (EPA). On Thursday, USA Today reported the air quality was the worst in the world, topping notoriously smoggy cities in Beijing and India.
During a period of time when there's a low quality of air, the Centers for Disease Control and Prevention (CDC) recommend that people remain indoors and avoid contributing to the pollution by burning candles or lighting a fire. The CDC also advised residents to avoid vacuuming because it could cause harmful particles already in their home to become airborne.
The California Department of Forestry and Fire Protection estimated the Camp Fire would be contained on November 30 and the Woolsey Fire would be contained on Monday.