California Wildfire Locations: Where Camp, Woolsey Fires Are Forcing Evacuations, Damaging Property
Three California wildfires scorched through parts of the state and forced 157,000 people from their homes as of Friday.
The Camp Fire, Hill Fire and Woolsey Fire have caused evacuations across the state and devastated homes and structures that were in its path. On Friday, acting Governor of California Gavin Newsom declared a state of emergency in Los Angeles and Ventura Counties due to the Camp and Woolsey Fires.
Here is a list of the locations of the fires and the impact they've had in the state: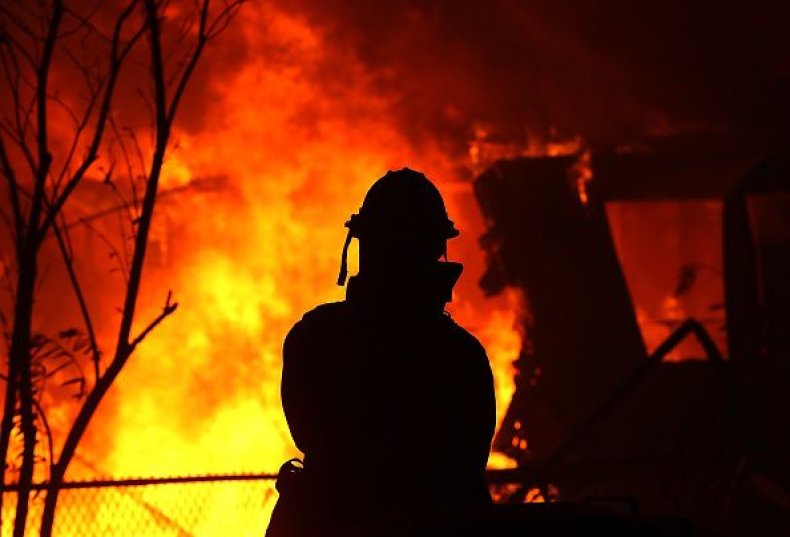 Camp Fire:
The Camp Fire is currently burning in Butte County and has scorched 70,000 acres and is currently at 5 percent containment, according to Cal Fire. As of Friday, there have been at least 2,000 structures destroyed and 15,000 others threatened. There are currently 2303 fire personnel, 303 fire engines, 59 fire crews, 24 bulldozers, 18 helicopters, and 11 water tenders fighting the blaze.
The Butte County Sheriff's Office announced on Friday in a press release that there were five fatalities on Thursday from the Camp Fire.
"The preliminary investigations revealed that the victims were located in vehicles that were overcome by the Camp Fire," the statement read. "Due to the burn injuries, identification could not be immediately made. Autopsies will be conducted to determine the circumstances of the deaths of and to being the identification process."
Hill Fire:
The Hill Fire, which ignited on Thursday, is currently located in Ventura County. The brush fire has already burned 6,100 acres of land and is at zero percent containment, according to an incident report released by the Ventura County Fire Department. The fire has not destroyed any structures as of today but there are 437 structures threatened in the blaze's path. There have been no fatalities recorded from the fire as of Friday, according to the report.
As of Friday, there are 450 fire personnel, 15 engines, 17 hand crews, and 10 bulldozers battling the fire, according to the report.
Woolsey Fire:
The Woolsey Fire, like the Hill Fire, is also located in Ventura County. The second brush fire, which also ignited on Thursday, has already scorched an estimated 14,000 acres, according to the Ventura County Fire Department.
The fire prompted the mandatory or voluntary evacuation of at least 75,000 homes in the Ventura and Los Angeles counties, the Los Angeles Times reported. The entire city of Malibu is also under mandatory evacuation as of Friday.
"The wind is definitely pushing this thing toward the ocean just like the Springs Fire a few years ago," Ventura County fire captain Brian McGrath told the Los Angeles Times. "It's very fast."