California Fire Latest Update: Death Toll Rises as Unprecedented Blaze Ravages Napa, Sonoma and Yuba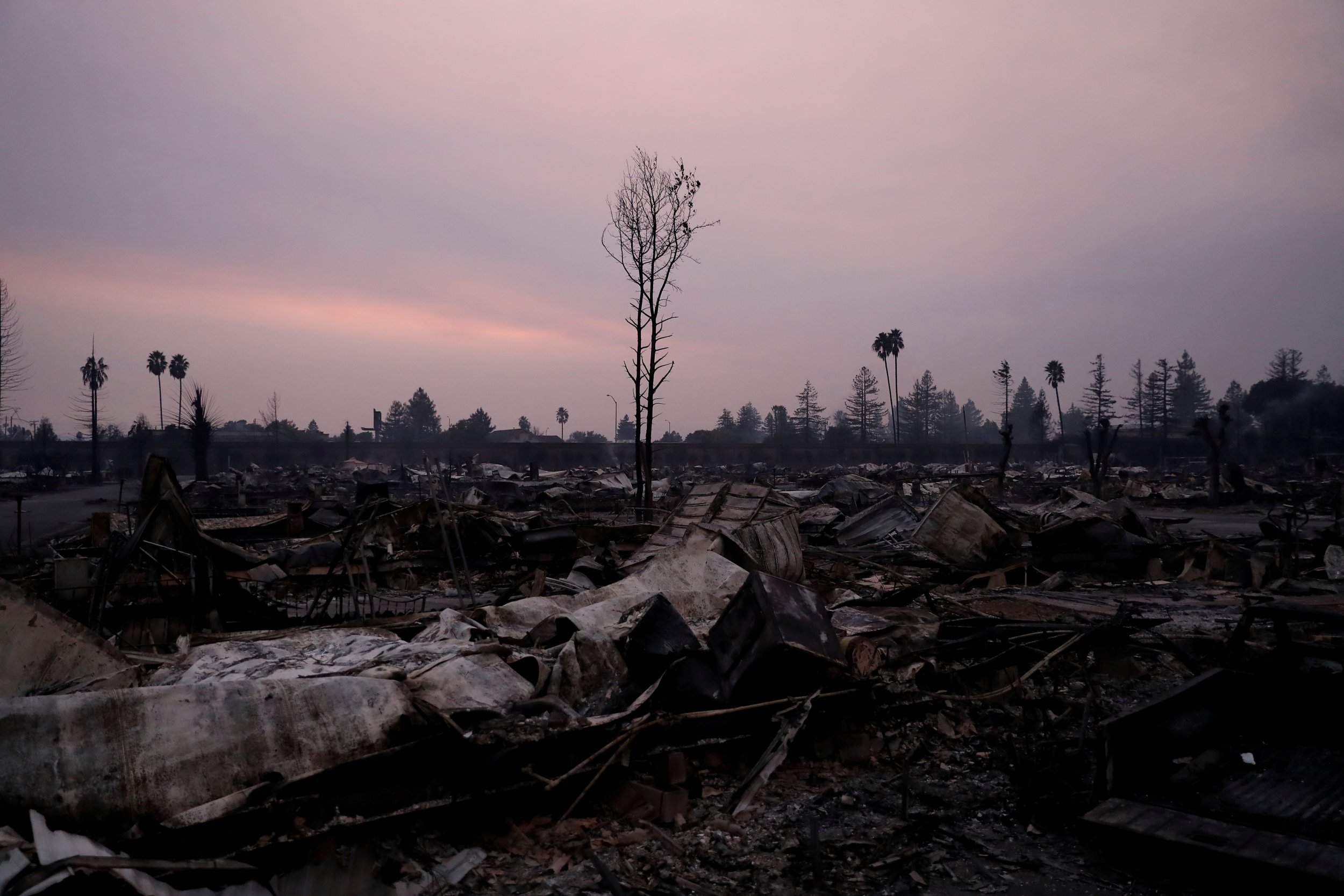 Updated | Wildfires continued to rage across California Monday night, leaving at least 11 people dead and covering over 100,000 acres of ground—and emergency services expect the death toll to rise.
The Sonoma County sheriff's office tweeted Monday that it had recorded seven fire-related deaths.
Mendocino county sheriff's office told local CBS affiliate KPIX 5 that one person had died, but Captain Gregory L. Van Patten said he expected "multiple fatalities" as his crews examined the fire' aftermath.
According to multiple media reports, state fire authority Cal Fire confirmed that two had died in the Atlas fire in Napa County, which burned across 25,000 acres of the famous wine-producing region.
Cal Fire data showed that as of Monday night fires were blazing across almost 110,000 acres of the state. Evacuation orders were in place for swathes of Napa County, Mendocino County, Butte County, Sonoma County and Yuba County.
California governor Jerry Brown declared a state of emergency Monday in Butte, Lake, Mendocino, Nevada, Orange, Napa, Sonoma and Yuba counties. In a statement he said the fires "have damaged critical infrastructure, threatened thousands of homes and caused the evacuation of residents."
Fires began on Sunday night and grew within 24 hours to the point where 18 fires were burning across seven counties.
Brown wrote to President Donald Trump to request a Presidential Major Disaster Declaration. In his letter, he said that "the devastation and disruption caused by these fires is extraordinary," and noted that the state had suffered "multiple disasters" in recent months including severe storms at the start of the year. He said this had "severely impacted" the state's resources.
In his letter he noted that "emergency responders anticipate the number of fatalities could grow."
Authorities from the city of Santa Rosa urged residents on Twitter not to return to their homes until an evacuation order was lifted, despite images of destruction and devastation in the city spreading rapidly online and in the media.
The Santa Rosa Press Democrat reported that significant buildings burned by the blaze included the 124-room Fountaingrove Inn and the 250-room Hilton Sonoma Wine Country. Governor Brown's letter to President Trump said that the Tubbs fire that raged through the city had claimed "thousands of homes" and injured "numerous" civilians.
"I'm lucky," Santa Rosa Mayor Chris Coursey told a press conference, according to CNN. "My house is fine. My family is fine. My city is not."
Earlier in the summer, California authorities had warned that this year was particularly risky for fires. In June, Cal Fire reported that three times as much land had been burned in the year to that point than the same period a year before, according to CNBC.
This piece was updated to include background info on California's fire season, and to update the death toll from 10 to 11.