Two national parks and one state park in California have lost at least 61,511 acres of land to the wildfires that have raged up and down the state this week.
The Big Basin Redwoods State Park, California's oldest, totals 18,000 acres and is home to the famous redwood trees, which are between 1,000 and 2,000 years old. The Sempervirens Fund, an organization dedicated to protecting redwood forests, reported that Big Basin was "gone" after the CZU August Lightning Complex fire ripped through it this week.
"We are devastated to report that Big Basin, as we have known it, loved it, and cherished it for generations, is gone," the organization wrote on its website Thursday afternoon. "Early reports are that the wildfire has consumed much of the park's historic facilities. We do not yet know the fate of the park's grandest old trees."
Though the park's headquarters building burned, experts predicted that the majority of its beloved trees would recover from the fire. Even badly burned redwood trees could eventually recover, fire ecologist Kristen Shive, director of science at Save the Redwoods League, told The Mercury News.
Mercury News journalists were allowed inside the park Thursday, reporting that the "vast majority" of the giant trees are still standing.
Mature coast redwoods have thick bark and a unique chemical composition, making them highly resistant to fires, Jorge Moreno, a California State Parks spokesman, told Newsweek.
"Younger redwoods that have not developed mature bark may experience crown mortality, but all redwoods have the chance to resprout from their roots or unsprouted buds covering the majority of the tree," he wrote in an emailed statement. "Even trees that look completely incinerated can recover fully, given time."
Other structures inside the park confirmed to have been destroyed by the fires include the historic lodge, ranger station and campground facilities, Moreno said.
"California State Parks is saddened by the devastation the wildfire has caused not only to California's oldest state park but the surrounding community in the Santa Cruz area," he said.
The Mojave National Preserve caught fire on August 15 amid a lightning siege that sent around 11,000 bolts accompanied with little rain. One of the bolts struck near Cima Dome, a granite formation 1,500 feet above the preserve, which is home to the world's largest collection of Joshua trees.
The fire, called the Dome Fire, is now 93 percent contained, but has burnt through approximately 43,273 acres of desert. The woodland area has seen significant fire damage and the fire affected half of the preserve's wilderness area, according to an incident post.
A video captured a California firefighter crying as he watched the blaze overtake part of the preserve.
"This flared up right in front of our engine captain who got out quick to try to knock it down," firefighter Daniel Magallanes told Storyful. "After seeing we wouldn't be able to get a grip on it, we loaded up right away and kept bumping along."
Yosemite National Park has suffered the smallest amount of damage so far. The Blue Jay Fire and Wolf Fire, both caused by lightning strikes, are currently 10 percent and zero percent contained, respectively. The Blue Jay Fire is at 185 acres, and the Wolf Fire is at 53. Firefighters are working to confine the fires to these specific areas, according to the National Park Service.
Yosemite's trails continue to remain open to visitors, but several of the park's gateway communities were placed under evacuation orders after the Moccasin Fire broke out Thursday. Officials closed part of Highway 120, an access road to the park, located about an hour from Yosemite's northern entrance.
Around 1,500 residences in these nearby communities are in danger, Lynnette Round, a California Department of Forestry and Fire Protection (Cal Fire) spokeswoman, told the Visalia Times Delta.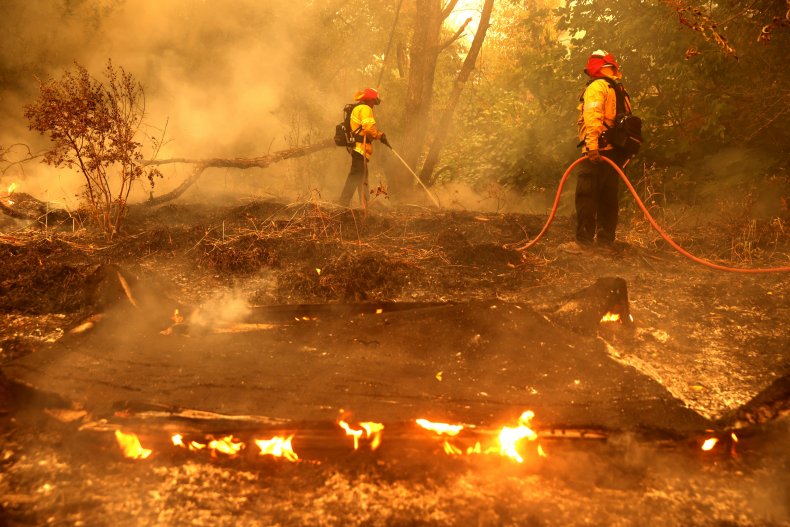 California State Parks announced it would fully or partly close more than two dozen parks Wednesday as a result of the wildfires that continue to burn across the state.
The fires, sparked by a rare lightning storm and unprecedented heatwave, have forced thousands to evacuate and placed more than 50,000 structures under threat of destruction.
Update (08/23/20, 8:32 a.m.): This article has been updated to include a comment from California State Parks.