California Wildfires Destroyed Two Wineries and More Are in Danger as Fires Continue to Burn
The Kincade Fire has grown to more than 66,000 acres in Sonoma County. So far, Cal Fire reported 96 structures were destroyed while 16 structures and two wineries in the county's Alexander Valley region suffered severe damages.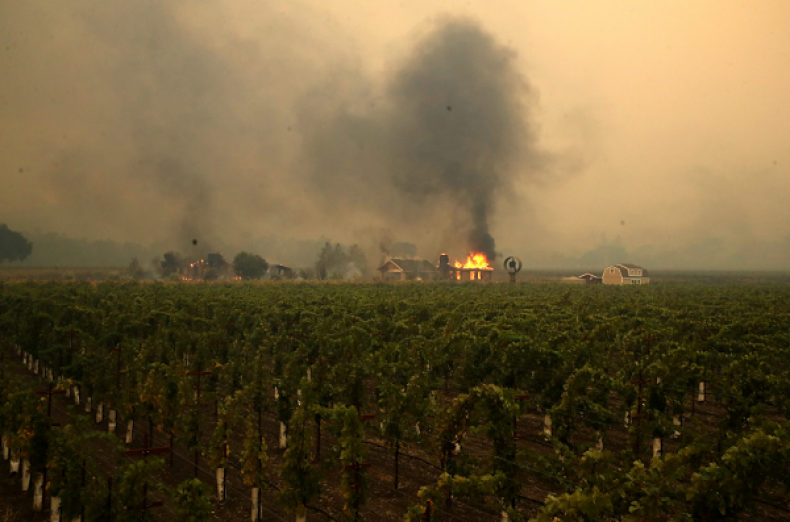 The Soda Rock Winery caught fire after flames skipped across Highway 128 and torched the winery's famous stone facade Sunday. By Monday, the building's roof had collapsed due to the fire damage, while two houses, an artist studio, a water tower and the winery's 20,000-square-foot wine production facility, tasting room and event space were also burned to the ground, according to San Francisco Chronicle.
The winery confirmed the news in a post on Facebook, noting no one was at the facility when the property caught fire because of the evacuations issued in the area. Residents living in Geyserville, where the fire first ignited on Wednesday, were requested to leave their homes the next day. Operations at Soda Rock Winery, among several others, were closed Friday and through the weekend.
Newsweek subscription offers >
"We are devastated. We don't have much information but will update you soon as we know anything. Our staff is safe—right now what is most important is the safety of the first responders battling the fire," Soda Rock Winery representatives wrote in a statement.
Soda Rock Winery is owned by Ken and Diane Wilson, who bought the property back in 2000. The buildings that once stood on the land were built between 1860 to 1900 and had been out of service since 1986. The couple restored the property and began producing wines like Chardonnay, Sauvignon Blanc and Cabernet Sauvignon—the most popular varietal in the Alexander Valley wine-growing region—among several others.
The couple's other eight wineries, including deLorimier Winery and Crazy Creek Vineyard, which are also located in Alexander Valley, were reported unharmed.
The Kincade Fire also claimed structures at Field Stone Winery, also located along Highway 128. However, damage caused to structures on the property has not yet been assessed. The winery's main cellar was reportedly untouched, according to the San Francisco Chronicle.
Newsweek subscription offers >
Newsweek's request for comment was unanswered by publication.
There is concern more wineries in the area could be in danger as the blaze continues to scorch Alexander Valley, which is also home to Silver Oak Cellars, Jordan Winery, Alexander Valley Vineyards and Francis Ford Coppola Winery. However, there have not been any reports of damages to those properties. Many of them have already released notices on social media informing visitors of their closings, which are expected to last through Wednesday.
"The winery remains safe but will be closed through at least Wed, Oct. 30th. The areas surrounding the winery are still under mandatory evacuation and power remains off. We will continue to update you as more information comes in. Thank you, and please stay safe," Francis Ford Coppola Winery wrote on Monday.
So far, the Kincade fire has only been five percent contained.
Weather conditions are expected to lighten Monday afternoon through Tuesday morning, according to the National Weather Service, which will give firefighters a better chance to contain fires burning across the state. However, another wind event is expected to blow over California on Tuesday night and there are no reports of rain expected for the rest of October.
California Wildfires Destroyed Two Wineries and More Are in Danger as Fires Continue to Burn | Culture