California Wildfires: Dramatic Photos of the Carr, Cranston and Ferguson Fires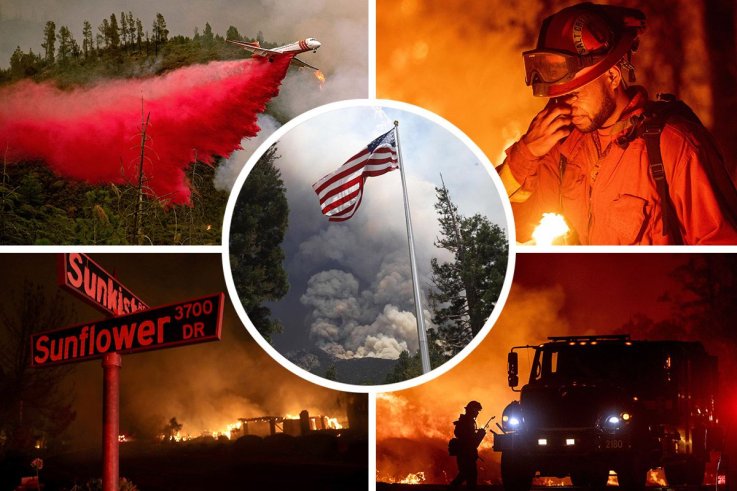 California fighters are grappling with several major blazes during a heat wave that has the state wilting under record-shattering temperatures.
The fast-moving Carr Fire in Northern California moved east from the communities of Whiskeytown and Shasta, crossed the Sacramento River and engulfed homes in the city of Redding, north of Sacramento.
Dramatic photos show homes going up in flames as firefighters attempt to control the inferno. Twitter user @PBandJammers posted a haunting video of orange smoke seen from a distance, with the caption "It's actual Armageddon outside." More than 1,700 firefighters are battling the blaze, Cal Fire said.
Roads out of the city (population 90,000) were jammed with motorists trying to escape the flames. Cal Fire said the blaze was ignited by the mechanical failure of a vehicle. A bulldozer operator was killed in the Carr Fire, which has now covered 44,450 acres and is just 3% contained.
Meanwhile in Southern California, the Cranston Fire forced more than 3,000 residents of Idyllwild, Cedar Glen and Fern Valley to flee their homes as crews fought to save houses in the path of the flames. About 1,400 personnel are tackling the fire, which has so far covered approximately 11,500 acres and is just 3% contained.
Authorities believe the wildfire was caused by a serial arsonist. Brandon McGlover, 32, was taken into custody in Hemet and booked on five counts of arson, the U.S. Forest Service said in a statement on the Inciweb fire-tracking website.
California Governor Jerry Brown declared a state of emergency in Shasta and Riverside Counties over the Carr and Cranston fires, which are being supercharged by temperatures above 100 degrees F (37 C), erratic winds and low humidity.
The 46,000-acre Ferguson Fire has forced Yosemite National Park to close a visitor hub, as it pours thick black smoke into the valley 170 miles (275 km) east of San Francisco.
That blaze, burning in steep, rugged terrain, has proven dangerous for crews. A firefighter was killed on July 14 when a bulldozer he was using to cut containment lines overturned, and seven others have been hurt.
— Reuters contributed to this report.