Easy Fire Map, Update as Firefighters Save Reagan Library in Simi Valley, Ventura County
The raging California fires continue with a new blaze that broke out in Ventura County's Simi Valley area.
As of 6 p.m. Wednesday, the fast-moving Simi Valley brush fire (known as the Easy Fire) is currently at 1,648 acres with zero percent contained and the expected date of full containment is unknown, according to an official report by the Ventura County Fire Department (VCFD) post its official Twitter account.
Approximately 30,000 residents are under mandatory evacuation orders, 2,000 are under voluntary evacuations and 7,000 structures are under threat, while the cause of the fire is under investigation, the report said.
A Red Flag Warning, High Wind Advisory and Air Quality Alert are all in effect for the Ventura County area through Thursday, the National Weather Service announced on its website.
Mandatory evacuations were in place for the area west of Madera Road, north of Olsen Road east of Santa Rosa Road/Andalusia Drive and south of Highway 118, the VCFD report stated on Tuesday.
Evacuation orders have been lifted for all areas except for the areas listed below, according to the official Ventura County Emergency Information Source (VC Emergency) website.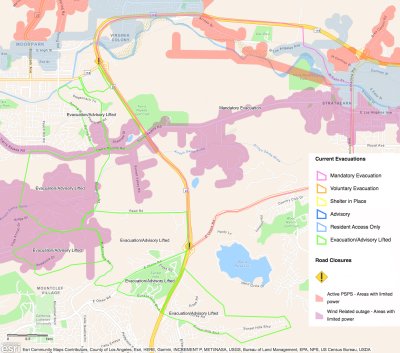 Simi Valley / Unincorporated Simi Valley / Moorpark
North: Highway 118
South: Olsen / Madera Street
East: Madera Street
West: Highway 23
The latest information on all areas within the mandatory evacuation zones, the evacuation advisory zones and areas where evacuation has been lifted can be seen at this incident map provided at the Ventura County Emergency Operations Center website.
Evacuation centers are available at Thousand Oaks Community Center and Rancho Santa Susana Community Center. The Earl Warren Showgrounds is open for large animals while the Ventura County Fairgrounds is accepting large animals in a limited capacity. Both the Rancho Potrero Equestrian Center and LA Pierce College is full and no longer accepting any more large animals. Small animals are being accepted at the Camarillo Adoption Center, VC Emergency notes.
Road closures have been issued at Highway 23 between Avenida de los Arboles and 118 Interchange, while the Southbound Highway 23 is closed at New Los Angeles Avenue and Madera Road is closed at County Club West to Highway 23, the VCFD confirmed in the report.
Southern California Edison (SCE) was reported to be monitoring various Ventura County electrical lines ahead of the public safety power shutoffs (PSPS) which were issued from yesterday and affected more than 82,000 across various parts of California, including more than 33,000 customers in Ventura County, according to the SCE website.
"In some extreme cases, an erratic or sudden onset of conditions may impact our ability to provide advanced notice to residents. All information related to monitored or de-energized circuits is provided to the Ventura County Sheriff Office of Emergency Services by Southern California Edison," VC Emergency notes on its website.
The following school closures are in place for Thursday due to "air quality and power outage concerns", the Ventura County Office of Education said on its website:
School districts
Briggs School District
Conejo Valley Unified School District
Fillmore Unified School District
Hueneme Elementary School District
Las Virgenes Unified School District
Mesa Union School District
Moorpark Unified School District
Mupu School District
Oak Park Unified School District
Ocean View School District
Oxnard School District (K-8)
Oxnard Union High School District
Pleasant Valley School District
Rio School District
Santa Clara Elementary School District
Santa Paula Unified School District
Simi Valley Unified School District
Charter schools
ACE (Camarillo)
Bridges (Thousand Oaks)
CAPE (Camarillo)
Ivy Tech (Moorpark)
MATES (Thousand Oaks)
University Preparation (Camarillo)
Vista Real Charter High, Simi Center
Ventura County Office of Education schools
ACCESS
Dwire School
Gateway Community School
James Foster School
La Mariposa School
Las Colinas Middle School
Phoenix Airport
Phoenix Los Nogales
Pleasant Valley Early Childhood Center
Ritchen Preschool, Sunkist School
Triggs School
Triton Academy
Williams Preschool and the Career Education Center locations in Camarillo and Moorpark.
"In addition, Boswell School, Penfield School and our classrooms at Balboa Middle School and Ventura High School are closed Thursday for their regularly scheduled Fall Break," Ventura County Office of Education said.
"The only Ventura County Office of Education schools that will be open Thursday are Ojai TEAMS and Providence School."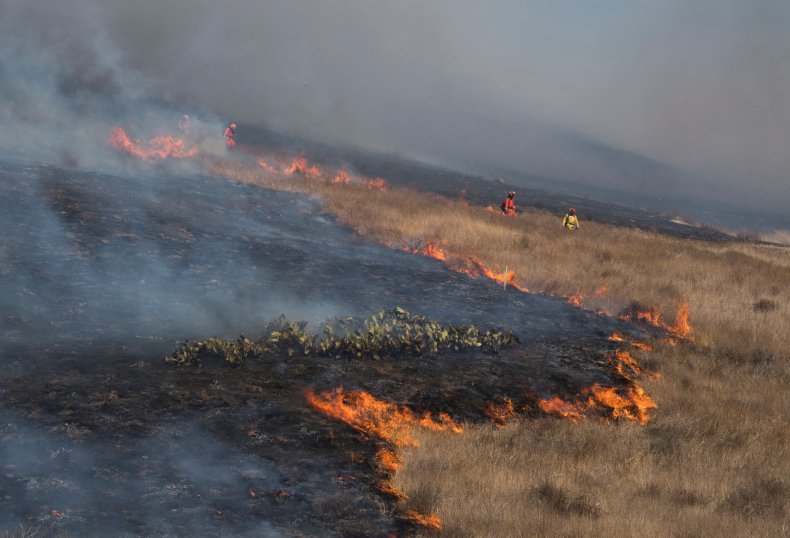 More than 1,000 firefighters have been battling the flames, which threatened the Ronald Reagan Presidential Library as the fire blazed dangerously close to the historic landmark. But firefighters were reported to have saved the library, with continued bouts of water air-dropped by firefighting aircraft in the surrounding area while others fought the fire from the ground level.
"Non-stop water drops is probably what really saved us," library spokeswoman Melissa Giller told CNN.
The firefighters were also helped by a herd of around 500 goats that ate the vegetation nearby that would have fueled the fire, according to the library.
"One of the firefighters mentioned that they do believe the goats' fire line helped them fight this fire," Giller told CNN.