California Wildfires Evacuation Map: Red Flag Warning for 'Historic' Extreme Fire Weather Event as 90,000 Forced From Homes
Northern California should brace itself for a "historic" and "extreme" fire event, officials have warned, as 90,000 people were ordered to evacuate their homes as the Kincade fire continued to burn.
The National Weather Service issued a red flag warning on Saturday urging people in the San Francisco Bay Area to prepare for dangerously strong offshore winds as well as critically low humidity that will cause fires to spread rapidly. The warning is in effect through to Morning morning.
Officials warned that the severe winds, with some gusts possibly reaching up to 80 miles per hour, will be the strongest of the year so far and the worst since the Wine Country Fires in 2017. They will also cause the Kincade fire to spread rapidly.
"This event looks to be the strongest since the 2017 Wine Country fires and potentially a historic event given the strength and duration of the winds," the warning said. "Any fires that develop will likely spread rapidly. Any active fires such as the Kincade fire will also spread rapidly."
They also warned that the strong winds could lead to widespread power outages and could blow down trees and power lines.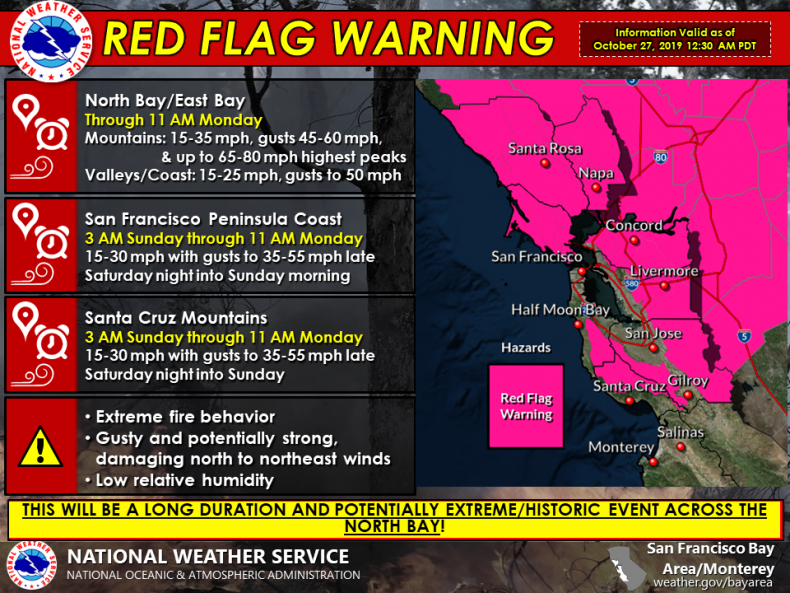 Meanwhile, authorities in California said about 90,000 people have been ordered to evacuate near the Sonoma County fire, the Associated Press reported.
The towns of Healdsburg and Windsor were ordered to be evacuated first, the Los Angeles Times reported. The mandatory evacuation order was later extended on Saturday night to include a vast swath of wine country that stretched all the way to the Pacific Ocean.
Evacuation warnings were also issued for the city of Santa Rosa, where residents are urged to be ready to leave at any moment.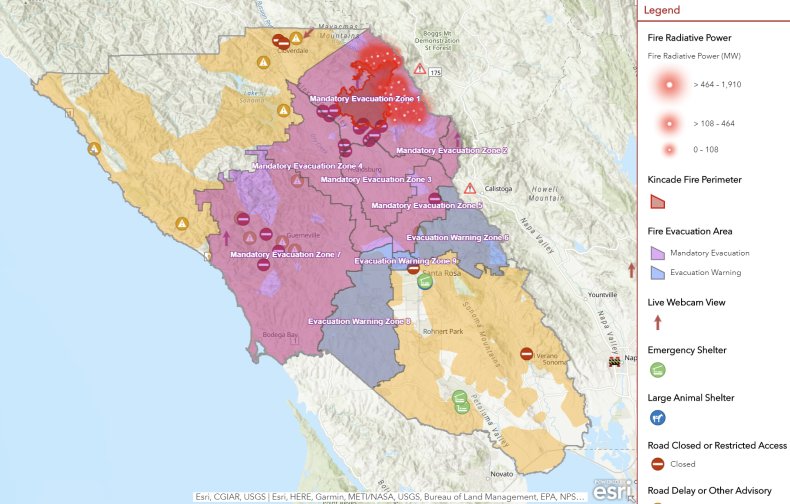 Pacific Gas & Electric, which provides electricity to millions of residents in the Bay Area, has implemented public safety planned shutoffs (PSPS) across 36 California counties through the weekend.
Amid fears that strong winds could knock down power lines and spark fires, PG&E began shutting off power at around 5 p.m. on Saturday, according to the Associated Press, affecting more than two million people.
The company said the latest power outage due to "unsafe weather conditions" could last longer than 48 hours and that customers should prepare for outages that last several days.
The latest update from the California Department of Forestry & Fire Protection said the Kincade fire was just 11 percent contained. Officials say they expect the fire to be fully contained by November 7.
Officials said the fire had burned more than 25,955 acres of land as of Saturday evening and destroyed 77 structures.
The cause of the fire, which broke out on Wednesday, remains under investigation, according to the department.