Getty Fire Update, Road Closures and Containment Status as Extreme Red Flag Warning Issued over Santa Ana Winds
The Getty Fire in Los Angeles County has covered 656 acres, with 15 percent contained, no reported casualties and 7,091 residences placed in the Mandatory Evacuation Zone, as of 7 p.m. Tuesday.
The area has been under an Extreme Red Flag Warning issued by the National Weather Service (NWS) on Tuesday due to what could potentially be the strongest Santa Anna winds ever seen, the NWS warning described in a post on the official U.S. Emergency Alert Twitter account.
Wind gusts may reach up to 70 miles per hour in the Santa Monica Mountains, while relative humidity is expected to drop into the single digits with little to no recoveries, according to a statement on the official website of the Los Angeles Fire Department (LAFD).
"This all adds up to an extreme fire weather threat, meaning that conditions are as dangerous for fire growth and behavior as we have seen in recent history," LAFD adds.
The Los Angeles Police Department (LAPD HQ) also noted: "But the fight isn't over, as tonight we're expecting dangerous conditions not seen in recent history — wind gusts up to 70mph & extremely low humidity," in a post on its official Twitter account."
"Santa Ana winds can trigger extreme fire danger. Residents living in wildfire-prone areas are encouraged to be prepared in the event of a brush fire, remain vigilant, and familiarize themselves with the Ready-Set-Go program: lafd.org/ready-set-go," LAFD warns.
Mandatory evacuation orders and evacuation preparation warnings are in place, all of which are outlined on this interactive evacuation map on the official LAFD website.
Evacuation centers for residents and small animals are open at the Palisades Recreation Center (851 Alma Real Drive) and Westwood Recreation Center (1350 South Sepulveda Boulevard).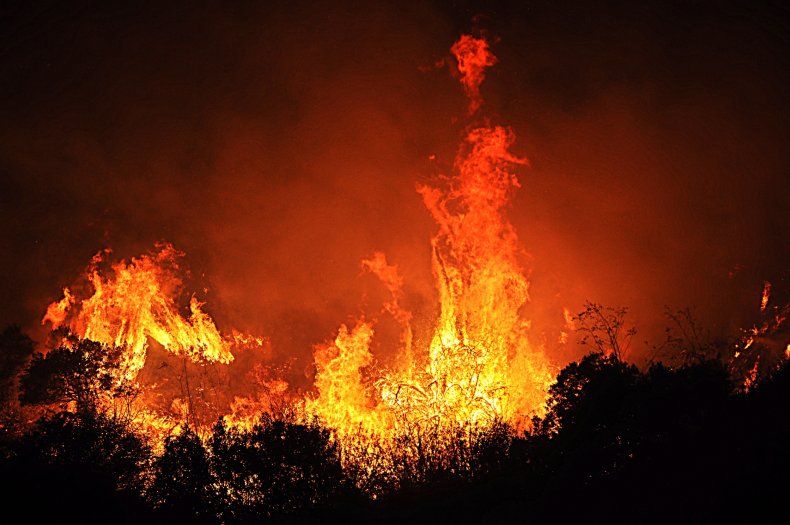 Additional shelters available for animals include the West Valley Animal Shelter (20655 Plummer Street), West LA Animal Shelter (11361 West Pico Boulevard), and Large Animals: Hansen Dam Recreation Area (11127 Orcas Ave).
Road closures are in place at Temescal Canyon Northbound closed at Sunset Boulevard, Northbound Sepulveda Boulevard closed from Moraga Drive to Skirball and Southbound Sepulveda Boulevard closed form Skirball to Sunset Boulevard, LAFD notes.
The 405 northbound and southbound roads are open, while all on/off ramps are closed between 101 Freeway and Sunset Boulevard, LAFD confirms.
"In anticipation of the extreme Santa Ana wind event, the LAFD has recalled and staffed additional resources for any emergency that may arise over the next 24 hours. These resources will be strategically placed in key locations that have a history of being prone to wildfire," the fire department also noted.
The fire has been determined to be accidental "caused by a tree branch that broke off and subsequently landed in nearby powerlines during high wind conditions," LAFD confirmed in its statement.
"This errant tree branch caused the sparking and arcing of the powerlines, igniting nearby brush. All powerlines on the pole remained intact," it explained.
The Getty Center and Villa were currently reported to be safe, according to a post by the official Twitter account of the museum. The fire was said to be moving west and safely away from the museum, the museum confirmed in a Tweet on Tuesday.
The museum's artwork has also remained safe, with the help of "state-of-the-art technology," according to the museum.
"Many have asked about the art—it is protected by state-of-the-art technology. The safest place for the art and library collections is inside," the museum confirmed in a post on its official Twitter account.