The California Wildfires Have Now Burned an Area of Land Larger Than the Size of Connecticut
The California wildfires reached a new milestone over the weekend, having burned over 4 million acres. That's an area larger than the state of Connecticut, with two months remaining in the fire season, and it's more than double the previous state record for the most land burned in a single year.
According to an update from Cal Fire on Sunday, "since the beginning of the year, there have been over 8,200 wildfires that have burned well over 4 million acres in California."
Data from the U.S. Department of Agriculture on Forest Service land areas shows that Connecticut has approximately 3.5 million acres of roadless area, making the area burned by the California wildfires larger than the state.
In addition to burning more area than Connecticut, the wildfires in California have also caused 31 fatalities statewide and destroyed over 8,000 structures.
Some of the wildfires in California have been burning for about a month, while others have just recently been reported. According to the Cal Fire update, over 16,000 firefighters continued to fight 23 major wildfires across the state as of Sunday, and on Saturday firefighters responded to 27 new fires, all of which they were able to contain.
According to a wildfire tracking map published by the Los Angeles Times, there are 33 total active fires across the state, with the largest being the August Complex, which has burned nearly a million acres and is currently 54 percent contained. The August Complex includes five wildfires and started in mid-August.
Following behind the August Complex is the LNU Lightening Complex, the North Complex, the Creek Fire and the Claremont-Bear Fire, all of which have burned over 300,000 acres of land.
The map also shows that the Lambert Fire is the most recent uncontained wildfire in the state.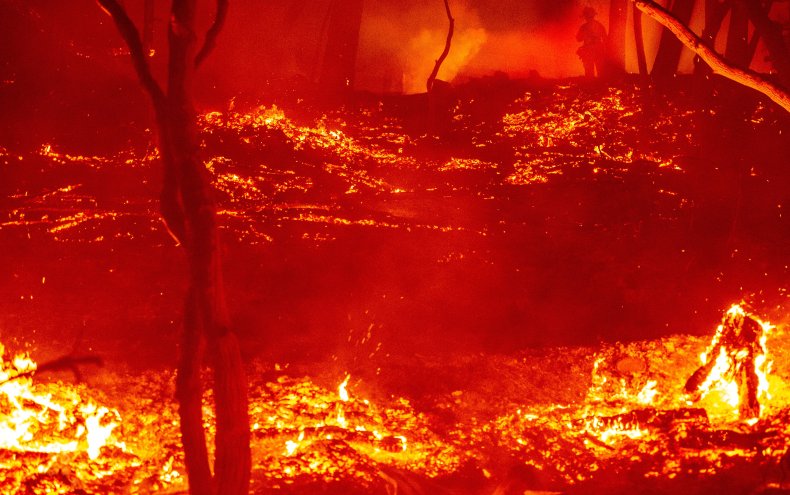 In a tweet Sunday, Cal Fire noted that since California officially began recording state responsibility fire figures in 1993, "all large fire years have remained well below the 4 million acre mark for acreage burned, until now."
"This year is far from over and fire potential remains high," the tweet added.
The 4 million acres burned in 2020 is also more than double the size of the 2018 record of 1.67 million acres burned in California.
While speaking to the Associated Press, Cal Fire's Scott McLean called the 4 million mark "unfathomable."
"It boggles the mind, and it takes your breath away," he added. "And that number will grow."
The update from Cal Fire also notes that there are more seasonal temperatures expected by the end of the week, "with a chance of some precipitation in the most northern part of the State."
Newsweek reached out to the National Oceanic and Atmospheric Administration (NOAA) for comment but did not receive a response in time for publication.