California Wildfires: Inmates Risking Their Lives to Fight Fires Say It's a 'Cruel Joke,' but Better Than Prison
As long as California's record-breaking wildfires rage, heroic men and women fight the flames on the frontlines. Firefighters in California work 24-hour shifts while wielding heavy equipment in blistering hot, life-threatening conditions. Stress levels are high, but cool-headed, strategic thinking is essential when one small misstep can result in the loss of human lives.
In exchange for their efforts, firefighters typically make about $75,000 plus benefits each year. But a group of 3,400 wildfire-fighting inmates from the California Department of Corrections and Rehabilitation are risking their lives for just $2 per day and an extra $1 per hour when fighting an active fire.
"It's a cruel joke," said Deirdre Wilson, a former inmate who served in the Puerta La Cruz fire camp between 2004 and 2005. "You're volunteering to put your life on the line, but you're not really volunteering—the system evolved out of a system of slavery where we commodify human bodies and function off of their labor."
Wilson, currently the program coordinator for Project Rebound at California State University, Fullerton, said she signed up for the fire program because she saw it as a way to reduce her sentence and was desperate to return to her children. "The camps were much nicer than regular prison, there are better facilities and you're not locked in a room," she said. "It was a lot more freedom and we ate much better."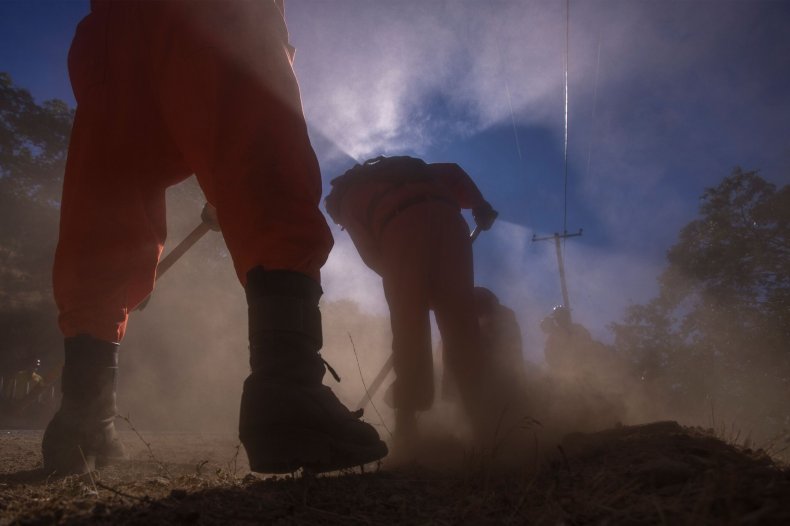 Wilson was initially sentenced to seven years for her involvement with a Marin County "family cult" that was connected to the starvation death of a 19-month-old boy, but was released after three years and seven months.
Her views on the fire camps, she explained, are complicated. While inmates are proud of their work there and grateful for a break from the confinement of most prisons, "the whole situation is a massive power dynamic which doesn't mix with safety," she explained. "People don't want to go back to regular prison so they might not disclose when they have an injury or when a captain is being abusive."
And though the California Department of Corrections and Rehabilitation is quick to applaud the heroic feats of their inmates, they don't mind taking advantage of their good intentions, she alleged. "What makes it clear that their primary objective is just cheap labor is that there is no transitional program for people leaving," she explained. "If the goal were to develop these skills, they would help them turn their training into real careers, but there's a disconnect."
Dennis Dumas, who served at the inmate fire camp in Norco, California, between 2005 and 2007 told Newsweek that the prison system needs serious rehabilitation and career counseling reform. "They're not training inmates to be productive in society and take responsibility for what they've done. The California Department of Corrections is worried about money instead of implementing the right tools," he said.
Still, Dumas said the firefighting program is one of the best programs the Department of Corrections has. "It's sought after in the institution, there are a ton of privileges [such as] additional visits," he explained. The pay is fair when you factor in the average per capita cost to house and feed an inmate in the California system, he added.
It costs the California Department of Corrections and Rehabilitation $81,458 each year to house and care for each inmate, according to press secretary Vicky Waters.
"Everyone is happy to be out there, they're happy they get the pay increase and they're happy to be fed and clothed, it's all covered for them," said Dumas. "But I think that the reward for the work completed and risks taken needs to translate to a clear employment path, not money given to inmates who haven't proven themselves in society."
Most firefighters in California are required to become licensed emergency medical technicians (EMTs), but convicted felons are typically barred from receiving the qualification, meaning they can't join Cal Fire when they leave prison.
Dumas was charged with second-degree burglary and robbery and sentenced to three years in prison in 2005. As soon as he was processed, he explained, he was approached by correctional officials who asked him to join the fire camp. "You can decline it but I didn't even know what it was," he said.
At camp, Dumas underwent a series of rigorous tests and training, and eventually worked his way into a leadership role as head sawyer, the head of a chainsaw crew. "I've been flown into fires on helicopters, risked and almost lost my life more than once and was even part of rescues that involved car accidents, not fires," he said.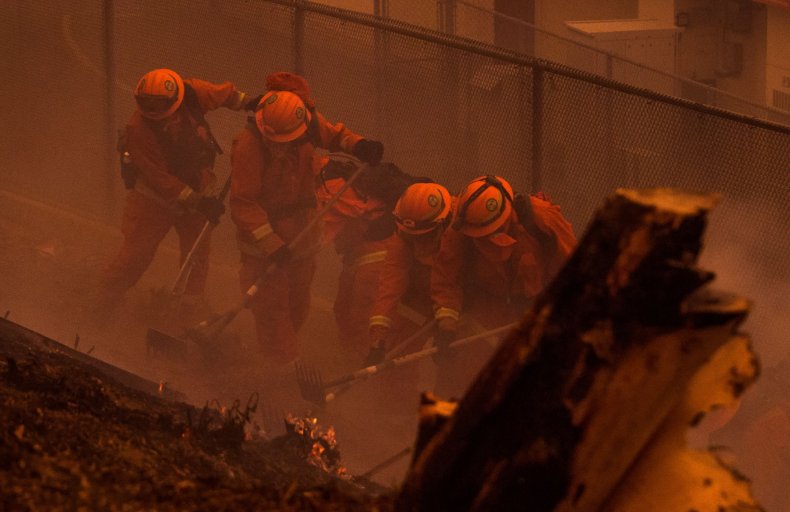 But despite his dedication, Dumas claims he was forced to leave the camp and return to the confines of prison because of a safety disagreement with his civilian fire captain. "I almost died in a fire and was upset with the civilian captain for his negligence that put us in a very bad situation," he told Newsweek. "He guided us into a dangerous fire and separated us from our crew. Our backpacks melted from the heat, and there was no light for hours."
"These are very dangerous jobs," Jordan Barab, former deputy assistant secretary of the Occupational Safety and Health Administration, told Newsweek last week. "Anytime you see prisoners doing work, they don't have the same kind of job security or right to complain about unsafe conditions. They can't quit or go work for different jobs. They either do the job as they're told to do it or they go back to regular prison. This is a captive group of workers being asked to put their lives on the line."
Over recent weeks, six California firefighters have died fighting blazes in Northern California. At least five California inmate firefighters have died in the line of duty during the program's 40-year history.
After two years in the fire camp, Dumas, who now runs a successful fitness company in the Bay Area, was sent to the maximum security California Correctional Institute in Tehachapi, California, where he says his indirect involvement in a riot led to a year in administrative segregation and solitary confinement. The prison system needs a lot of reform, he explained, but the wildfire camps are not the most pressing matter.
For family members, though, it can be an agonizing experience. Wanda Coleman's son, Adrian Sanders, is currently serving out his five-year sentence at a fire camp, and despite his reassurances, she worries about his safety. "He has told me that they hear when a firefighter dies over their radio, and he's trying to be safe but I worry so much about him," she said.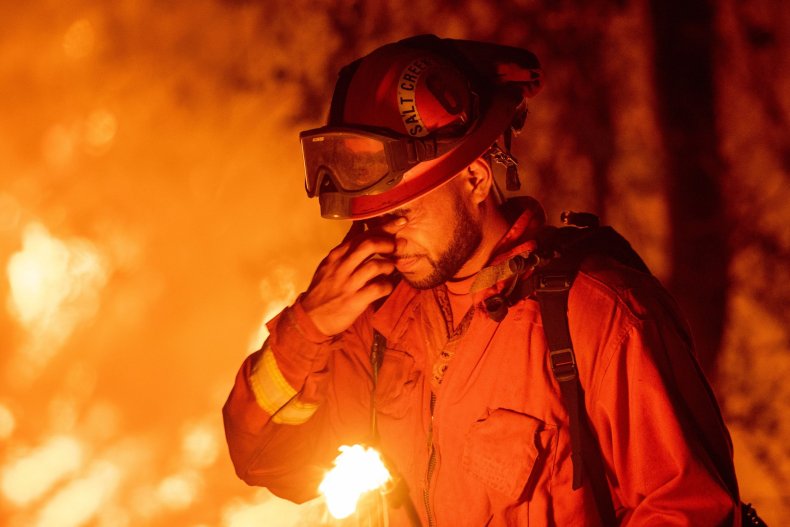 Coleman lives in Los Angeles, but her son is far north in Weott, California. "It's too far to visit him," she explained. "I would have to take a plane, and then when they're shipped out, you never know when they're going to be, they don't know when they're leaving, they just get calls in the middle of the night. It reminds me of the military."
Sanders, though, feels fulfilled by his work at the camp, and has lost 25 pounds during training, said Coleman. But she still wishes that more people would notice that her son is risking his life to help Californians for no reward. "No one says anything about them, they're heroes," she said. "They don't get the credit and they work so hard."