California Wildfire Map: Kincade and Tick Fires Spread, Evacuations Expand
To date, the spate of wildfires that started in California earlier this month have claimed 294 buildings and the lives of three people, according to the California Department of Forestry and Fire Protection.
While firefighters have successfully extinguished some of the blazes, including the Sandalwood and Briceburg fires, and brought others—like the Saddleridge fire that menaced Northern Los Angeles and Ventura County two weeks ago—under control, new incidents have popped up across the state. The Kincade and Tick fires, in particular, are poised to wreak havoc.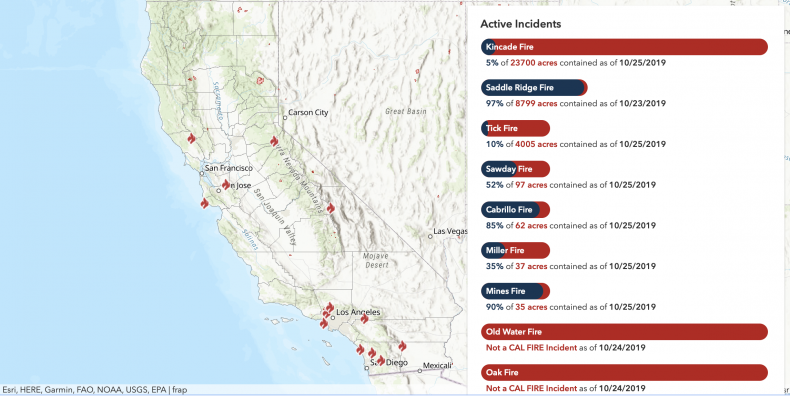 The Los Angeles Fire Department was still contending with three blazes on Friday: the now-controlled Saddleridge and Palisades fires, and the Tick fire. Since it began on October 10, the Saddleridge fire has scorched more than 8,700 acres and claimed one life. After 11 days of fighting, LAFD declared the brush fire under control on Monday.
The last update from the Department of Forestry and Fire Prevention listed the incident 97 percent contained Wednesday.The smaller Palisades fire spread over a comparably small 42 acres and was declared under control (75 percent contained) as of Friday morning.
Meanwhile, the Tick fire ignited Thursday and has burned more than 4,000 acres in just two days. That fire was just 10 percent contained as of 8:45 p.m. PT Friday. With 10,000 homes threatened by the fast-moving flames, roughly 40,000 Canyon County residents faced mandatory evacuation orders, according to ABC Eyewitness News.
While the cause of the Tick fire has not yet been determined, Governor Gavin Newsom accused power company Pacific Gas & Electric of being responsible for it by "simply not doing their jobs," according to CNN.
Farther south, San Diego County was contending with two new incidents as of Friday, the Sawday and Miller fires, which singed 97 and 32 acres, respectively, during their first 24 hours aflame. For perspective, burning 32 acres is equivalent to setting 24 football fields ablaze.
Between San Diego and Los Angeles, fire fighters from the Marine base at Camp Pendleton confronted the Oak fire earlier in the week, and set off to help battle the Tick fire and Sonoma fires on Friday.
To the north, Pacific Gas and Electric announced it would once again be turning off the power to millions of Californians' homes and businesses ahead of wind storms forecasted for Sunday and Monday. Impacted counties include Sonoma, Mendocino, and San Mateo.
In Sonoma County, the Kincade fire has devastated more than 23,000 acres and was only 5 percent contained as of Friday. For comparison, Disney World covers roughly 25,000 acres. Local government extended evacuation orders late in the evening on Friday, with 600 homes threatened by the fire, according to SF Gate, with a new evacuation center opened at Healdsburg Community Center.
"The event looks to be potentially historic," county supervisor David Rabitt told reporters Friday afternoon. While 49 structures were destroyed, no deaths or missing persons have been reported.