Smoke From California's 17 Wildfires Raises Concern of Respiratory Illness, Carcinogens
As smoke from 17 California wildfires chokes the state, sparking air quality advisories in neighboring states, public officials have warned that pollutants from the fires could impact millions of people.
Cities and states hundreds of miles away from the major wildfires are still deluged with harmful particles and pollutants that remain in the atmosphere for weeks. The haze raises the specter of respiratory illness and airborne carcinogens.
The smoke contains a mix particles and gases, some of which naturally occur in dried leaves and trees, and others of which are emitted when homes are destroyed. They are most commonly carbon monoxide, ash and organic carbon, which often contains cancer-causing agents, atmospheric chemist Richard Peltier told CBS in 2017.
Those gases and particles can cause chest pain and worsen preexisting respiratory and heart diseases including asthma, the Centers for Disease Control said. Older adults and children are most susceptible; adults 65 and up already have a greater likelihood of disease, and children, who are more likely to spend time outside than their working parents, breathe more air per pound of body weight.
The Carr Fire, tearing through more than 120,000 acres of Shasta County, California, is already one of the most destructive in the state's history, part of an unusually busy fire season that has evolved into more of a fire year. Nearly 9,000 wildfires burned 1.2 million acres and killed at least 46 people in 2017. It was the worst year for fires in California on record and the frequency and severity of the destructive blazes will likely increase.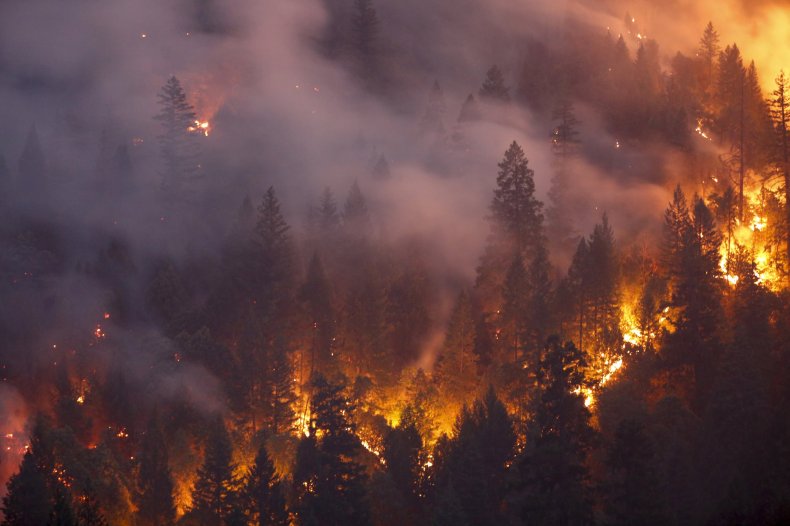 Rising global temperatures could be behind both the increase in the number of wildfires each year, and the drawn out fire seasons, the Union of Concerned Scientists said.
Air quality in general suffers. While the majority of the U.S. has seen a decline in particle pollutants in the air, states like California, Utah and Idaho suffer from increasingly poor air quality. Wildfires are a major contributor.
On Thursday, the Environmental Protection Agency's daily Air Quality Index found unhealthy air quality in pockets of north and east California and parts of Oregon, with warnings of pollutants throughout most states in the West. The system measures the amount of pollutants found in the air, including carbon monoxide and particulate matter.
There's no way to estimate a "safe distance" from the smoke's pollutants, but the CDC recommends remaining indoors and installing air filters to remove particles that have infiltrated homes, many of which are odorless but can be toxic when inhaled.
Smoke From California's 17 Wildfires Raises Concern of Respiratory Illness, Carcinogens | Health