California Fire Map 2018: Where Are Wildfires Still Burning?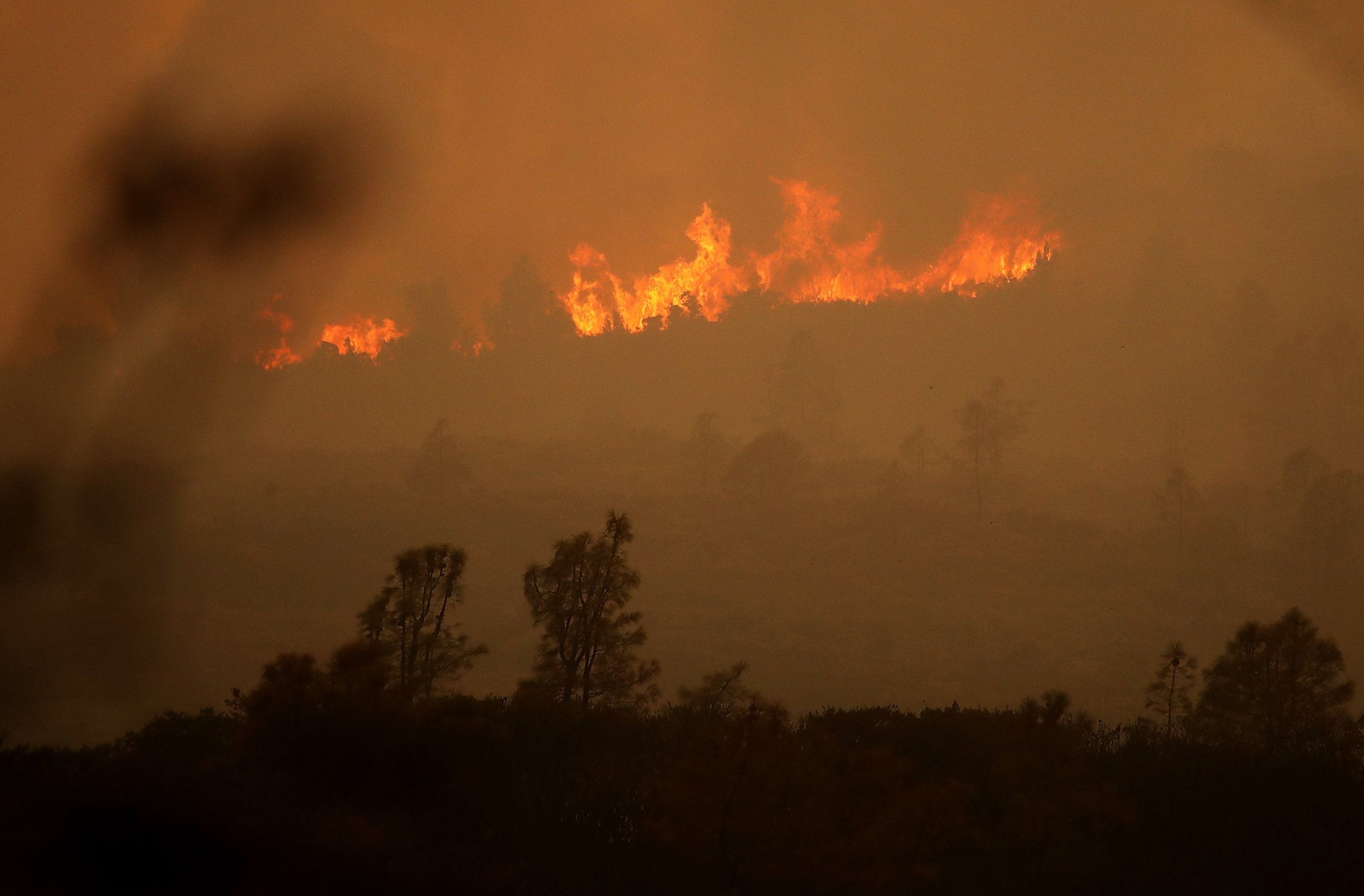 Fires have been raging across California all summer long burning hundreds of thousands of acres of land and threatening thousands of homes. The smoke and debris coming from the blazes have even traveled across the county bringing smoke clouds and poor air quality with them.
While some of the fires, like the Ferguson Fire, are already fully contained others still have 10 to 20 percent left until they're considered to be fully contained. Thousands of fire personnel are working across the state to finally contain the remainder of the fires.
The California Department of Forestry and Fire Protection has kept track of the fires online with information about the acres burning, the number of structures that have been destroyed, the level of containment and more.
Mendocino Complex Fire
The Mendocino Complex Fire is actually made up of two fires, the River Fire and the Ranch Fire. The River Fire was contained at 48,920 acres and stopped spreading while the Ranch Fire was contained at 93 percent as of Thursday, according to InciWeb. Together the two fires total 459,102 acres, a record-breaking size fire for California.
The causes of the two fires that make up the Mendocino Complex fire are both under investigation and the fire has damaged more than 200 structures, many of which were homes. Three firefighters were injured while fighting the flames and one died. The expected date of containment is set for September 1.
Lions Fire
The Lions Fire burning in the Sierra National Forest was 80 percent contained as of Thursday with 12,990 acres burning. The fire was caused by a lightning strike June 11 and has caused the closure of some hiking trails in the area, though the Pacific Crest Trail and the John Muir Trail were open as of Thursday, according to InciWeb. Crews working the fire planned to maintain containment lines and construct further fire lines in the area to help contain the fire by the expected containment date of September 7.
Donnell Fire
The Donnell Fire has been burning for nearly a month, near Donnell Lake in the Stanislaus National Forest in California. The cause is unknown but the fire that started August 1 has subsequently caused the closure of the Pacific Crest Trail between Highway 108 and Highway 4, according to InciWeb. As of Thursday the fire was burning at 36,335 acres and was 65 percent contained.
Hirz Fire
The Hirz Fire burning 18 miles north of Redding, California, not far from the Carr Fire that was nearly 100 percent contained as of Thursday. But the Hirz Fire's perimeter was contained at 39 percent while nearly 35,000 acres of land burned as of Thursday, according to InciWeb. The fire was caused by human activity and more than 2,000 fire personnel were working to contain it.