California Fire Map 2018 Update: Where Ranch, Carr and Other Blazes Are Still Burning
Several large fires continue to burn through much of California. Fire officials have nearly contained all of the Mendocino Complex Fire, the largest in state history, though the fire remains active.
Newsweek has rounded up the latest on the biggest wildfires scorching California.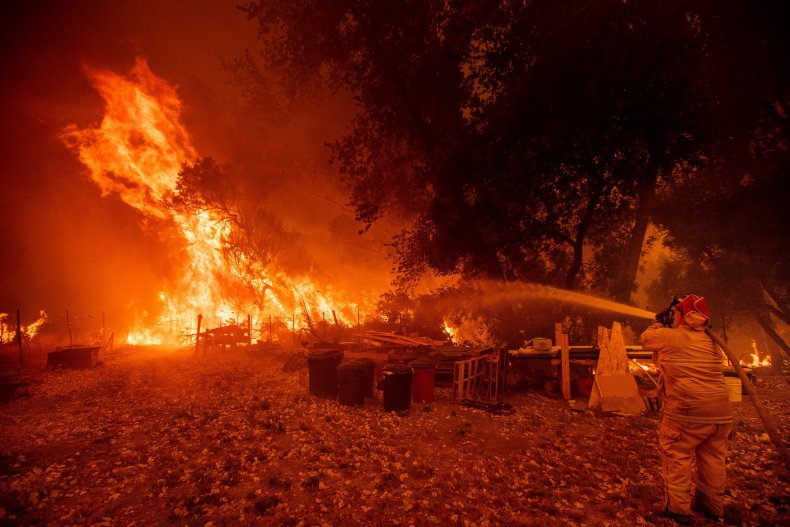 Mendocino Complex Fire
Lake, Mendocino, Colusa and Glenn counties, California
398,862 acres, 79 percent contained​
The Ranch Fire, one of the two fires comprising the Mendocino Complex Fire, continued to burn actively and has burned 349,942 acres, Cal Fire said on Monday. The fire, which ignited on July 27, was 74 percent contained.
Cal Fire said that the Ranch Fire continued to burn actively overnight and that there was an increase in fire behavior in the north and northeastern parts of the fire area. Additional evacuations were issued in parts of Glenn County on Sunday due to increased fire activity, the agency said.
"As westerly winds increase in the day, the fire will increase rate of spread to the east as it enters east/west aligned drainages," Cal Fire warned.
Meanwhile, the River Fire "had no movement" and is 100 percent contained, officials said.
Carr Fire
Whiskeytown, California
229,651 acres, 88 percent contained
The Carr Fire, which began on July 23, due to mechanical failure of a vehicle, has spread to 229,651 acres and was 88 percent contained, Cal Fire said Monday. Officials said the fire continued to burn actively within containment lines and that heavy timber fuels have posed challenges to firefighting efforts.
On Wednesday, an official report released three videos that showed a massive 165mph fire tornado that killed Redding firefighter Jeremy Stoke, CBS News reported. According to Cal Fire, the smoke-and-fire tornado exceeded temperatures of 2,700 degrees Fahrenheit in a populated area on the edge of Redding, California.
A total of 2,713 fire personnel are working to control the Carr Fire, as well as152 fire engines, 49 fire crews, nine helicopters, 29 dozers and 63 water tenders. Three firefighters, including Stoke, have been killed by the massive fire.
Donnell Fire
Donnell Lake, California
31,743 acres, 51 percent contained​
The Donnell Fire first ignited on August 1 and has since burned through 31,743 acres. The destructive fire, of unknown origins, is 51 percent contained, according to officials on Monday. More than 800 fire personnel are working to contain the fire, with a final containment date estimated to be September 1.
In an update released on Monday, officials said crews would continue to construct a direct/indirect line along the west portion of the fire, conduct mop up and suppression repair along the south and southeast portion and look for opportunities for a direct/indirect line in the northeast side of the fire.
Holy Fire
Holy Jim/Trabuco Canyon, California
22,885 acres, 91 percent contained
The two-week old Holy Fire, which has burned through 22,885 acres, is nearly 100 percent contained. On Saturday, officials said crews would conduct mop up operations and suppression repair. All evacuations related to the Holy Fire have been lifted.