California Wildfires Map, Update: Over 1.2 Million Acres Burned as SCU, LNU Lightning Complex Fires Rage
Wildfires continue to rage across California, burning thousands of acres and damaging numerous homes and buildings.
According to a tracking map from the Los Angeles Times, there are 34 active fires across the state, with over 1.2 million acres burned, as of Monday.
The largest active fire, according to the map, is the SCU Lightning Complex Fire, which began on August 16 and has burned over 377,000 acres. The fire is 60 percent contained, according to the California Department of Forestry and Fire Protection (Cal Fire).
Following behind is the LNU Lightning Complex Fire, which has been burning for 14 straight days. The blaze has burned over 375,000 acres and is 63 percent contained, according to Cal Fire.
On Monday, Cal Fire provided updates for each of these fires, alerting residents in areas that could be affected. According to the incident update for the SCU Lightning Complex fire, multiple fires within the blaze have since merged into one major fire, broken into two branches.
"Today a warming and drying trend will see highs in the 90s return to Branch I, with mid-80s for the southwest edge of the fire where extensive mop-up and holding will continue as humidity values remain dry. The long-range forecast calls for hot and dry weather this week and through the Labor Day weekend," the update says.
The update also notes where different evacuation orders have been imposed, including areas in Santa Clara and Alameda counties.
According to the incident update for the LNU Lightning Complex fires, "Firefighters worked to control flare-ups in the interior islands of the fire which pose a threat when near the fire's perimeter. Dry weather continues with hotter than usual temperatures this week."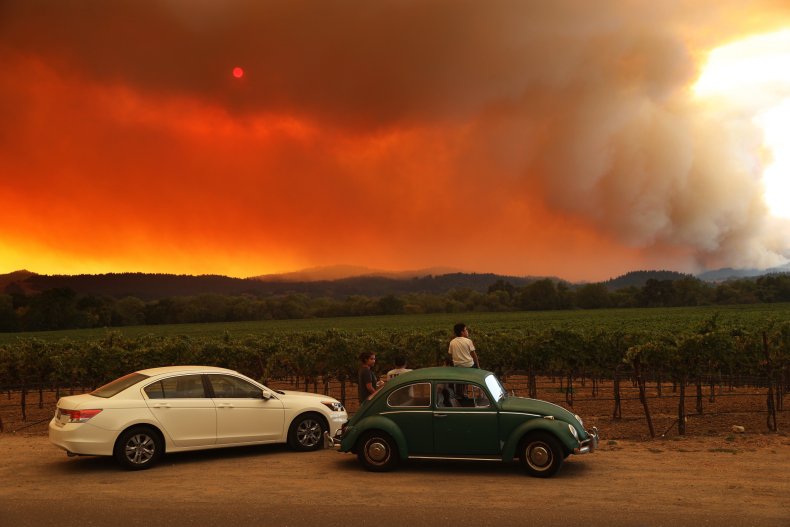 The LNU Lightning Complex fires have led to evacuations in Napa, Lake and Sonoma counties.
In the image below, taken from NASA's Earth Observing System Data and Information System Worldview map, at least 39 fires can be seen across California from space.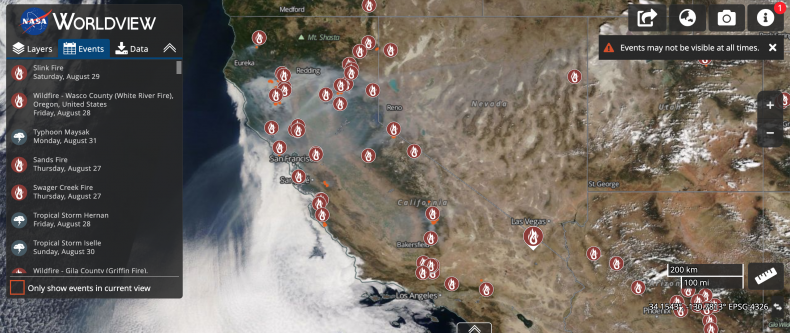 The National Weather Service (NWS) in Sacramento and the Bay Area provided updates on their Twitter accounts to explain how the fires will have a continuing impact on the area.
"Wildfire smoke will continue to impact #NorCal today," the NWS Sacramento wrote in a tweet, showing a GIF of how the smoke will move across the area.
In a similar tweet, NWS Bay Area showed smoke and haze from the fires seen from satellite imagery. The GIF also shows "burn scars" over various areas that were caused by the wildfires.