California Wildfires Map, Updates As Hennessey Fire Burns 100,000 Acres
California residents from several counties have been ordered to evacuate as wildfires continue to burn thousands of acres across the state. As the LNU Lightning Complex fires burn more than 120,000 acres, including the Hennessey Fire burning 100,000 acres, many Napa County residents have been told to leave their homes.
However, Cal Fire is also encouraging all Californians to prepare to leave their homes in case of a wildfire. Cal Fire spokesperson Lynnette Round said on Wednesday: "My recommendation is that all the citizens in California be ready to go if there is a wildfire.
"Residents have to have their bags packed up with your nose facing out your driveway so you can leave quickly. Everybody should be ready to go, especially if you're in a wildfire area."
In a tweet, Gov. Gavin Newsom said: "CA has experienced 10,849 lightning strikes in the last 72 hours and WORLD RECORD heat temperatures. We're currently battling 367 known fires.
"Grateful for our firefighters, first responders, and everyone on the frontlines protecting Californians during this time."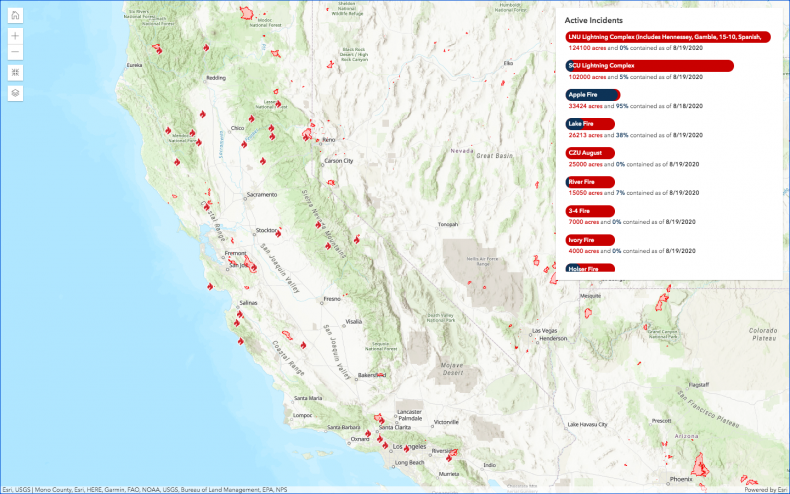 LNU Lightning Complex
The LNU Lightning Complex has burned 124,100 acres across five counties and is 0 percent contained. It is made up of several fires, including Hennessey Fire, Gamble Fire, Green Fire, Spanish Fire, and Markley Fire, none of which are contained.
Hennessey Fire
The Hennessey Fire is burning on Hennessey Ridge Road in Napa County. The fire has burned 100,000 acres and has destroyed one structure and two outbuildings.
Gamble Fire
The Gamble Fire is burning at Berryessa Knoxville Road, West of Brooks, and has burned 13,000 acres.
Green Fire
The Green Fire is burning near Putah Creek Bridge/Berryessa Knoxville Rd and has burned 8,000 acres.
Spanish Fire
The Spanish Fire is burning near Spanish Flat and has burned 4,100 acres.
Markley Fire
The Markley Fire is burning near Monticello dam and has burned 5,000 acres.
Morgan Fire
The Morgan Fire has burned 3,500 acres.
Evacuation orders are in place in areas of Napa County, Sonoma County, and Lake County.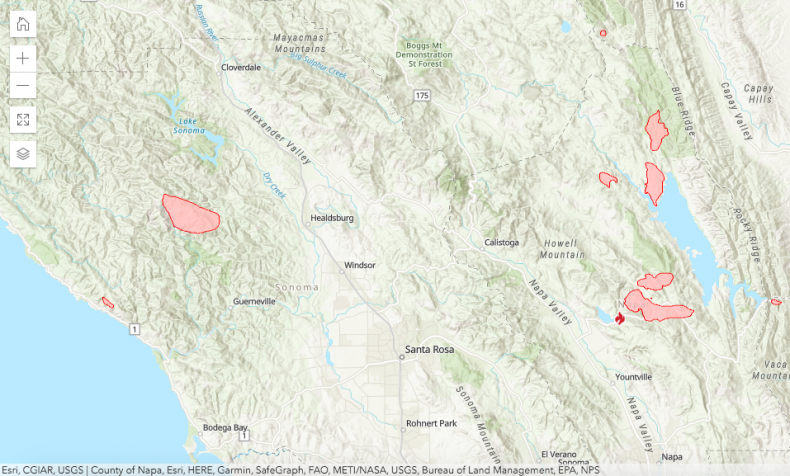 SCU Lightning Complex
The SCU Lightning Complex is made up of several fires burning in Santa Clara County, Alameda County, Contra Costa County, San Joaquin County, and Stanislaus County.
The fires are broken into three zones; the Canyon Zone, the Calaveras Zone, and the Deer Zone. They have collectively burned 102,000 acres and are 5 percent contained.
Deer Zone
The Deer Zone is burning in Contra Costa County and is made up of the Round Fire, Palm Fire, Marsh Fire, and Briones Fire.
Calaveras Zone
The Calaveras Zone is burning in Alameda County, Santa Clara County, and Stanislaus County, and is made up of the Kilkare Fire, Arroyo Fire, Mill Creek Fire, Welch Fire, Ohlone Fire, and Reservoir Fire.
Canyon Zone
The Canyon Zone is burning in Stanislaus County and San Joaquin County, and is made up of the Peg Leg Fire, Terraville Fire, Del Puerto Fire, and Peach Fire.
Evacuation orders are in place in areas of Santa Clara County, Alameda County, and Stanislaus County.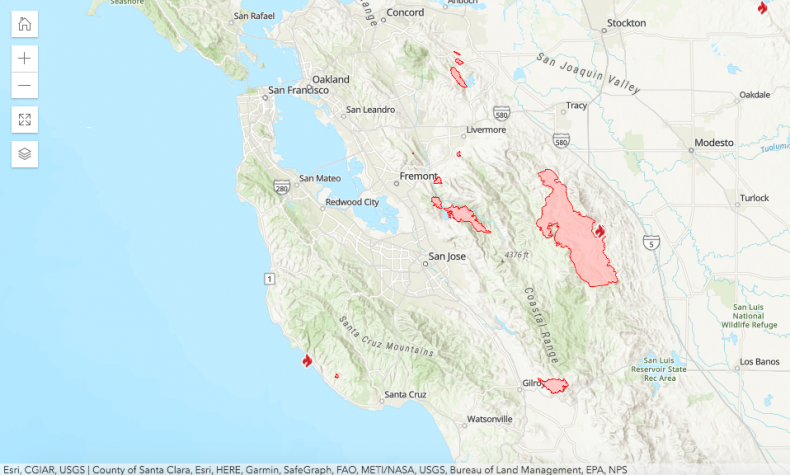 CZU August Lightning Complex
The CZU August Lightning Complex is burning 25,000 acres in various locations across San Mateo and Santa Cruz Counties and is 0 percent contained. Two agencies, ten crews and 591 personnel are working to control the CZU August Lightning Complex.
There are evacuation orders in place in areas of San Mateo and Santa Cruz Counties.
Lake Fire
The Lake Fire is burning 26,213 acres in Los Angeles County and is 38 percent contained. There has been one minor injury to a firefighter. The Lake Fire has damaged six structures and destroyed 21 others.
The fire started in the Angeles National Forest near Lake Hughes and is moving north and west.
On Wednesday, the fire was eight miles northeast of Interstate 5 and south of Highway 138. It was active on the west flank in the areas of Atmore Meadows and Burnt Peak Canyon.
Mandatory evacuations remain in place at Lake Hughes Road west of Pine Canyon and north of Dry Gulch Road, east of Ridge Route Road, west of Lake Hughes Road and Fire Station 78, north of Pine Canyon and Lake Hughes Road south of SR-138.
River Fire
The River Fire is burning 15,050 acres in Monterey County and is 7 percent contained. The River Fire has damaged two structures, destroyed six structures, and injured four people.
Evacuation orders are in place in areas of Monterey County and residents can sign up for evacuation alerts.
There are other fires burning more than 1,000 acres in California, including the following:
Cal Fire is advising Californians to take safety precautions amid the wildfires and in the extreme heat conditions: "Beat the heat! Take extra precautions if you work or spend time outside. When possible reschedule strenuous activities to early morning or evening. Know the signs and symptoms of heat exhaustion and heatstroke.
"Drink plenty of fluids, stay in an air-conditioned room, stay out of the sun, and check up on relatives and neighbors. Young children and pets should never be left unattended in vehicles under any circumstances.
"Anyone overcome by heat should be moved to a cool and shaded location. Heatstroke is an emergency! Call 9-1-1."