Maria Fire Map, Update as Blaze Forces Evacuations, School Closings in Somis and Santa Paula, Ventura County
California was swept by a new fire–the Maria Fire–around the Somis and Santa Paula areas of Ventura County on Thursday.
As of 11 p.m. (local time) Thursday, the rapidly expanding blaze was reported to have reached approximately 7,394 acres with zero percent containment, according to the official website of the Ventura County Emergency Information Source (VC Emergency).
There was reported to be a slow rate of spread on the Santa Paula side, while the fire is moving westward towards Somis, according to a post by the official Ventura City Fire Department Facebook account.
Mandatory evacuation orders are in place in the following areas affected by the Maria Fire:
North Boundary : South Mountain Road
West Boundary: West Los Angeles Ave
East Boundary: Balcom County Road
South: Highway 118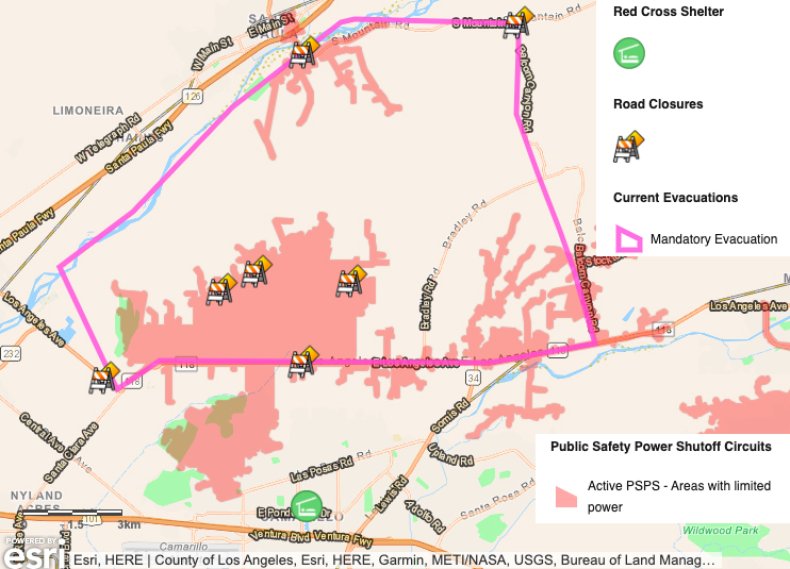 Evacuation centers are located at the following locations: Camarillo Community Center (1605 Burnley St. Camarillo, CA 93010), Camarillo Animal Shelter for small animals (600 Aviation Dr Camarillo, CA 93010) and at both Ventura County Fairgrounds (10 W. Harbor Blvd. Ventura, CA 93001) and Earl Warren Showgrounds for large animals (3400 Calle Real Santa Barbara, CA 93015).
Southern California Edison also stated a public safety power shutoff (PSPS) is under consideration for some areas under the SCE service from Friday "due to weather conditions that may create the potential for elevated fire risk", the company announced on its website. Around 10,400 customers, including more than 5,000 in the Ventura County area, are expected to be affected by the PSPS, the company states.
"We are deploying a Community Crew Vehicle equipped with backup power so customers can charge their personal mobile devices and continue to receive updates about the outage. Water and snacks are also provided to customers. On Friday 11/1, a vehicle will be stationed at San Bernardino County, Jessie Turner Health and Fitness Center, 15556 Summit Ave, Fontana CA 92336, 8 am-3 pm.
"While we update the list of impacted counties regularly, real-time data may be delayed or limited as field and weather conditions are dynamic and change constantly," SCE warned on its website.
"In some extreme cases, an erratic or sudden onset of conditions may impact our ability to provide advanced notice to residents. All information related to monitored or de-energized circuits is provided to the Ventura County Sheriff Office of Emergency Services by Southern California Edison," VC Emergency warned.
VC Emergency also confirms road closures are in place for the following areas:
South Mountain Road between 12th Street and Balcom Canyon
Berylwood Rd. at Aggen Rd.
West La Loma Rd. between Center Rd and Walnut Ave.
Price Rd. at E. Los Angeles Ave (Hwy 118)
Clubhouse Drive at E. Los Angeles Ave. (Hwy 118)
Full details on areas under mandatory evacuation, evacuation warning and road closures can be seen at this interactive map on the Ventura County Emergency Operations Center website.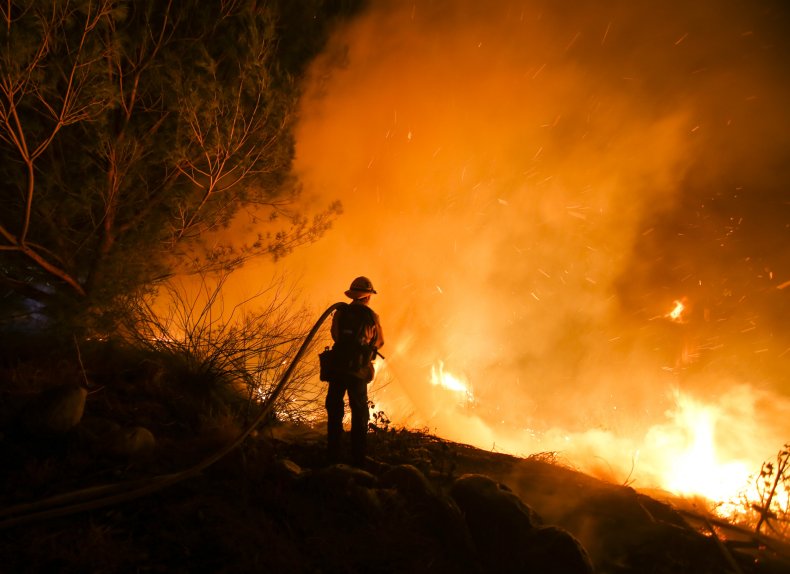 The Ventura County Office of Education (VCOE)have announced closures for Friday for the following schools at its official website:
School Districts
Briggs School District
Hueneme Elementary School District
Mesa Union School District
Mupu School District
Oxnard Union High School District
Santa Clara Elementary School District
Santa Paula Unified School District
Charter Schools
ACE (Camarillo)
Univerity Preparation (Camarillo)
VCOE also confirmed the following schools and classrooms operated by the Ventura County Office of Education will also be closed on Friday: Dwire School, Gateway Community School, James Foster School, La Mariposa School, Las Colinas Middle School, Phoenix Airport, Phoenix Los Nogales, Pleasant Valley Early Childhood Center, Ritchen Preschool, Sunkist School, Triton Academy and Williams Preschool.
Critical fire weather is expected for parts of Los Angeles and Ventura County, according to the latest fire weather outlook on the National Weather Service (NWS) Storm Prediction Center website.
"Surface high pressure is forecast to build into the central Rockies today, while mid-level ridging gradually shifts over the far western United States," the NWS predicts.
"A very dry air mass (e.g., single-digit minimum RH values) is forecast to remain over portions of Southern California today as offshore flow persists owing to the aforementioned surface high pressure near the central Rockies...," it adds.