California Fires Map: Here's Where the Mendocino Complex Fire, Carr Fire and Other Major Wildfires Are Still Burning
Firefighters in California are working tirelessly, battling several major blazes across the state, as wildfire season rages on. Cal Fire has urged Californians to be "extremely cautious" and asked that residents and visitors take measures to prevent any more blazes.
Firefighters in the Golden State are currently fighting against the largest wildfire in its history, the Mendocino Complex fire. The massive wildfire, which is a merging of the Ranch fire and the River fire, has burned through at least 300,000 acres and remains less than 50 percent contained.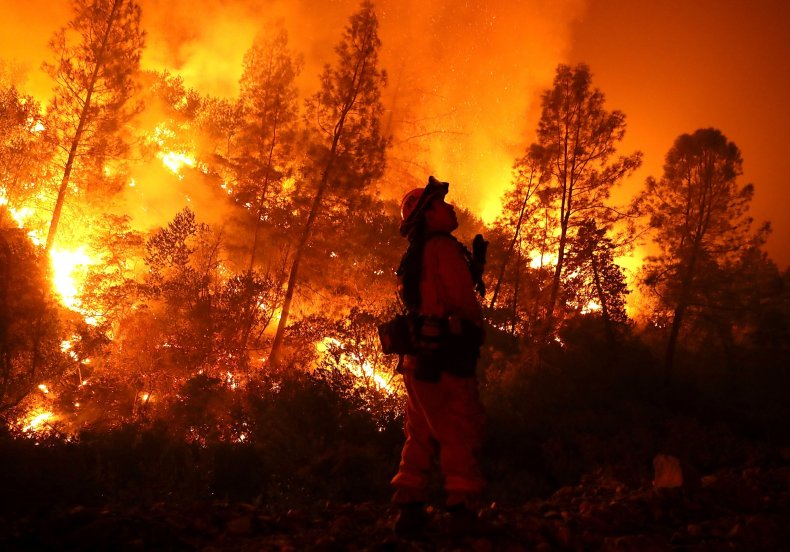 Newsweek has rounded up a few of the biggest and most threatening wildfires in California.
Mendocino Complex Fire
Ukiah and Hopland, California
302,086 acres, 47 percent contained
The Mendocino Complex Fire is actually comprised of two major fires. The Ranch fire, which ignited on July 27, near Ukiah, California, has burned through 253,166 acres and is 46 percent contained, according to an update by Cal Fire on Wednesday. Meanwhile, the River fire in Hopland, California, has reached 48,920 acres and is 81 percent contained.
In total, the two fires have burned through 302,086 acres and are just 47 percent contained. According to Cal Fire, the blaze is expected to be fully contained by September 1. At least 9,200 structures are under threat by the fire, which has already destroyed 229 structures and damaged 27 others.
Cal Fire said crews "were successful eliminating potential fire and decreasing spotting potential in the southern section" of the Ranch fire. "The River Fire saw no growth and crews continued to patrol the fire boundary," Cal Fire added.
Mandatory evacuations remain in parts of Lake County, Mendocino County and Colusa County. Parts of Mendocino County, Glenn County and Lake County are also under an evacuation advisory.
There are 4,019 fire personnel working on the Mendocino Complex Fire. Crews are being supported by 404 engines, 93 water tenders, 19 helicopters, 64 hand crews and 84 dozers. Two firefighters have been injured by the fire.
Carr Fire
Whiskeytown, California
176,069 acres, 47 percent contained
The Carr fire, which has been burning since July 23, was caused by mechanical failure of a vehicle, according to Cal Fire. The massive fire has scorched 176,069 acres and is 47 percent contained as of Wednesday evening.
Cal Fire said that the wildfire is located "in steep drainages with varying wind exposure. Timber fuels have challenged firefighting efforts." Fire crews are focused on constructing containment lines and dealing with spot fires across control lines.
More than 1,000 residential structures were destroyed, and another 191 residences were damaged by the Carr fire. Meanwhile, 22 commercial structures and 500 other structures have been destroyed. At least 26 commercial structures and 65 other structures were damaged.
According to Cal Fire, 4,761 personnel are working on the Carr Fire, along with 361 engines, 125 water tenders, 16 helicopters, 78 hand crews and 118 dozers. At least seven people have been killed by the destructive fire, authorities said.
Donnell Fire
Stanislaus National Forest, California
17,941 acres, 4 percent contained
In just over a week, the Donnell fire has quickly spread to 17,941 acres in the Stanislaus National Forest. The wildfire, which ignited on August 1, has threatened 220 structures and destroyed 55. It remains 4 percent contained, according to an update released on Wednesday evening.
Mandatory evacuations are in place along Highway 108 from Eagle Meadow Road to Kennedy Meadows and along Eagle Meadow Road and the Clark Fork Road area. A total of 563 personnel are working to contain the Donnell fire, as well as 7 hand crews, 3 helicopters, 34 engines, 4 dozers and 4 water tenders.
Natchez Fire
Happy Camp, California
11,338 acres, 50 percent contained
The lightning-caused Natchez fire sprung up just south of the Oregon-California border on July 15. The fire has expanded to 11,338 acres and is 50 percent contained, according to the Northern Rockies IMT1 Team 1.
Authorities said that low-intensity burnout operations will continue on the south and east side of the fire. The Natchez fire is expected to experience a "significant increase" as winds increase on Thursday afternoon.
The Siskiyou County Sheriff's Office issued an evacuation order for two residences near the end of South Fork Road, as well as an evacuation warning for all residences accessed by the South Fork Road and the Grayback Road north of the junction of South Fork Road and Grayback Road.