California Wildfires: Mendocino Complex, Carr Fires Force Residents to Decide, Stay or Go?
Redding, California, residents Jim and DeAnna Gorisek were homeless, yet they refused to put the brakes on hauling Boeing parts to their Mobile, Alabama, destination.
Both husband and wife are over-the-road truckers—meaning they move cargo throughout 48 states across the country—and have been relying on photos and neighbors' sobbing hearsay to be sure that their home is now a pile of dust.
"We lost everything," Jim told Newsweek while pit-stopping this week in Van Horn, Texas, of the loss they sufferedwhen the flames from the Carr Fire tore through their property. "The whole trailer is gone, the entire trailer park is gone."
So is Jim's Dodge pickup, their daughter's Ford Excursion, the brand-new boat DeAnna named "The Blessing," and Jim's fully restored 1977 black and tan Cadillac El Dorado.
"It was a beautiful car," said Jim, crestfallen.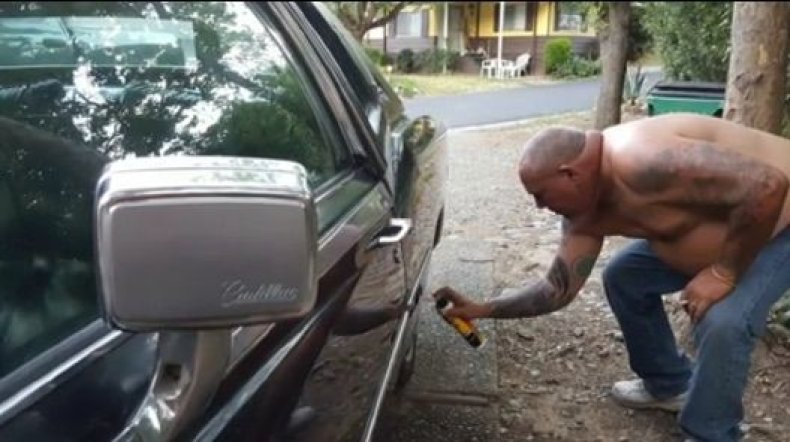 The Carr Fire, burning in Shasta and Trinity counties, is just one of 17 blazes ripping through the Golden State. The Carr Fire, which began July 23, is now almost 50 percent contained and some previously evacuated residents have been allowed to return to their homes. But the fire has wrought destruction: more than 176,000 acres of land torched, more than 1,077 homes ruined and seven lives lost, including two firefighters and a woman and her great-grandchildren.
Most recently, a 21-year-old Pacific Gas and Electric (PG&E) apprentice lineman from Davis, California, named Jairus "Jay" Ayeta, 21, lost his life while working with a transmission crew to restore damaged power lines.
"He was beloved by many," a PG&E spokesman told Newsweek.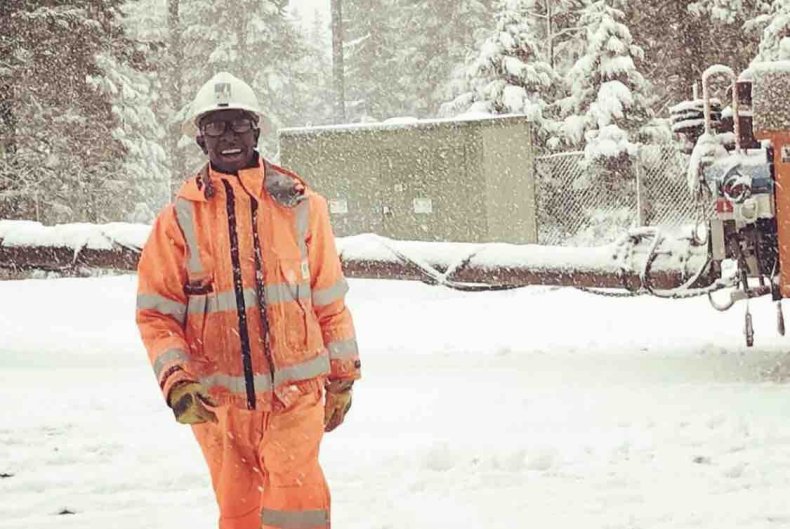 Even as embers still are alight in the Carr Fire, two other monstrous wildfires—the River Fire and Ranch Fire—make up the Mendocino Complex Fire. The inferno, believed to have been started by a lightning strike on July 27, has raged through communities 250 miles north of San Francisco—and occupied thousands of firefighters (including some pulled from other states and even international countries like Australia and New Zealand) laboring to snuff it out.
This week, it officially overtook the top spot in the state's record books as the largest wildfire in California's modern history, a record previously held by the Thomas Fire, which exploded through Southern California last year.
Since it began, the Mendocino Complex Fire's flames charred more than300,000 acres of land and leveled 229 structures that dotted mountainous terrain. The Thomas Fire, in contrast, burned through 281,893 acres of more densely populated hills and devastated 1,062 structures.
Lawlessness
A byproduct of the fires affecting homeowners like the Goriseks, who escaped peril, is the threat of thieves hoping to plunder the riches that weren't destroyed in the wildfire.
As firefighters work to contain the flames, authorities have been making arrests and handing out swift punishments. Many looters accused of preying on the ghost towns in Shasta County have been caught. One, Thomas Scudder was arrested shortly before midnight on July 30.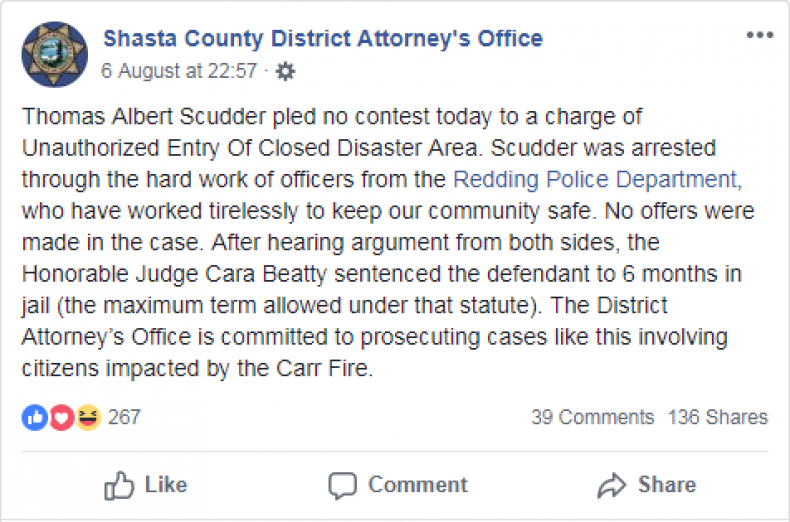 On Monday, Scudder was sentenced to six months in jail after copping a no contest plea for "unauthorized entry of closed disaster area" after he was caught breaching blockades put in place for the Carr Fire.
"He was in the evacuated area, and he had snuck around law enforcement by using access from the river trail to get into it," Shasta County Stephanie Bridgett told Newsweek.
Scudder's case is one of 15 that have landed on Bridgett's desk since the Carr Fire began.
"These are not people who refuse to evacuate and are hanging around houses," she said. "These are people sneaking into neighborhoods and wearing backpacks."
Prior to his latest bust, Scudder himself had numerous priors for theft in Redding, she added.
"There's kind of a lot of people out there taking advantage of the community," she said. "But the community needs to know that we are taking these cases seriously. These are people who have lost everything and being taken advantage of at one of their most vulnerable times, and we are going to protect victims."
In Lake County alone, deputies caught several people they claimed compromised evacuation areas with the intent to pilfer peoples' possessions. Six persons were named and shamed in alleged looting incidents related to the Mendocino Complex Fire with mug shots released by the Lake County Sheriff's Office.
Taming the Fire Beast
Each wildfire raging in California right now is caused by a combination of factors, including bone-dry conditions as well as dried-out brush and steep, rugged hot spots, making the flames difficult to control.
"It's been critically dry, so there is little moisture in the grass and brush, which allows the fire to blow through so quickly," Heather Williams, a California Department of Forestry and Fire Protection (CalFire) spokeswoman, told Newsweek.
The Northern California winds and mercury-rocketing heat have made the firefight all the more strenuous.
"Fire creates its own weather pattern," said Williams. "The humidity continues to drop to single digits, and it's warm and muggy with winds that have all been factors."
Bulldozers are motoring around to rid the grounds of vegetation in the path of the fire. They are being helped by airplanes dumping red retardant and helicopters unloading water, as well as hand crews creating containment lines.
"We're relying heavily on hand crews," said Williams.
Many of the hard work on those human firewalls are made up of California's inmates, often referred to as Angels in Orange. Williams confirmed that some of the manpower fighting the flames are indeed "inmate camp fire crews." These volunteer crews coming from work camps aid the firefighters on the ground. They earn about $1 to $2 daily, taking orders from a fire captain while fanning out in 14-member teams to beat the flames back like a mowing machine. In the trenches, a team leader, or sawyer, whacks brush and trees down with chainsaws, rakes and Pulaskis, which are a cross between an ax and a shovel.
So far, the battle in the mountains has slogged on day and night without respite.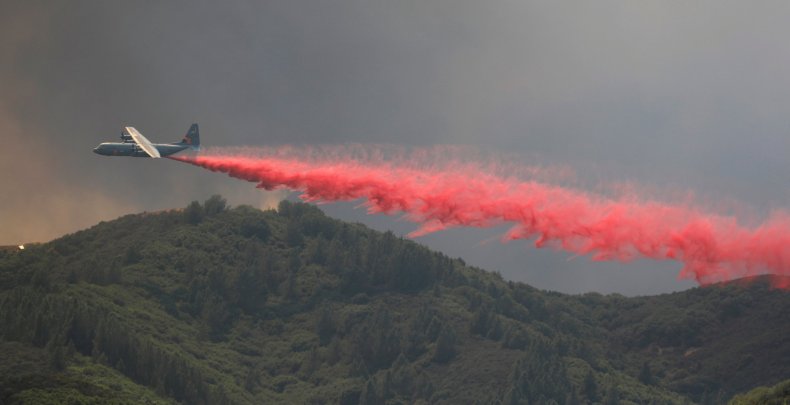 "We haven't seen any relief overnight," Williams said.
While there have been thunderstorms down near Los Angeles, precipitation is rare in the region until autumn and winter months. Oddly enough, it's during these cooler periods that the state is witnessing conditions in which fires aren't letting up at all.
"California sees a year-round fire season over the past couple years," said Williams. "It's the fall and winter that we see the most destructive fires."
Stay or Go?
Jim and DeAnna enjoyed a pleasant day fishing for crappies at Whiskeytown Lake, in Shasta, California, all day on July 26. They spotted smoke from afar while on their boat but didn't stress about it. The Carr Fire was initially over 8 miles away "on the other side of the mountain," and they had felt that they were out of harm's way.
"I didn't think it could get to my place," Jim admitted.
While the couple was asleep inside their Frontier Hills Mobile Home Park trailer where they lived for two years, however, the fire was encroaching.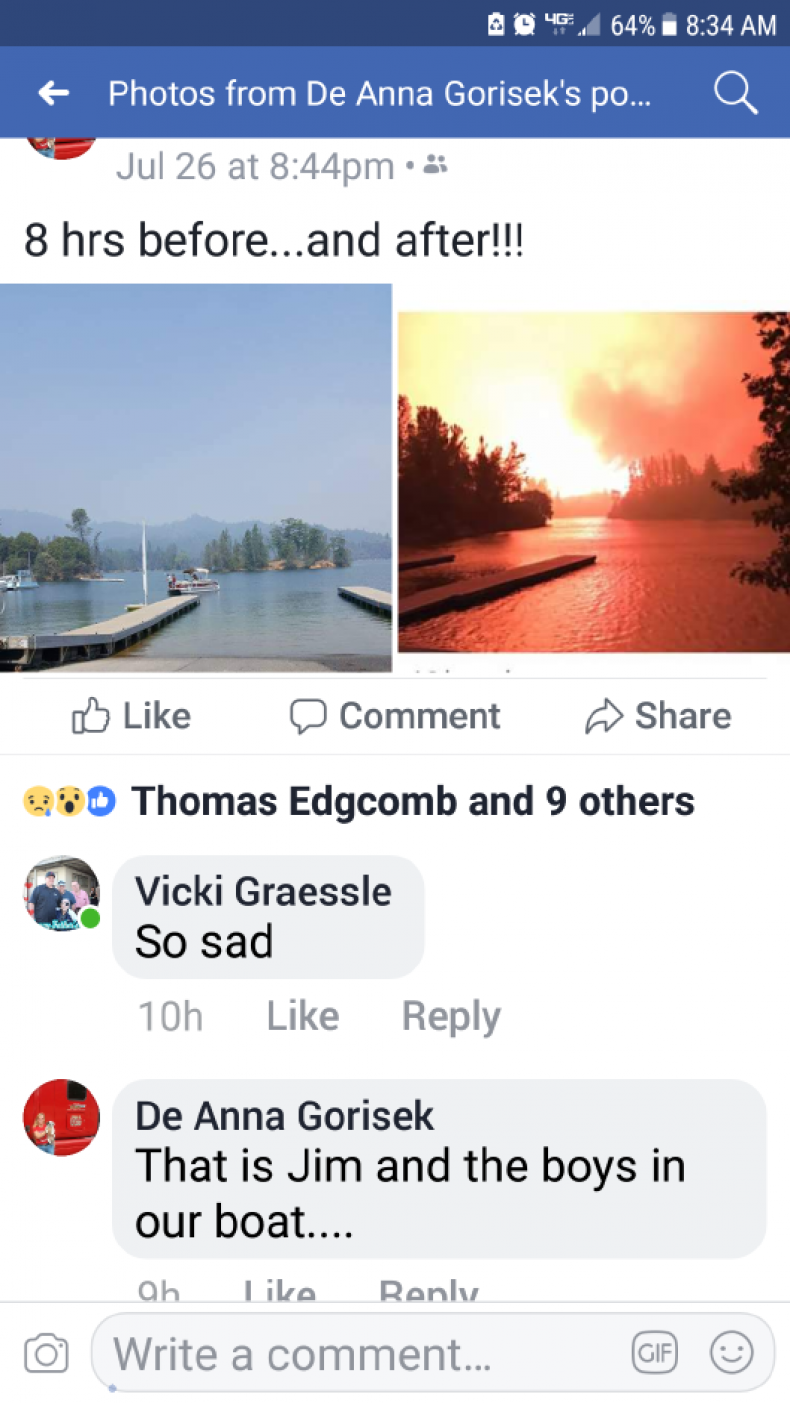 As the night wore on, flames leaped over Route 299.
"The fire had a mind of its own," Jim said of the its shifting directions that night. "It had a mission to do damage."
By 4 a.m., they heard a car horn's continuous wailing from a neighbor's truck. It was followed by a pounding on the front door by another neighbor and volunteer firefighter ordering them to evacuate.
Everybody needed to leave. Now.
"We grabbed some clothes and important papers, and we were gone," he said. "Two hours later the whole park was burning. We didn't get word of it until after we left."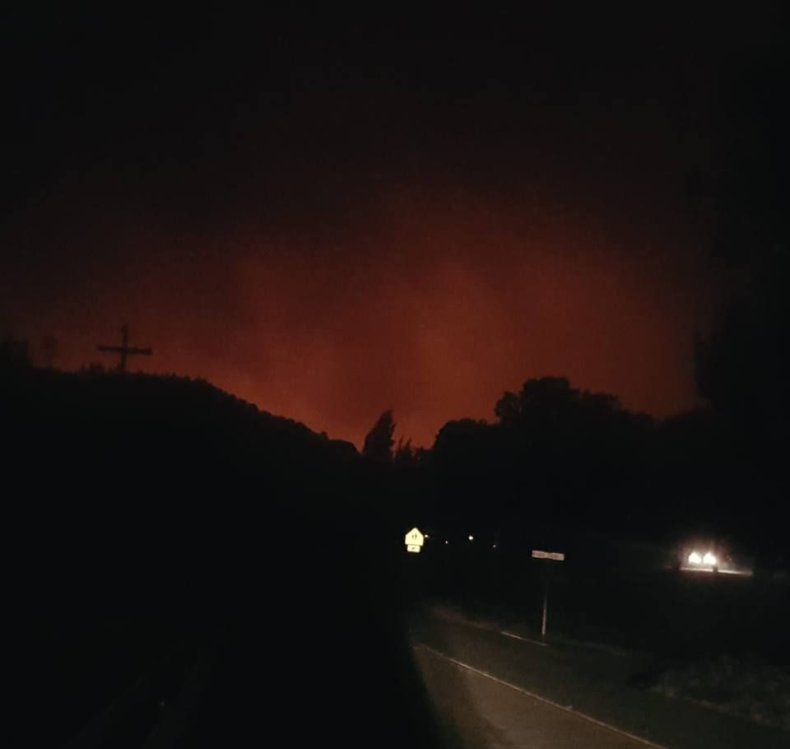 Since bolting from the fire, the trucker couple haven't been able to come to terms with not having a home to return to.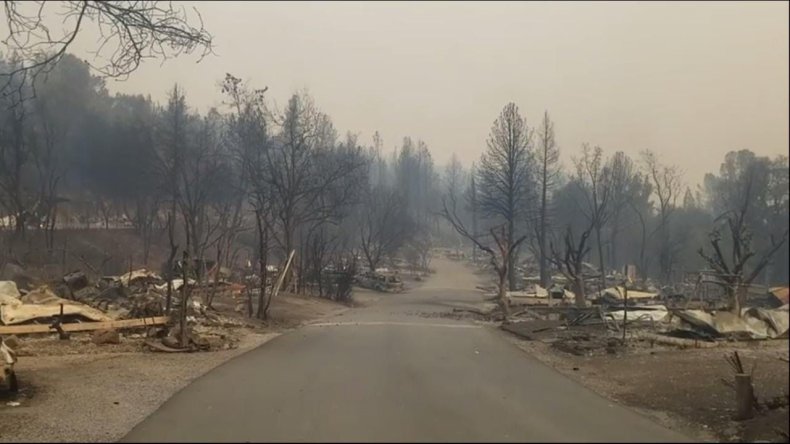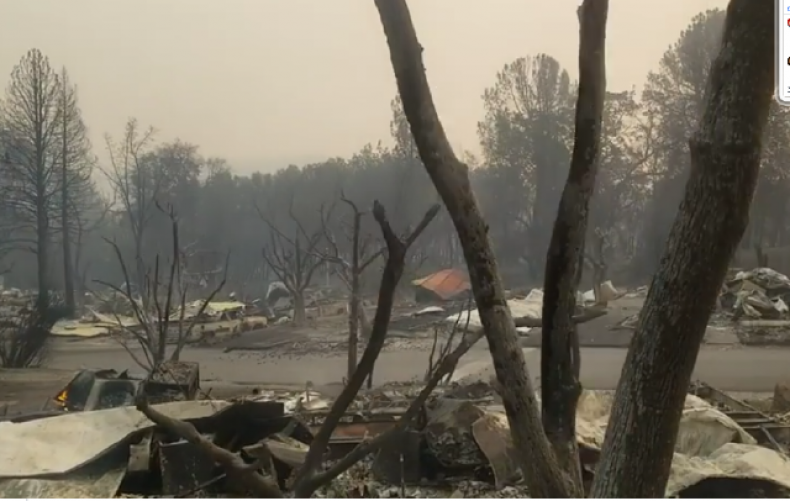 "We don't know what we're going to do," said Jim. "I'm still in disarray. I haven't seen my place, so reality hasn't hit me yet."
There are no regrets, Jim said, because he knows that he and his wife are still alive.
"It's just material s**t we lost," he said. "We'll get over it. We have to believe that God's got a plan."
Not far away inStonyford, California, is the epicenter of town, on Market Street, known as Stonyford General Store. Firefighters and utility workers are among the faithful local patrons with packed cars fleeing town and filling in for one key fill-up or a stock-up of Trish Dearman's self-described "awesome" sandwiches.
"Y'all enjoy and stay safe," she said and saluted to these uninformed customers on Tuesday afternoon as they exited.
Dearman and her husband, Larry, were advised to clear out of town during the weekend of July 27 because the Mendocino Complex Fire's flames were coming straight toward town.
"They told us to evacuate, and we told them no," she told Newsweek. "We thought we weren't in imminent danger."
The duty to keep the general store humming from 7 a.m. to 7 p.m. and supply the community with regular unleaded gas (which, on this day, was going for $3.97 per gallon) like they've been doing for almost a decade, weighed heavily on the decision.
Since then, the fires have yet to threaten the store or much of the neighboring homes.
But the effects of the fire are palpable. Dearman says the postal service hasn't been delivering mail, and she was up in arms over a failed beer order.
"The truck driver turned around because a road closed," she said, adding that the suds only come every two weeks.
Dearman said that, unlike her and her husband, most locals in town didn't agonize over clearing out, because last year's wine country fires in Santa Rosa, California, "scared everybody."
"They were really afraid, but now some people are coming back already," she said.
Others, she said, passed through after suffering losses of their homes in Lake County, where the fire inflicted serious damage.
"It's really sad when their houses burned," she said. "But I told them, 'You have your family and all your pets, and that's a blessing.'"
Becky Trombley, 45, was one of the Stonyford locals who, along with her husband, her yellow Labrador, Jake, and Magic, the cat, fled town to be with relatives in Sacramento.
She said four days ago, a firefighter stood at her front door pleading: "It's gonna be uncomfortable around here with the smoke, and we're going to prevent damage to the houses."
The warning was, in essence, Get out and save yourself, and we'll save the structures (of which she and her husband own two).
"From one of the properties all I could see was smoke," Trombley said. "It was from our Century Ranch home where we saw the flames. It was so surreal."
They quickly readied to split.
"We packed the car with pictures and important papers, emptied the gun safe and put everything else in a fire safe we have," she said.
Their elder neighbors, however, stayed.
"They're older and set in their ways."
It was the Trombleys second time evacuating.
The first was during the so-called Mill Fire, back in 2012. She said the flames came within a quarter-mile of their home.
"You'd think, she said, "we'd sell the property at this point."