California Wildfires: Rain in the Forecast Will Help Firefighters But Could Also Trigger Mudslides
Rain is on the way for fire-scorched and smoke-choked northern California, forecasters said on Sunday, as the search for the dead and missing continued after the state's most destructive wildfires.
The wildfires have already claimed at least 76 lives and the number of people missing jumped on Saturday to 1,276, despite authorities locating hundreds of people who scattered when the Camp Fire tore through the mountain town of Paradise.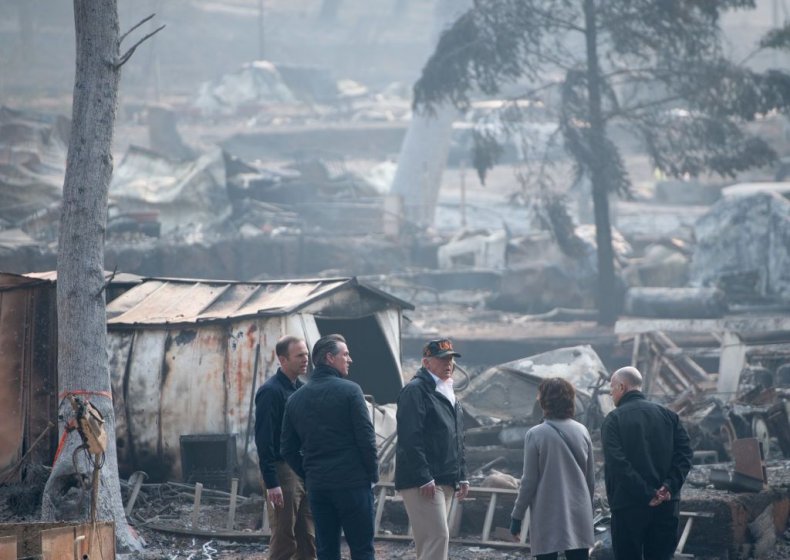 Forensic recovery teams were expected to continue to sift through the charred wreckage on Sunday, relying on DNA to confirm identities.
Up to four inches of rain is expected to fall from late on Tuesday through Friday in the Sierra foothills, the National Weather Service's Weather Prediction Center said, including in Paradise, which was all but obliterated by the Camp Fire.
The rain is good news for fire fighters battling to extinguish the flames, but has also triggered warnings of landslides in areas where the fires have burnt away trees and brush and scorched the earth.
The return of gusty winds could also whip up fires before rain sweeps parts of the states mid-week, reported Accuweather.
By Saturday evening, firefighters have contained 55 percent of the Camp Fire, while Containment of the Woolsey Fire in Southern California was 84 percent, said Cal Fire.
Rain will also drop on San Francisco, helping to clear the air filled with unhealthy levels of smoke from the Camp Fire about 175 miles to the north.
Some sporting events were cancelled in the San Francisco Bay area on Saturday as "unhealthy" air was measured by the Environmental Protection Agency, the San Francisco Chronicle and other media reported. Older people and children were advised to stay indoors.
The rain will help clear that out, said Patrick Burke, a lede forecaster with the National Weather Service's Weather Prediction Center in College Park, Maryland.
However, the rain will be a "one-two-punch" he said.
"It'll bring much needed relief to the firefighters and to the air quality, but there's a potential for dangerous mudslides wherever vegetation is burned away on slopes and hills," he said.
"The rain will be steady through Friday with about three inches and spots that could get four or more inches of rain," he said. "And again, anywhere the vegetation is burned away, there's not a lot to hold the soil and debris in place."
Up to two inches of rain is also expected to fall on southern California this week, including north of Sacramento where the so-called Woolsey fire claimed at least three lives, Burke said.
On Saturday, two forensic anthropologists for the University of Nevada, Reno, were helping firefighters sort through the wreckage at a mobile home park for senior citizens in Paradise.
Firefighters peeled back the metal sheet of a collapsed roof as the anthropologists picked up visibly charred bone fragments, sorting them into paper bags.
Roger Fielding, chief deputy coroner with the Martin County Sheriff's Office, said that each site was treated as a crime scene, with every step of recovery documented with photographs.
"Our job is to pick up any items that might reflect who this person might be," he said.
More than a week later, firefighters have managed to carve containment lines around 55 percent of the blaze's perimeter.
Besides the toll on human life, property losses from the blaze make it the most destructive in California history, posing the additional challenge of providing long-term shelter for many thousands of displaced residents.
President Donald Trump had on Saturday reiterated claims that poor forest management was to blame for wildfires on a tour of parts of California devastated by deadly blazes.
Accompanied by California Governor Jerry Brown and Governor-elect Gavin Newsom, Trump was speaking in the town of Paradise, which has been largely razed by the north California Camp Fire.
"We do have to do management maintenance and we'll be working also with environmental groups. I think everyone's seen the light," the president told reporters.
"I don't think we'll have this again to this extent," he added.
With files from Reuters.