California Wildfires Seen From Space Show State Covered In Smoke As Over 300,000 Acres Burn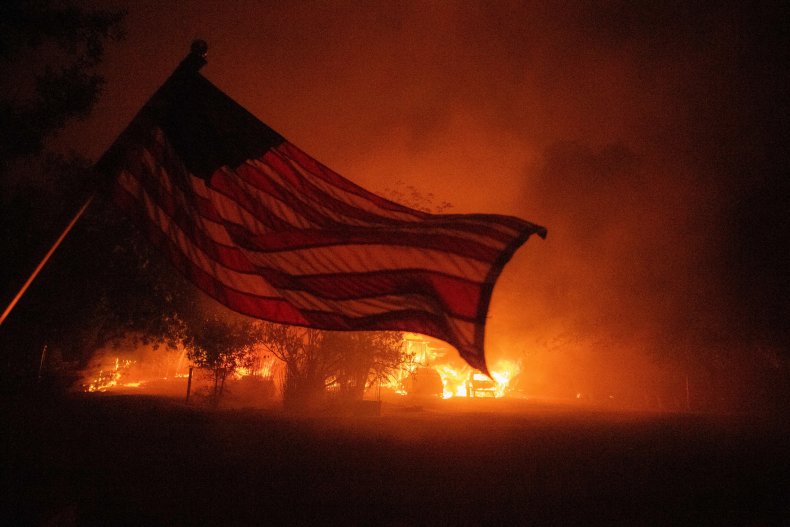 As wildfires continue to rage in California, satellite imagery shows the state covered in smoke. More than 300,000 acres are currently on fire.
The National Oceanic and Atmospheric Administration and NASA's Suomi NPP satellite has captured images of the aftermath of a series of lightning strikes that ignited several fires across northern California.
"The fires range in size from 14 acres, the Beach Fire, all the way up to the largest of these fires, the Canyon Zone fire which is a complex of six fires, that is a total of 10,000 acres and 0% contained," NASA said in a recent update regarding the fires. "The Loyalton fire, currently the largest fire in California, located near the Tahoe National Forest and near the border with Nevada is 43,444 acres in size and 10% contained."
The below image shows where different fires are burning in northern California, as well as tracking the movement of smoke from the fires.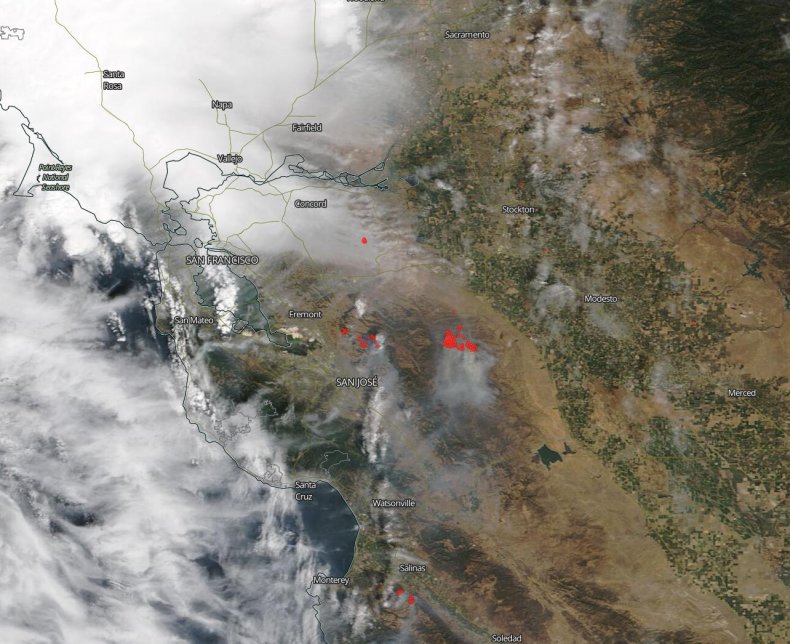 In the below image, taken from NASA's Earth Observing System Data and Information Systems Worldview map, at least 32 fires can be seen scattered throughout California.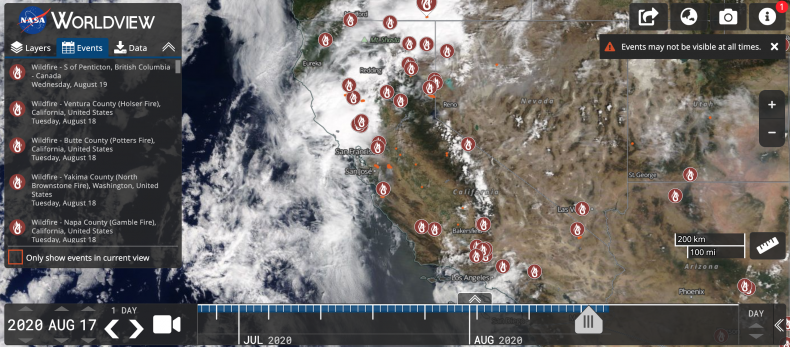 The National Weather Service in Sacramento published a tweet using "geocolor imagery," showing how the smoke from the fires has blown over the state, covering "much of central and northern California."
According to a wildfire map published by the Los Angeles Times, there are currently at least 41 different fires ablaze across California. The fires have burned over 340,000 acres, according to the map.
The Ohlone fire is the largest active fire and has burned at least 97,092 acres. The fire started on August 16 and is currently 0 percent contained. Following behind the Ohlone fire is the SCU Lightening Complex fire (85,000 acres burned) and the LNU Lightening Complex fire (46,225 acres burned).
There are also several fires ablaze in southern California, including the Lake fire in Los Angeles, which has burned at least 21,115 acres, the Apple fire in Riverside Country, that has burned at least 33,424 acres but is 95 percent contained and the Ranch 2 fire, also near Los Angeles, that has burned at least 3,900 acres.
According to the California Department of Forestry and Fire Protection, extreme heat and lightning storms have caused many of the fires across California.
In response to the ongoing wildfires, California Governor Gavin Newsom on Tuesday declared a statewide emergency.
"We are deploying every resource available to keep communities safe as California battles fires across the state during these extreme conditions," Newsom said in a statement. "California and its federal and local partners are working in lockstep to meet the challenge and remain vigilant in the face of continued dangerous weather conditions."