California Wildfires From Space: Startling Images Show Mendocino Complex, Carr and Other Raging Fires
As firefighters battle raging fires on the ground throughout California, astronauts from multiple countries aboard the International Space Station have shared photos of what the destructive force looks like from 220 miles away from earth.
Ricky Arnold, an American astronaut, shared two photos of the fires on Twitter and wrote that the "billowing smoke" was extending eastward toward the Rocky Mountains.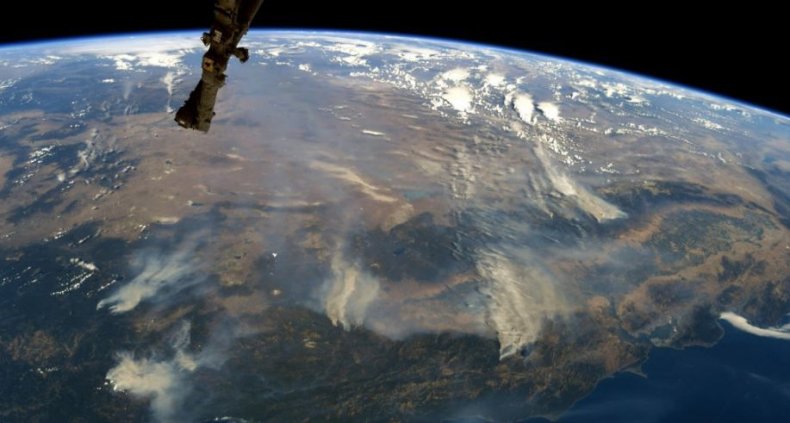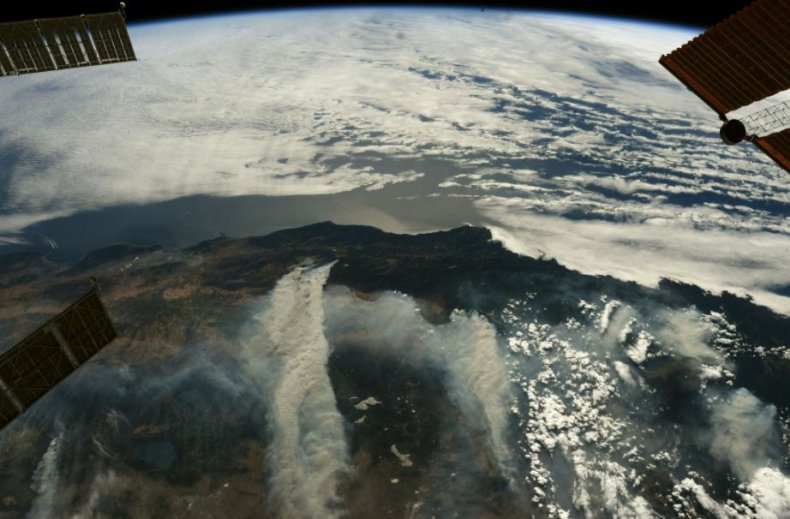 The Mendocino Complex fire, made up of the Ranch fire and the River fire, has become the largest wildfire in the state's history and has burned over 300,000 acres. Over 220 structures have been destroyed because of the fire, and another 9,000 are threatened as the fire rages at only 47 percent containment.
"Forest fires in California are recognized as the largest in the history of the state," Russian astronaut Oleg Artemyev tweeted. "It is very difficult to observe it, I want people to win as soon as possible in this fight with fire."
Smoke from the Mendocino Complex fire was so heavy that it obstructed views from NASA's Aqua satellite. Another photo from the satellite shows multiple fires that are burning in California in red and a layer of smoke covering a large portion of the area.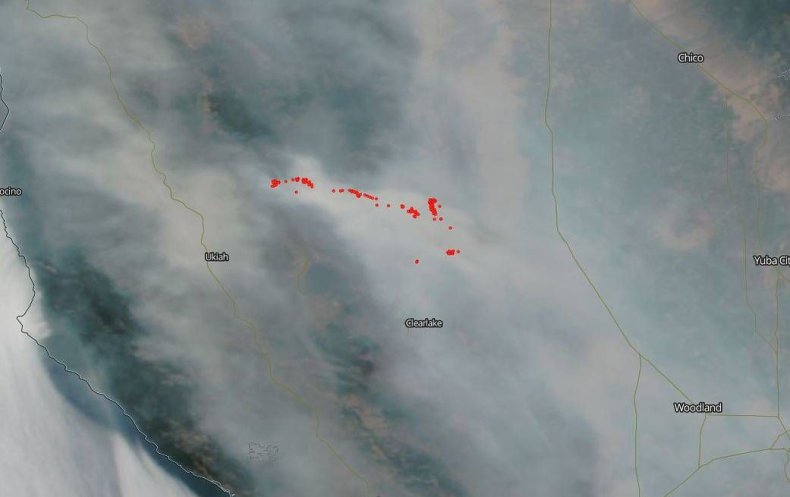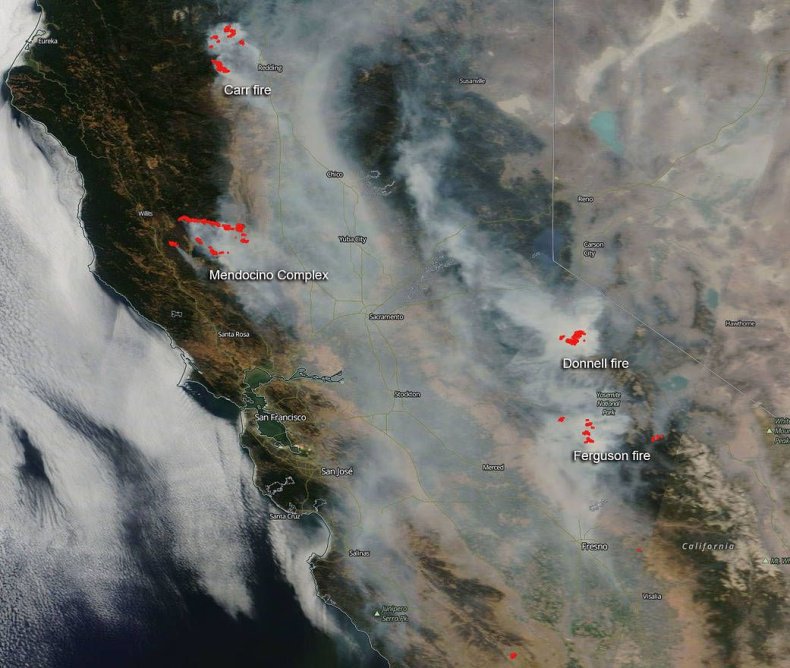 The Carr fire, which is burning north of the Mendocino Complex fire, has spread to 176,069 acres since it began on July 23. Over 1,500 structures have been destroyed and eight people, including multiple firefighters, have been killed because of the raging fire.
Over 95,000 acres have been burned by the Ferguson fire, which began on July 13 and is now 79 percent contained. Two people have been killed during the fire, 14 other people were injured, and 10 structures have been destroyed.
One photo, taken by European Space Agency astronaut Alexander Gerst, shows smoke billowing from both the Ferguson and Carr fires.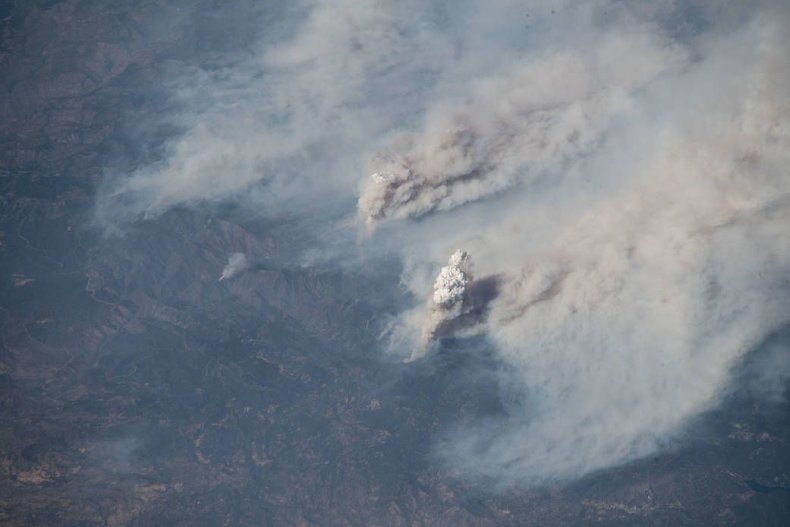 Along with these three major fires, California is battling 16 other fires, burning well over 32,000 acres throughout California. A photo of the Ranch fire captured from space shows a dense column of smoke coming from the blaze. While much of the wildfire damage is confined to California, NASA pointed out that satellite images have captured boundary layers of smoke from the fires spreading into about two dozen states.
"California burning. These fires are frightening to watch, even from space," Gerst tweeted. "Here's a shout-out from space to all firefighters on this planet, my former colleagues. Stay safe my friends!"
Some of the most shocking images were posted on Twitter by Artemyev and show large areas being ravished by thick smoke.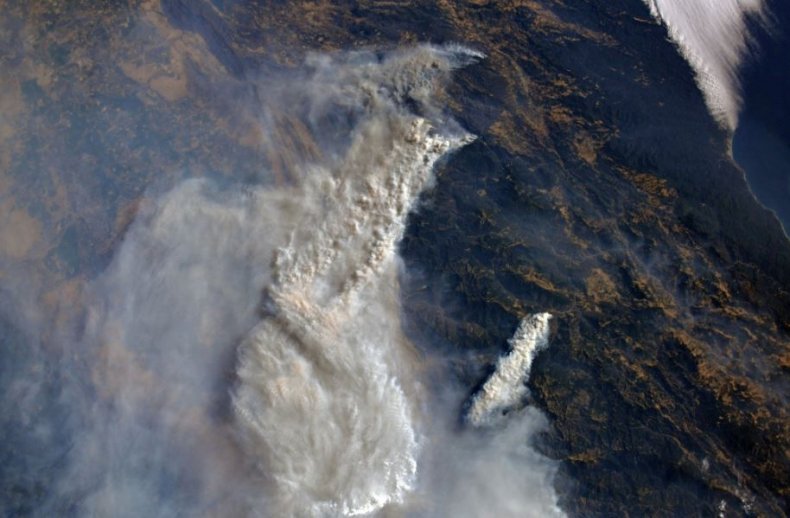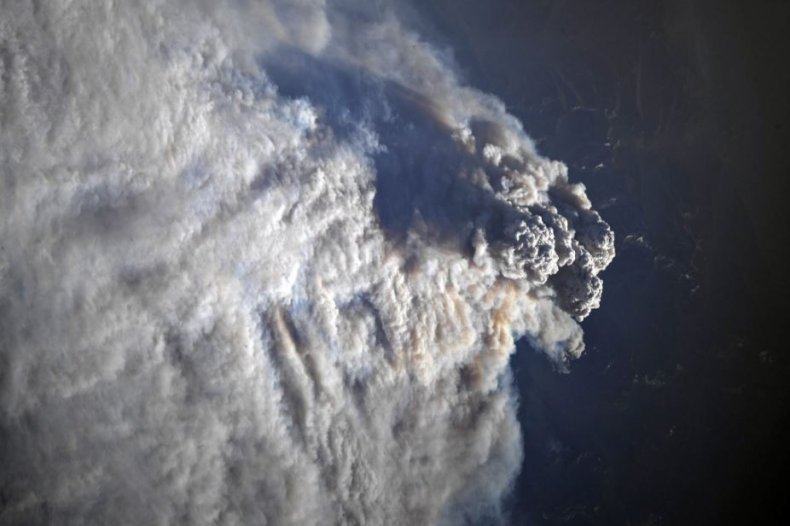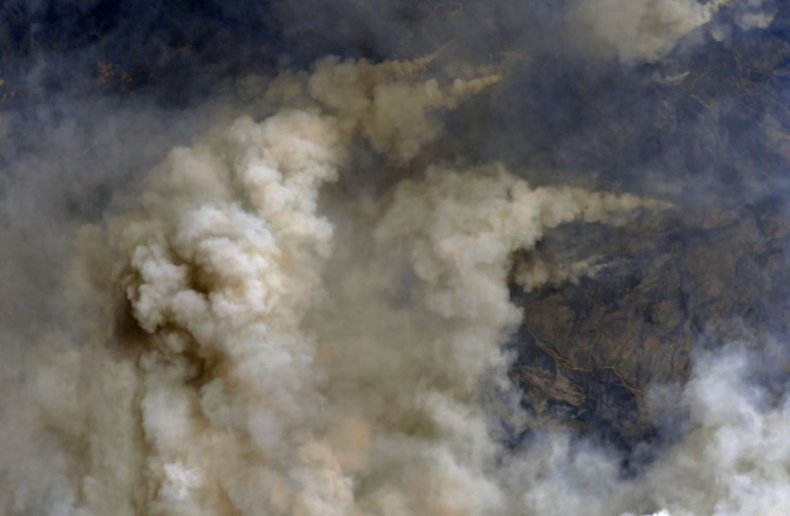 Over 10,000 firefighters are working to extinguish the blazes raging throughout the Golden State and some of the fires are expected to be fully contained on September 1. NASA's images are updated within three hours of observation to provide insight into how the Earth looks "right now," so to speak.