California Fire Map, Update as River Fire Ravages 9,000 Acres
Wildfires are continuing to devastate forests in northern California during a summer heatwave.
One fire that broke out close to Yosemite National Park has grown to more than 9,000 acres in the space of 24 hours.
The River Fire, which broke out on Sunday afternoon just 20 miles from Yosemite National Park, grew from nothing to more than 9,000 acres in about a day.
It grew to around 2,500 acres just a few hours after it was reported before then rapidly expanding to 9,000 acres by Monday evening, according to a tweet from the California Department of Forestry and Fire Protection.
The department said that by Monday night only 10 percent of the fire had been contained, and issued mandatory evacuations for residents in several areas of Madera County, including Blazing Saddle Trail and JWP Ranch Road.
Evacuation warnings have also been issued for areas of Mariposa County with Oak Grove Road closed to traffic.
Fire officials continue to investigate what could have caused the blaze on Sunday afternoon.
An incident update released by the department at 8:30 p.m. local time on Monday said that 600 structures were threatened by the fire, while 4 had so far been destroyed.
The fire department said that on Monday evening, "firefighters continue to aggressively attack the fire while dangerous heat persists. Low humidity, tree torching, wind driven runs and frequent spot fires continue to challenge firefighters."
In total, 161 fire engines have been assigned, while 1,327 personnel have been deployed to help tackle the River Fire. Air tankers are also being used to fight the blaze.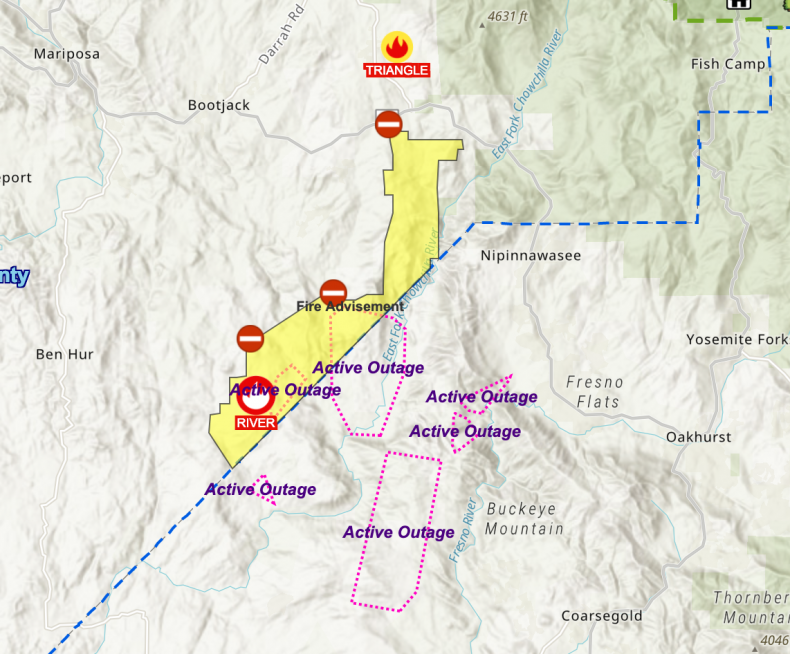 California Fire spokesperson Jaime Williams told The Los Angeles Times on Monday evening that the crews were "still making an aggressive attack on this fire," and said: "With the cooler temperatures, we're hoping to get even more work down tonight."
In a tweet on Monday, California Fire urged residents to be prepared for future fires, writing: "Hot, dry conditions continue to drive an increase in wildfire activity across CA!
"Compared to this same time last year, there has been more than 700 wildfires & over 103,000 more acres burned. It's now more critical than ever that all Californians are prepared for wildfires."
Several large fires have broken out in California over the last week, as the state has been hit with a summer heatwave, as part of the state reached 130F on Friday, close to the world record temperature of 134F.
Residents of the state were asked to cut their energy use by the California Independent System Operator on Monday for the fifth time since June 17 due to wildfires and high temperatures across the Pacific Northwest.
The Beckwourth Complex fire continued to burn in California and Nevada on Monday, so far expanding to more than 89,078 acres, Plumas National Forest officials told the Times.
The fire that is burning north of Lake Tahoe is so far 23 percent contained as it continues to expand north into Nevada. The blaze is California's largest fire so far this season.
Across the U.S. in 2020, nearly 60 blazes have been recorded along 10 states, as thousands of people have been forced to flee their homes due to wildfires.
A majority of the blazes have been recorded in Arizona, Idaho and Montana, but Oregon, Nevada and California have all been badly affected by the fires.
Newsweek has contacted the California Department of Forestry and Fire Protection for comment.