California Wildfires Map: Deadly Klamathon Fire 60 Percent Contained, Other Fires Still Burning
California fire officials are battling a number of wildfires in the state as the 2018 fire season continues.
Nearly 3,000 fires have ignited in California since the start of the year, burning at least 231,000 acres, The San Francisco Chronicle reported. "Statistically we're ahead of last year," California Department of Forestry and Fire Protection (Cal Fire) deputy chief Scott McLean told the newspaper. "Fire behavior this year is more aggressive earlier in the year."
Newsweek has rounded up the largest fires in California, including the deadly Klamathon fire near the Oregon border and the County fire affecting the Sacramento area.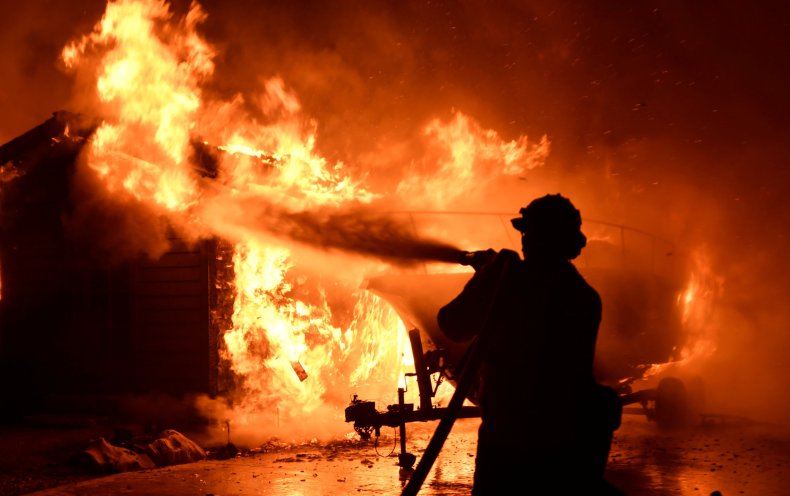 Klamathon Fire
Siskiyou County
36,500 acres, 60 percent contained
The Klamath Fire, which ignited on Thursday, has burned through 36,500 acres and is 60 percent contained, the Cal Fire said Wednesday. The deadly fire has killed one civilian and injured three firefighters.
According to Cal Fire, the fire destroyed 82 structures, damaged 12 structures and threatened 315 more structures. Officials said the fire continues to burn in the Horseshoe Ranch Wildlife area, the Soda Mountain Wilderness and the Klamath National Forest.
"Minimal fire behavior was observed last night with the same behavior anticipated today," Cal Fire said in a statement Wednesday. Crews will focus on the northern flank of the fire, the statement added.
County Fire
Napa County and Yolo County
90,288 acres, 86 percent contained
The County Fire, which has destroyed 20 structures, is 86 percent contained as of Wednesday morning, Cal Fire announced. The fire affecting Napa and Yolo counties burned through 90,288 acres since first igniting on June 30.
"We're still not completely out of the woods yet. We're still apprehensive," Cal Fire Captain Dan Olson told The Press Democrat on Tuesday. Officials announced that all evacuations have been lifted, but County Road 40 at State Highway 16 and all the roads within the fire's perimeter remain closed.
Georges Fire
Inyo County
2,500 acres, 30 percent contained
The Georges Fire started on Sunday and has spread to 2,500 acres near the Whitney Portal area, Cal Fire said Wednesday. Firefighters have concentrated efforts on the fire's southern flank near Whitney Portal, which is popular for starting hikes up Mt. Whitney, The Los Angeles Times reported.
Officials have issued evacuation notices for the Whitney Portal area, including campgrounds, residents and the Whitney Portal Store. Cal Fire said that 640 fire personnel, 31 fire engines, eight helicopters, four dozers and eight water tenders are working on the lightning-caused fire.