California Wildfires Update: Yellow Fog Warning Issued for Bay Area
Residents in parts of Northern California have been urged to restrict their outdoor activity and air quality warnings issued as blazes continue ravage the landscape.
One of the fires, dubbed the 'County Fire,' started in Yolo County and had ripped through 32,500 acres, to Lake and Napa counties, by Sunday evening. In a statement, Cal Fire added that only two percent of the blaze had been contained. There have also been evacuations and road closures.
Another blaze, dubbed the 'Pawnee Fire', is three-quarters contained but has burnt through around 14,500 acres in Lake County, CNN reported. More than 9,000 firefighters and 100 helicopters have been dispatched to both blazes.
The National Weather Service issued a red flag warning from Sunday evening, telling people in the Yolo-Solano and Bay Area to close all windows and stay indoors.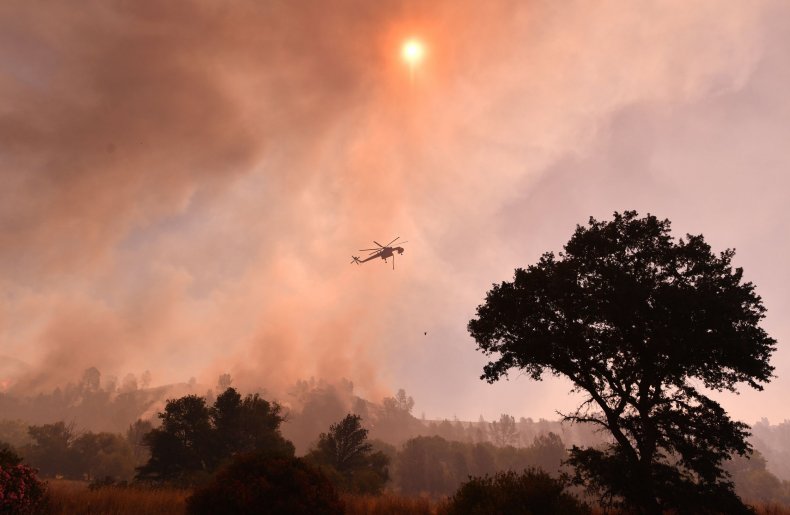 "Prevailing northerly winds are blowing narrow bands of smoke and ash into the Bay Area. Fog is largely preventing the smoke from reaching the ground level in parts of the Bay Area," the Bay Area Air Quality Management District said.
"Due to active wildfires and changing wind patterns, air quality throughout the Bay Area could continue to be impacted tomorrow," it added.
The wildfires have given the San Francisco skyline an orange-brown haze.
Autumn Edens of Guinda, a town just north of the fire, told the Associated Press: "You can see the smoke and you can see an orange-red glow from the flames. It looks like a movie.
"I've never seen a fire like that up close and it's an intense feeling."
Cal Fire spokesman Scott McLean said, according to Reuters: "It's going to be headed into some populated areas of small communities in the near future if it is not curtailed."
Dry conditions in the West and Southwest have made the areas prone to blazes and have exacerbated around 40 major fires between Washington State and New Mexico so far this year, the National Interagency Fire Center said.
Scott Marsh, a meteorologist with the U.S. National Weather Service Storm Prediction Center in Norman, Oklahoma, told Reuters: "In a drought-stricken area, once you get a spark, it is off to the races."