California Wildfires Latest Update: Woolsey, Camp Fire Death Toll Climbing, Hundreds Reported Missing
Within days, multiple wildfires in California ripped through the state, destroying buildings and claiming dozens of lives.
Two fires, the Woolsey and Camp fires, both broke out on November 8 and were responsible for a cumulative total of 58 deaths, although the Camp fire has a far higher toll.
Camp Fire
The Camp fire ignited at 6:33 a.m. on November 8 in Butte County, which is located north of Sacramento in the northern part of the state. As of Wednesday evening, the fire had burned through 138,000 acres and destroyed 8,756 homes and an additional 260 commercial buildings.
During a press conference on Wednesday, Butte County Sheriff Kory Honea said additional resources were brought in to conduct a rapid search and rescue mission of areas affected by the fire. Along with human resources, more than 20 cadaver dogs were brought in to locate human remains.
Unfortunately, the fire had already claimed the lives of 56 people, making it the deadliest wildfire in California's history. The first reports of fatalities came on Friday, only one day after the fire ignited. On Friday, there were nine confirmed fatalities in the Paradise area.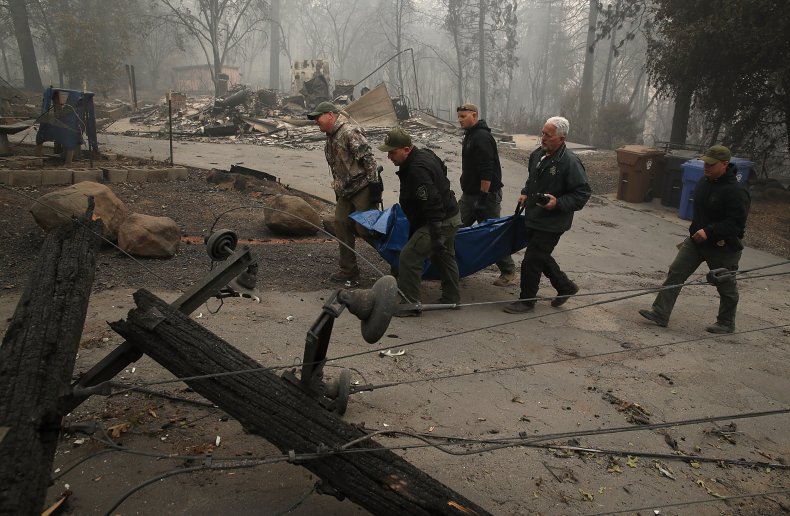 The Butte County Sheriff's Office confirmed an additional 14 fatalities on Saturday after four victims were located in Concow, and 10 victims in Paradise. By Sunday, the total of fatalities had increased to 29, tying with the 1933 Griffith Park fire.
But the Camp fire surpassed the Griffith Park fire in fatalities on Monday, when an additional 13 victims were found. Ten people were located in Paradise and three in Concow, bringing the total to 42 people.
On Tuesday, the Butte County Sheriff's Office found an additional six people not in homes in Paradise, raising the death toll to 48 people. An update shared on Wednesday reported 56 people in total died in the Camp fFire, including an additional eight people in Paradise.
Victims who were identified include:
Ernest Foss, 65, from Paradise
Jesus Fernandez, 48, from Concow
Carl Wiley, 77, from Magalia
Along with a large number of fatalities, there were hundreds of people who have been reported missing and the sheriff's office set up a call center to field reports. Fortunately, Honea said on Wednesday that about 200 people who were believed to be missing had been accounted for.
"I think that's a pretty positive number," he said. "As of tonight, we currently have 130 people on our unaccounted for list."
A list of people who were possibly missing was posted on the sheriff's website, and Honea asked that people check the list to ensure they weren't on it. Sometimes family members report people as missing who are actually safe. He asked people who find their names on the list to call his office.
If a person previously reported someone as missing but has since been in touch with that person, Honea also said to call the sheriff's office so that the name could be removed from the list.
Woolsey Fire
The Woolsey fire ignited at 2:24 p.m. on November 8 in Ventura and Los Angeles counties, south of the Camp Fire. Since it broke out, the fire has burned 98,362 acres and destroyed an estimated 504 structures.
As of Wednesday evening, two people had lost their lives in the flames, according to the California Department of Fire and Forest Protection (Cal Fire). The two victims were found in a vehicle in the driveway of a home in the Malibu area on Friday.
Although Cal Fire had only confirmed two deaths, the Los Angeles Daily News reported that investigators found a third victim on Tuesday evening in Agoura Hills. Family members called the Los Angeles Sheriff's Department and asked if they could perform a welfare check on the man after they hadn't heard from him since Friday. A cadaver dog was brought in for the search, which found a man's remains under a collapsed roof.
Los Angeles Sheriff's Department Lieutenant Derrick Alfred told the Los Angeles Daily News that the body was severely burned, but the official cause of death had not yet been determined.
Cal Fire estimated that full containment of the Woolsey fire could be reached on Monday and that full containment of the Camp fire could be achieved on November 30.