California Woman, 76, Drags Neighbor To Safety From Burning Home
A grandmother from Chula Vista in California is being praised for saving her neighbor from a house fire.
The 76-year-old woman, known only as Marty, was driving home from her daughter's house in Bonita in southern San Diego County when she saw her neighbor's mobile home in flames.
She quickly parked her car and began to bang on the side of the house to try and get the people inside to come out. Eventually one man emerged from the home, but another person was still trapped inside.
Speaking to WRDW-TV, she recalled: "You just see a flame, you didn't see smoke, and then you realize: 'Oh my God, it's fire.'"
"I went running over and I started pounding on the side, getting their attention, because the doors were closed and they were in there."
Knowing another woman was still inside the burning home, Marty crawled in on her hands and knees to avoid the smoke. She was able to grab hold of her neighbor's ankle and her clothes, allowing her to pull the woman and herself to safety. The pair fell backward out of the burning home.
"I was able to crawl in a little, and I'm saying maybe three feet, you don't do very much at my age," she said. "I managed to touch her ankle, so I was able to stand up and grab her clothes, because you just grab into thin air. And then when you've got something, you pulled it, and so both of us fell back outside and then down the stairs."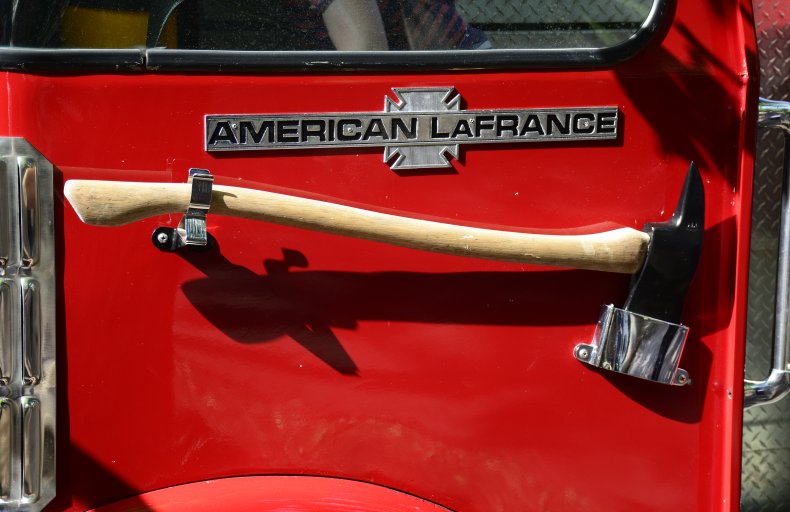 Other neighbors who witnessed the incident had already called the emergency services by the time Marty had rescued the woman from the fire. The Chula Vista Fire Department managed to extinguish the fire out before it spread to any other properties.
All three were taken to a local hospital to be treated for smoke inhalation and the cause of the fire is still unknown.
The fire happened on Monday night at a home on Otay Lakes Road. Despite her heroic actions, Marty told WRDW-TV she had only done what anyone would do.
Last month, a girl was rescued from a house fire after her mother was unable to reach her.
Los Angeles County firefighters responded to a fire that broke out at a home at 1614 E. Kingsley Street. When they arrived at the scene, they were informed there was a young girl still inside the apartment.
The fire was soon extinguished after around 15 minutes and the child was rescued from the bathtub she was lying in.
Writing on the GoFundMe set up in the wake of the fire just ahead of Christmas, the mother Nelly Contreras described how she "lost all hope" and feared that her child would die in the blaze.
"I made [several] attempts to try to reach my daughter, I was yelling for her but the fire was raging and I was unable to reach my baby girl," she wrote. "All of a sudden the electricity went out in our building and my daughter's screams for me stopped!
"I honestly lost all hope that I lost my baby girl! I was living every parent's nightmare, trying to save your child and unable to do so! I was completely devastated."