Instagram Live Video: California Teen Arrested For DUI After Streaming Crash That Killed Her Sister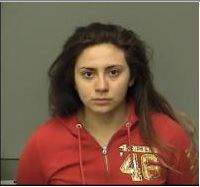 California police have arrested an 18-year-old woman on suspicion of causing a deadly crash that killed her 14-year-old sister after the teen broadcast the accident live on Instagram.
Obdulia Sanchez was arrested on Friday on suspicion of driving under the influence and vehicular manslaughter after a crash north of Los Banos, California, the AP reported.
Authorities said Sanchez was driving under the influence of alcohol on Friday, and had two minors in the backseat. When the car veered onto the shoulder of a road, Sanchez overcorrected the turn, causing the car to crash through a wire fence and overturn in a field.
The driver's younger sister, Jacqueline Sanchez, was ejected from the vehicle and killed in the incident. Another 14-year-old girl sustained "major injuries," California Highway Patrol Sergeant Darin Heredia told BuzzFeed News.
Sanchez live-streamed much of the incident on Instagram. At the start of the video, she filmed herself singing along to music and making hand gestures while driving. After the crash, Sanchez filmed her sister's body in the field while speaking to the camera.
"I fucking love my sister to death. I don't give a fuck. We about to die. This is the last thing I wanted to happen to us, but it just did," she said.
"Jacqueline, please wake up! I fucking killed my sister, I know I'm going to jail for life. I understand that. This is the last thing I wanted to happen, OK, alright. I don't fucking care though, I'm a hold it down. I love you, rest in peace, sweetie."
Sanchez then repeatedly asked her sister to wake up and said she did not mean to kill her.
Mary Hernandez of Stockton, California, recorded the Instagram stream. She said it was still visible on Instagram 19 hours after it was uploaded. Hernandez uploaded it to Facebook, but it has since been removed by the site.
"I think this video can get a lot of people to think twice about using their phones while driving now," Hernandez told BuzzFeed.
Following the incident, law enforcement officers detained Sanchez. The driver was reportedly combative and agitated during the incident, screaming at officers that her sister was dead, local newspaper The Fresno Bee reported.
Sanchez is being detained at Merced County Jail. Police records show that she is from Stockton.
The victim was due to celebrate her quinceañera—a Latin American celebration of the 15th birthday—on Sunday, ABC 13 reported. A GoFundMe page that is purportedly raising $10,000 for her funeral costs has been set up.
In 2015, almost one-third of traffic deaths in the United States involved an alcohol-related incident. Nearly 1.1 million drivers were arrested for driving under the influence of alcohol or narcotics, but that equated to just 1 percent of the 111 million incidents where drivers admitted they were driving under the influence but were not caught.