California Woman Broke Into Home, Changed Locks and Said She and Kids Lived There: Police
A California woman has been arrested after breaking into a random stranger's home and then telling the authorities she lived there.
The incident occurred in the San Diego suburb of Coronado late Thursday night.
In a statement on Instagram, the Coronado Police Department (CPD) said that they received a 911 from an out-of-town woman claiming to be the real homeowner. The caller said that a nearby relative had reportedly seen "suspicious activity" at the house, including lights inside being switched on and off.
When officers responded to the home, CPD said that they found the lock on the front door damaged, along with "metal shavings on the ground and pieces of old lock". Numerous doors in the back of the property were reportedly ajar, allowing officers to see the fireplace going. Loud music was also heard.
The 911 caller told police that nobody was supposed to be in her home while she was away and that she had not requested the locks to be changed. A neighbor gave police a spare key to the house, but it no longer worked in the damaged lock.
Upon searching further, the statement said that officers were able to make out a figure walking around on the second floor. CPD then called for backup, and a police response helicopter and San Diego Police Department (SDPD) K-9 unit soon arrived.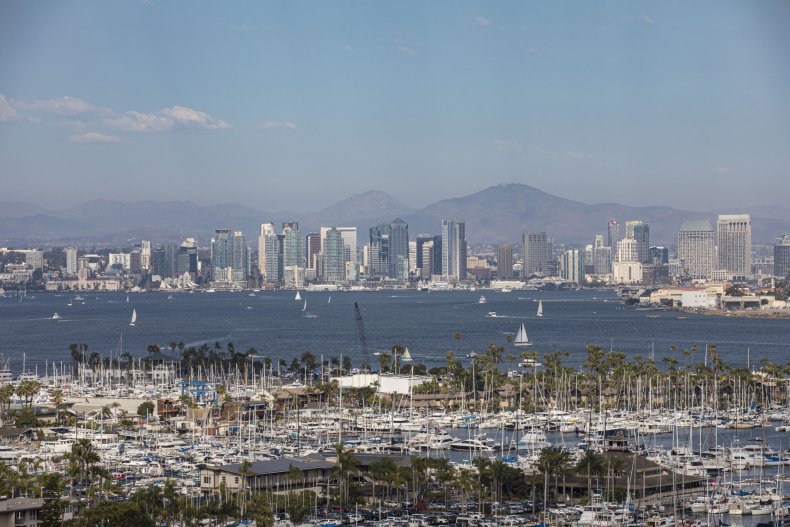 After being ordered outside of the home, CPD was able to take the unidentified 43-year-old woman into custody without a struggle, according to the statement.
Upon questioning, the woman said that the house belonged to her and that there were also two children inside the property.
Police waited to send K-9 units into the home in fear that they could harm any kids inside. However, upon a search of the house, no children or any other person was found.
The woman stated that she had called a locksmith earlier in the day to change the lock on the front door. However, police did not buy her story, and the woman was arrested, booked into jail and charged with burglary.
Coronado is a well-known resort town on the San Diego Bay and a popular tourist destination. The area is most famous for its beachside Hotel del Coronado and is home to U.S. Naval Base Coronado, which comprises eight military facilities and is one of the area's largest employers. It is also one of two garrisons for the Navy SEALs.
In an email to Newsweek, CPD said that they believed the intrusion was a random event, and that the woman did not have any connection to the house or family.
Update 10/25/2021, 4:00 p.m. ET: This story has been updated with a statement from the Coronado Police Department.