California Woman Sheila Dunlap Charged in Alleged Scheme to Steal $145,000 in Stimulus Checks
A California woman is facing multiple federal felony charges after allegedly conspiring to steal over $145,000 worth of $1,200 stimulus checks last year.
Sheila Denise Dunlap, 50, allegedly claimed 121 of the economic impact payments between March 2020 and July 2020, according to a Thursday release from the U.S. Attorney's Office for the Northern District of California. Dunlap, of Modesto, is said to have conspired with her son while he was locked up at San Quentin State Prison.
The plot allegedly involved Dunlap's son supplying her with the personal information of his fellow prisoners and others, with a third person helping to send her a spreadsheet containing information for 9,043 individuals in April 2020. The mother and son are said to have coordinated the scheme using phone calls and text messages.
Feds say that the youngest victims were targeted first, since they were most likely to be tax non-filers and therefore have income low enough to qualify for the checks. The Coronavirus Aid, Relief, and Economic Security (CARES) Act provided the full $1,200 economic impact payments to individuals making $75,000 per year or less, with reduced amounts given to those making between $75,001 and $99,000.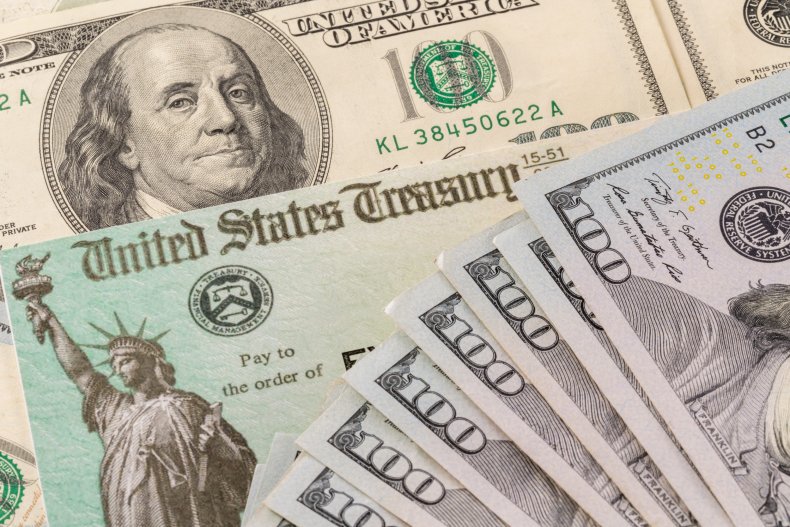 The first five payments were electronically deposited into Dunlap's bank account on March 28, one day after the CARES Act was signed into law by former President Donald Trump. She allegedly withdrew the money immediately, spending the $6,000 on herself, before going on to claim a total of $145,200 in fraudulent payments, the Department of Justice said.
Dunlap was charged with one count of wire fraud conspiracy and one count of aggravated identity theft. If convicted on both charges, she could face a combined prison sentence of 22 years and a fine of $500,000. U.S. Magistrate Judge Thomas S. Hixson presided over her arraignment and is next expected to meet Dunlap for a hearing on release conditions on March 27. She is currently out on bond.
The alleged scheme was uncovered following a joint investigation by the Internal Revenue Service's Criminal Investigation Unit and the U.S. Treasury Inspector General for Tax Administration. Assistant U.S. Attorney Annie Hsieh is prosecuting the case, with help from Llessica Chan Fierro, Ralph Banchstubbs and Maribel Gallegos.
Stimulus checks issued amid the COVID-19 pandemic, including the CARES Act checks and the $600 and $1,400 payments issued this year, have been fertile grounds for potential fraud and scams.
In addition to identity thieves filing to fraudulently claim the payments for themselves, some who filed for the payments legitimately have had their paper checks stolen from the mail, with thieves altering the checks to cash in. Scammers have also convinced people hoping for payments to pay non-existent fees or reveal their personal information online or over the phone.
Newsweek reached out to the Department of Justice for comment.