California Woman Tells Black Neighbors to 'Act Like White People' Since They Live in a 'White Neighborhood'
A Black family in California was confronted by their white neighbor holding a stun gun as she told them to "act like white people" because they are living in a "white neighborhood."
The Jones family, who have lived in their Discovery Bay neighborhood for more than a decade, told local media that they did not previously have any problems with white neighbors. But that changed when a white neighbor confronted them on Monday, in an incident that was captured on video. Local station KGO-TV (ABC7 News) first reported the altercation.
"You know what? You guys are acting like Black people and you should act like white people," the neighbor, who has been identified as Adana Dean, can be heard telling the Jones family in the video. Dean reportedly came over to confront them regarding their dog.
"You're a Black person in a white neighborhood, and you're acting like one. Why don't you act like a white person in a white neighborhood?" the white woman says in a video clip.
The Contra Costa County Office of the Sheriff told Newsweek it responded to the incident and spoke with both parties. The sheriff's office said that no charges were filed.
"The Contra Costa County Office of the Sheriff takes these types of acts seriously. Deputy sheriffs responded to the home yesterday and contacted both parties involved," Jimmy Lee, director of public affairs at the sheriff's office, said in an emailed statement.
Although deputies determined that no crime had been committed, a report was taken to document the interaction between the two neighbors, as the original complaint was in reference to a neighbor dispute due to an off-leash dog," Lee said.
"It was just very angering to see that come to our front door," Jariell Jones, a member of the Black family, told KNTV (NBC Bay Area). She said her family has always gone out of their way to "be extra nice, say 'yes, ma'am, yes, sir,' which I feel is sick that we even have to feel that way."
Jones added, "But even though we were trying to be good Black people in their good white neighborhood, they still treated us this way."
"It don't matter if you grew up in a gated community your whole life," Gerritt Jones, another family member, told KNTV. "It's bound to happen. It's going to happen. And as African Americans, unfortunately, we have to prepare our children on how to deal with this."
KGO-TV reported that Adana Dean's husband briefly spoke to a reporter, describing the confrontation as "a minor incident" before shutting the door.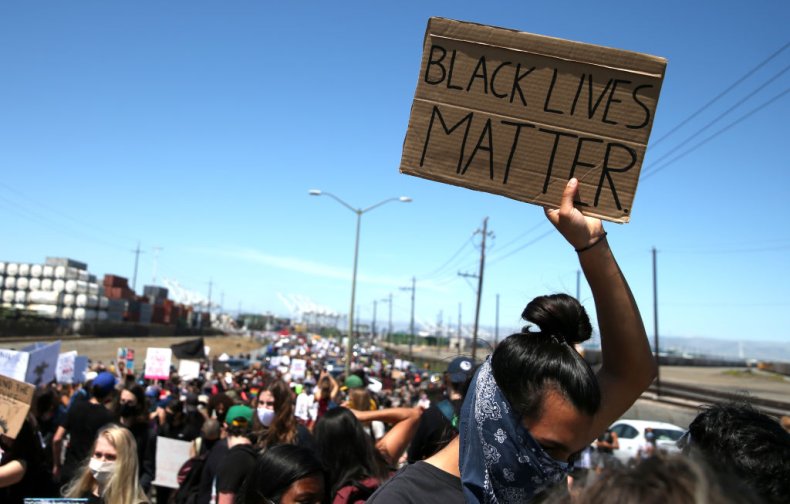 Over the past few years, numerous incidents captured on video across the country involved white people acting in a racist way toward Black Americans. In some of these incidents, these individuals have threatened or called the police on Black Americans doing seemingly routine or nonthreatening activities.
Such actions from white Americans have received heightened national scrutiny, particularly in the wake of the Black Lives Matter and anti-racism demonstrations that have taken place across the country and around the world in the past several months. Demonstrators have called for an end to systemic racism in U.S. society, and in particular for major police reforms and changes to the justice system.