California Woman Calls Police after Pet Store Refuses Her Entry for Not Wearing a Mask
A woman called 911 after she was denied entry to a Bones-N-Scones pet food store in California, for refusing to put a face mask on.
In a viral video store employee, Aidan Bearpaw, is seen dealing with an impatient woman, who said it's fine not to have a mask because there is no one in the store. Bearpaw is heard saying: "There's me in the store."
"There's you, so you stand 7000ft away from me," said the woman.
"I'm just trying to do my job," said Bearpaw, to which the woman replied: "I'm trying to make sure that I have rights. You'll hear that in the end you're the one who will be cited, not me," before she called 911.
The woman blocked the door and claimed she has a disability so cannot wear a mask. She also stated she had driven 20 minutes to get a few items from the store, "for my babies who are hungry."
She picks up her phone and calls the emergency line, and quotes the 1964 civil rights act to the operator. "I cannot be discriminated against," she is heard saying. "I do have a right to breathe O2 not CO2."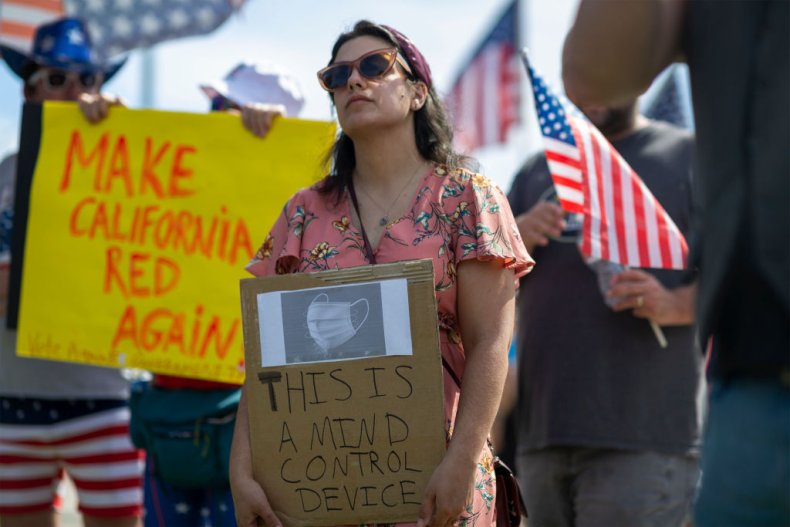 The operator soon shuts the woman down by explaining that there "currently is a municipal code that is in effect." People in Palm Springs must wear a mask in public places according to city law, legislation put in place to help slow the spread of COVID-19.
Bearpaw told KESQ the woman refused to wear the disposable mask he offered her. "I think she was waiting for that to happen," Bearpaw said of his confrontation with the woman, "she had the ADA [Americans with Disabilities Act] screenshot pulled up already".
Bearpaw said the encounter was "anxiety inducing," but said at least he was able to keep himself and his customers safe.
"He didn't just win for Bone-n-Scones, he won for the city of Palm Spring, for the United States and for humanity in general," said Jay Smith, consulting general manager for Bone-n-Scones of his employee after his encounter with the woman.
"It's worth it, wearing the mask over your face for a little while, even if you are uncomfortable with it. It's so simple," said Bearpaw.
No further legal action has been taken in the aforementioned incident.
As of mid-July, the Centers for Disease Control and Prevention (CDC) has recommended Americans wear face covering to stop the spread of coronavirus.
"Cloth face coverings are one of the most powerful weapons we have to slow and stop the spread of the virus—particularly when used universally within a community setting. All Americans have a responsibility to protect themselves, their families, and their communities," said CDC director Dr. Robert R. Redfield.