California WWII Veteran Gets Huge 105th Birthday Parade After Coronavirus Cancels Party
A World War II veteran whose 105th birthday party was canceled because of the coronavirus pandemic received a surprise when a parade turned up outside his home.
Lieutenant Colonel Sam Sachs, from Lakewood, California, celebrated in style on April 26 when cars, military vehicles, helicopters and more turned up outside his senior living home. He also received a letter from President Trump.
The army veteran appealed for birthday cards in a YouTube video after the coronavirus outbreak forced him to cancel a large party he had planned. The residential home posted the video with the comment: "Lt Col Sam Sachs is turning 105 years old on April 26th, 2020. His plans for a big birthday bash have been cancelled due to the COVID-19 threat.
"In lieu of a birthday party, Sam has asked for birthday cards. Let's help him make his wish come true!"
In the clip, Sachs can be seen wearing his military uniform. "My name is Sam Sachs, I am a veteran of World War II," he says. "I was going to have a birthday party for my 105th birthday but the virus took charge and that was canceled. Now, I was in service during World War Two, a member of the 82nd Airborne Division, 325th Glider Infantry Regiment.
"We landed on the morning of D-Day in Normandy to liberate France and Europe. Now that this has been cancelled, I am sending this out to all of you who read this, to send me a birthday card.
"Now, I'm wondering how many birthday cards I will get—I hope I will get many. I'm also asking our president to send me a card also, what a thrill that would be. So how many cards will I get? How many people will see this video? And I thank you."
Since then, Sachs has received at least 6,200 cards from across the States.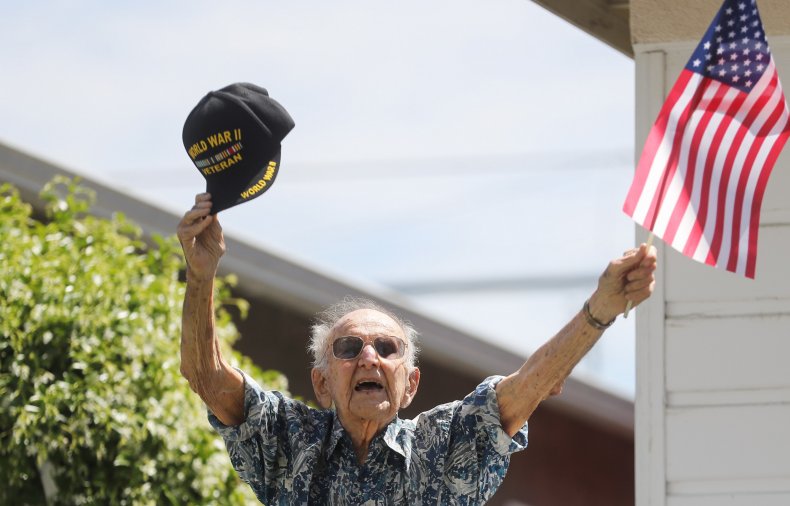 An hour-long parade took place outside his residential home, which included classic cards, motorcycles, Los Angeles County sheriff's vehicles, a firetruck and a sheriff's helicopter.
The vehicles were decorated with U.S. flags and balloons and well-wishers from all over turned up to wish Sachs a happy birthday.
Speaking to the Los Angeles Times, he said: "It's a marvelous feeling, yes, really. The emotions are running so high ... It just doesn't get any better than this. It's just unbelievable. This is a dream."
"Thank you, folks. Thank you for making my day. I had no idea what to expect. This is magical."