Californian Allegedly Given $21K in Unemployment Benefits Using Sen. Feinstein's Identity
A former employee at California's unemployment agency allegedly used Senator Dianne Feinstein's identity to claim $21,000 in jobless insurance benefits, along with several other false claims that collectively gave her $216,000.
Federal prosecutors have alleged that Andrea Gervais, who worked at the state's Employment Development Department (EDD) until 2018, successfully scored thousands of dollars by using Feinstein's name.
The allegation was disclosed in a newly unsealed federal criminal complaint, which said a U.S. senator's identity was fraudulently used for insurance claims. According to Politico, a source with direct knowledge of the investigation confirmed that it was Feinstein, a Democratic senator from the state.
Gervais was first put under investigation after a Bank of America employee discovered the $21,000 unemployment insurance claim in Feinstein's name, the Associated Press reported. On Thursday, prosecutors arrested Gervais for mail fraud.
In addition to that claim, prosecutors have alleged that Gervais filed dozens of other claims worth more than $2.1 million, receiving about $216,000.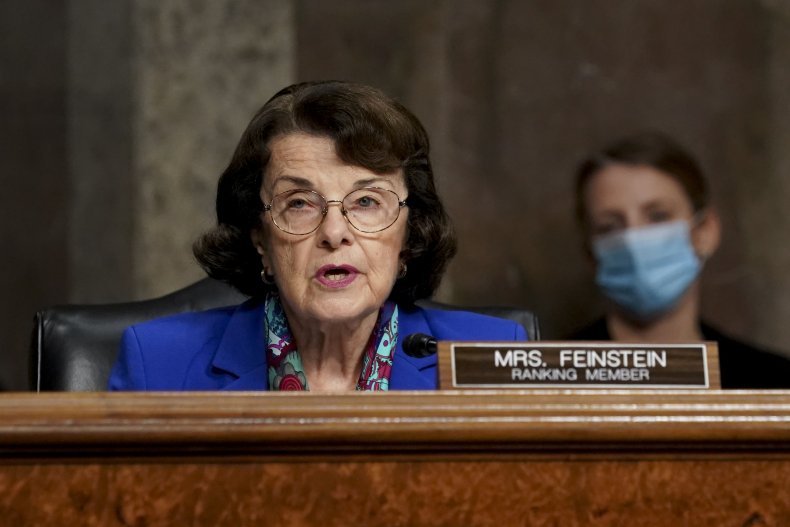 The allegations represent yet another problem for the EDD, which has been under scrutiny for a series of fraud complaints, including a scheme where millions of dollars in benefits were given to state prisoners.
A November report revealed that more than $400,000 in benefits was paid to death row inmates, and more than $140 million to other incarcerated people throughout California's 38 prisons.
According to a letter obtained by the Los Angeles Times, nine district attorneys in that investigation called the situation "the most significant fraud on taxpayer funds in California history."
On December 9, the Bank of America said that, in total, over $2 billion has been stolen in fraudulent activity throughout the state.
"The program is unfortunately riddled with billions of dollars in fraud. Criminals have found ways to steal money from the state and the debit cards of legitimate unemployment recipients," the Bank of America previously said in a statement sent to Newsweek.
Meanwhile, out-of-work Californians and their representatives have complained they have yet to receive necessary benefits during the coronavirus pandemic.
"Millions of law-abiding Californians STILL haven't received unemployment benefits, but @GavinNewsom's administration puts death-row inmates on their top priority list. Wow," the California Republican Party tweeted in November.
Since March, California has processed more than 16 million unemployment claims, totaling more than $110 billion in value. But in the country's most populous state, the EDD has struggled to keep up with demand, and on several occasions, it has failed to detect criminal activity.
"Think about this for a minute: EDD issues a debit card to Senator Dianne Feinstein! How does that happen?" Jim Patterson, a Republican in the state Assembly, said Thursday, according to the Associated Press.
"I'll tell you how: EDD is complicit in the fraud by mailing out Social Security numbers to scammers. Or they are utterly incompetent by not even checking eligibility before they issue the debit card. Either way, EDD has aided and abetted the fraud," Patterson said.
Loree Levy, deputy director of the EDD, previously told Newsweek that the agency was working with the U.S. Department of Labor's Office of Inspector General to identify fraud.
"We're also pursuing how to integrate cross-matches moving forward as part of enhanced prevention efforts during this unprecedented time of pandemic-related unemployment fraud across the country. In addition, EDD is working collaboratively with state cybersecurity experts," she said.
Newsweek reached out the EDD for additional comment but did not hear back in time for publication.