Californians Asked to Voluntarily Cut Electricity as Scorching Heat Wave Reaches 4th Day
Californians were asked on Thursday to voluntarily cut back on their electricity use as the state faces its third day of an extreme heat wave.
California Independent System Operator (ISO), which operates most of the state's electricity grid, issued a Flex Alert for Thursday from 5 to 10 p.m. "encouraging consumers to reduce their energy use to help relieve stress on the grid."
In a press release issued Wednesday, California ISO said: "When past Flex Alerts have been called, consumers have answered the call and cut back their electricity use. Those actions have helped California avoid or limit power outages that can, if conditions persist or worsen, become necessary when demand for electricity outstrips capacity."
According to the ISO website, a Flex Alert is primarily used in the summer when extreme heat increases energy demand as it reaches capacity. Data from the ISO website shows that the state's available energy capacity is 45,585 megawatts and they are forecasting the peak energy use to reach 43,345 megawatts.
The press release states that Flex Alerts are normally issued for 4 to 9 p.m., but the one issued for Thursday has different hours "due to operational needs." The press release also notes that it is "critical" for residents to limit their energy use "when temperatures hit triple digits across a wide geographic area," as many use their air conditioners, increasing demand for energy across the state.
"The public's help is essential when extreme weather or other factors beyond our control put undue stress on the electric grid," said Elliot Mainzer, president and chief executive officer of the ISO. "We have seen the huge impact that occurs when consumers pitch in and limit their energy use. Their cooperation can really make a difference."
The press release also noted that if energy demand "outstrips" energy supply, after the Flex Alert, ISO could order utilities to impose rotating power outages. According to ISO, rotating outages "would extend available power supplies and guard against longer and more extensive disruptions while protecting high-voltage transmission lines from damage."
Newsweek reached out to California ISO for further comment but did not receive a response in time for publication.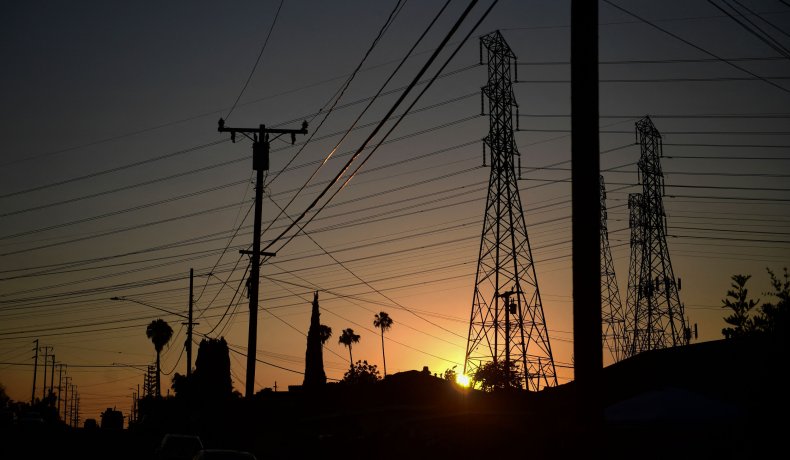 The Flex Alert comes after California faced three consecutive days of scorching heat, which is expected to continue throughout the week.
On Monday, the National Weather Service in Los Angeles tweeted a photo of some temperatures recorded in the area, some reaching triple digits.
"Here's a snapshot of the current temps around the region. It's only Monday and the interior is already seeing temps in the 90s to around 100. Cooler at the coast but still quite warm. We're expecting hotter temps tomorrow, so keep drinking that water!" the tweet said.
On Tuesday, Palmdale Regional Airport reported a record-breaking temperature of 107, according to the National Weather Service in Los Angeles.
Numerous temperature records were shattered again on Wednesday when temperatures surpassed 110 in Palmdale and Lancaster. Sandberg also reached 101, breaking its previous record of 98 degrees set in 1961.
"You guessed it, we broke MORE records today! Palmdale, Lancaster, AND Sandberg each broke their records originally set in 1961. Palmdale was even 1 degree shy of their all-time record for June!" the National Weather Service in Los Angeles tweeted.
The National Weather Service Prediction Center also announced on Wednesday that at least 46.5 million people in California and other nearby states were placed under a heat advisory or excessive heat warning.
"For those in these areas, stay hydrated and in an air conditioned place for as long as possible this afternoon and evening," the prediction center wrote in a tweet showing a map of which areas were placed under the heat advisory and heat warning.
The National Weather Service in Los Angeles said on Wednesday that the "dangerously hot conditions" in the area are expected to last until Sunday.