A coalition of mayors from California's 13 most-populated cities are urging the state legislature to approve $16 billion in funding to build over 100,000 homes for the unhoused.
The group of mayors, known as the Big City Mayors, sent a letter appealing for the funds to the leaders of the legislature on Thursday. The letter was addressed to state Senate President Pro Tempore Toni Atkins, state Assembly Speaker Anthony Rendon and the chairs of the Senate and Assembly's respective budget committees, state Sen. Nancy Skinner and state Assemblymember Phil Ting.
"While our economic challenges make it difficult to identify an ongoing revenue source, the large amount of one-time funding presents a generational opportunity to make a dramatic move to address our homelessness crisis," the mayors wrote. "That can be accomplished by setting aside a one-time allocation of $16 billion for a steady expenditure of $4 billion per year over the next four years."
"A four-year allocation of $16 billion that we've outlined could create more than 100,000 homes—or enough to house nearly every Californian who entered a homeless shelter in 2020," they continued. "Such a bold commitment would have transformative and lasting impact on our state, and make California a national model of compassion."
The mayors cited an average cost of $148,000 per housing unit made under Project Homekey, a program that has created both transitional and permanent housing for the homeless using modular housing, tiny houses, prefabricated dorms and shelters. The program, introduced amid the COVID-19 pandemic, has also purchased and retrofitted hotels, motels and apartment buildings.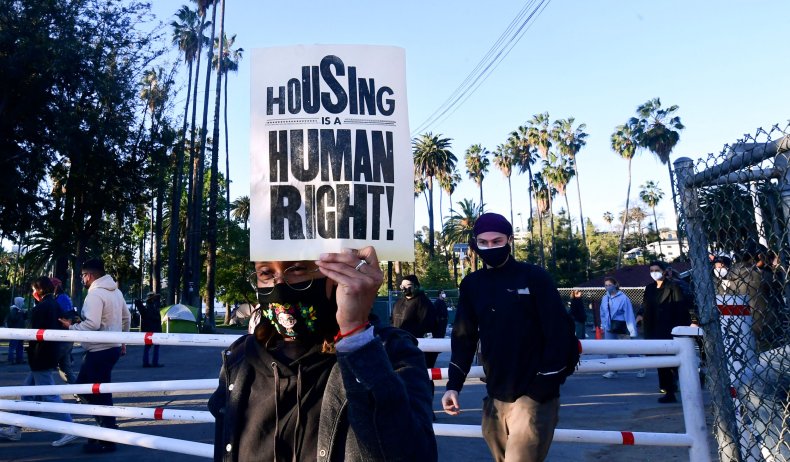 While the letter urged the legislature to approve the funding to build new housing, the letter also noted that "a substantial commitment of these flexible dollars will be needed to fund operations and supportive services of the many facilities that we've created in recent years."
The letter also insisted that the legislature approve a "large direct allocation to big cities," due to the cities having "a track record of cost-effectively and efficiently putting dollars to work immediately to bring people off the streets."
Coalition chairman and San Jose Mayor Sam Liccardo, Los Angeles Mayor Eric Garcetti, San Diego Mayor Todd Gloria, San Francisco Mayor London Breed and mayors from the next nine most-populated California cities all included their signatures at the end of the letter.
California has the most homeless residents of any U.S. state. A report recently released by the Department of Housing and Urban Development found that there were 161,548 people experiencing homelessness in the state in January 2020, just before the pandemic hit. Although updated figures are not yet available, experts believe that more people became homeless during the pandemic.
Newsweek reached out to the offices of Atkins and Rendon for comment.