California's Camp and Woolsey Fires in Pictures: Devastation in Paradise and Malibu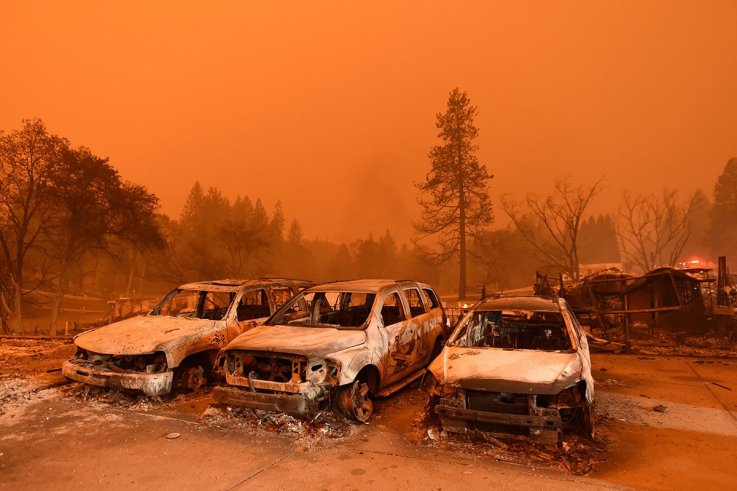 Wildfires continue to rage at opposite ends of California, killing at least 31 people and forcing more than a quarter of a million people to flee their homes.
As of Monday morning, more than 200 people were still missing after the Camp Fire raged across a swath of northern California. The blaze destroyed more than 6,700 homes and businesses in the town of Paradise, making it the most destructive fire ever recorded in California.
It may also become the deadliest wildfire in California history. A total of 29 bodies have so far been recovered from in and around Paradise, equaling the deadliest single fire on record, 1933's Griffith Park fire.
Police say some of the bodies were found in or near burned out cars on the only road out of the town.
Butte County Sheriff Kory Honea said some neighborhoods of Paradise were so completely devastated that "it's very difficult to determine whether or not there may be human remains there."
Honea said that many of the 228 people still unaccounted for may be in shelters or simply unable to contact the loved ones who reported them missing.
The Associated Press reported that the authorities have called in a mobile DNA lab and anthropologists to help identify victims from any remains found in the rubble.
In southern California, two people are known to have lost their lives in the slightly smaller Woolsey Fire. The blaze has burned more than 85,000 acres of tinder dry brush around Los Angeles, triggering mandatory evacuation orders for a quarter of a million people.
Around 177 structures have been destroyed, among them the Malibu homes of Gerard Butler, Miley Cyrus, Neil Young and Robin Thicke, according to a CNN report.
The Camp Fire and the Woolsey Fire both started on Thursday morning, and by Sunday evening they were 25% and 15% contained respectively. Firefighting efforts have been hampered by hot dry winds which are expected to continue until Tuesday, according to Reuters.
Newsweek presents powerful photos of the devastation wrought by the two wildfires in just four days.