California's COVID Rates Are Worse in Summer 2021 Than Same Time Last Year
California's highest-ever daily total for new COVID-19 infections during the current summer season is higher than the state's highest-ever daily total reported last summer.
On Friday, state health officials reported 14,402 new cases in one day. The number is nearly 1,800 cases higher than the previous all-time highest daily toll of 12,614 new cases reported on August 14, 2020.
The recent rise in new cases has coincided with a rise in testing across the state. Over 250,000 tests were conducted on Friday, compared with just 30,000 a day near the start of the month, Deadline reported. Over the last 10 days, COVID-related hospitalizations in the state have increased by 97 percent.
The state's daily death toll from this summer, however, is lower than that of last summer. This summer, the seven-day average for daily deaths has hovered around 20 to 50. Last summer, it hovered between 60 and 130.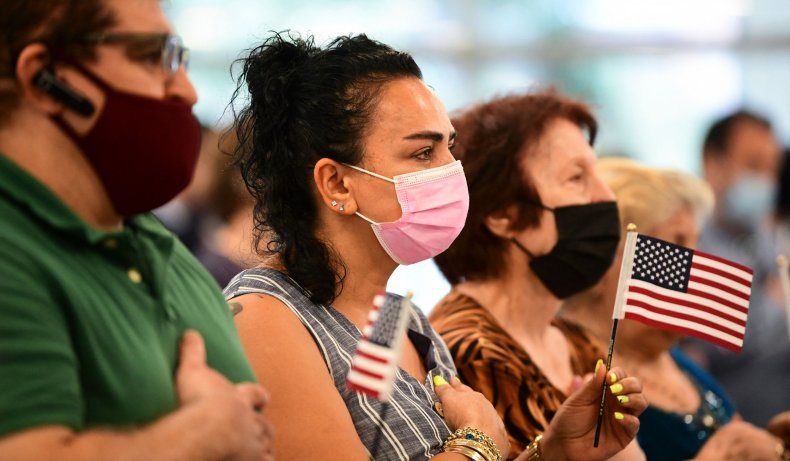 State case numbers have increased among all age groups. However, millennials between the ages of 18 and 34 account for the biggest rise in state COVID-19 cases, The Guardian reported, citing state and federal data. Lower vaccination rates and more socializing amongst young people have played a partial role amongst rising millennial infection rates, experts told the publication.
As of August 5, 52 of California's 58 counties have reported high transmission rates, according to data from the U.S. Centers for Disease Control and Prevention (CDC). A high rate signifies either over 100 new cases reported per 100,000 residents during the past week or a positivity rate over 10 percent amongst tested individuals.
Infections in Los Angeles County have accounted for nearly half of the newly reported cases. That isn't entirely surprising, considering that the county contains 25 percent of the entire state's population.
"The state has made great strides in vaccinating Californians, with more than 75 percent of those eligible with at least one dose and over 45 million vaccinations administered, but the Delta variant has led to an increase in cases and hospitalizations," a California Department of Public Health spokesperson told Newsweek.
The spokesperson noted that the state has seen a "promising 40 percent increase" in the number of people getting first doses of the vaccine recently.
"Vaccines are how we end this pandemic," the spokesperson added. Approximately 53 percent of eligible Californians have been fully vaccinated against COVID-19.
Near the end of July, the state began taking several measures to try and stop the rise in cases.
On July 28, the CDPH recommended that all people use face masks in indoor settings, regardless of vaccination status. That same week, California became the first state to require all state and health care workers to get vaccinated or undergo regular testing.
State universities and community colleges have begun requiring vaccinations for all students. The state's K-12 schools will also require face masks and other prevention measures after they reopen in the fall. State Education Secretary Miguel Cardona said on Friday that the state may have to offer distance learning if case numbers continue to rise, the San Francisco Chronicle reported.
As of August 6, California is the state with the highest overall number of COVID-19 cases and related deaths nationwide. The state has reported over 4.1 million cases and 64,714 deaths since the pandemic began.
Update (8/6/2021, 10:47 p.m.): This article has been updated to include a statement from the CDPH.