California's Dixie Fire Explodes to 8 Times the Size of San Francisco Amid Scorching Heat
California's Dixie Fire, facing explosive growth, is now eight times the size of San Francisco.
The fire has burned at least 254,446 acres and is just 35 percent contained, according to the latest data from the California Department of Forestry and Fire Protection (Cal Fire). The blaze is the state's largest fire this season.
The Dixie Fire is roughly 397 square miles, eight times the size of San Francisco's 46 square miles.
More than 12,000 structures are threatened and at least 67 buildings have been destroyed since the fire erupted on July 14. No firefighters or civilians have been injured so far, according to Cal Fire.
The cause of the blaze is currently under investigation.
The fire started above the Cresta Dam in Feather River Canyon and has since spread over two counties: Butte and Plumas. Firefighters are battling the blaze in two zones. The east zone is managed by the U.S. Forest Service, while the west zone is managed by Cal Fire.
Evacuation orders have been issued for several areas in Plumas and Butte counties. On Tuesday, the Plumas County Sheriff's Office issued new evacuation orders for Chester, which has a population of about 2,000, as well as the area near Lake Almanor.
In an update on Tuesday, Cal Fire said crews managing the west zone were experiencing "extreme fire activity" as a dry front passes through the region. On the east side, the fire is "very active with gusty winds, high temperatures and very low relative humidity."
Record-breaking heat waves have plagued the western U.S. this summer with temperatures in the triple-digits. The National Weather Service (NWS) this week issued an excessive heat warning for portions of California, Arizona and Nevada.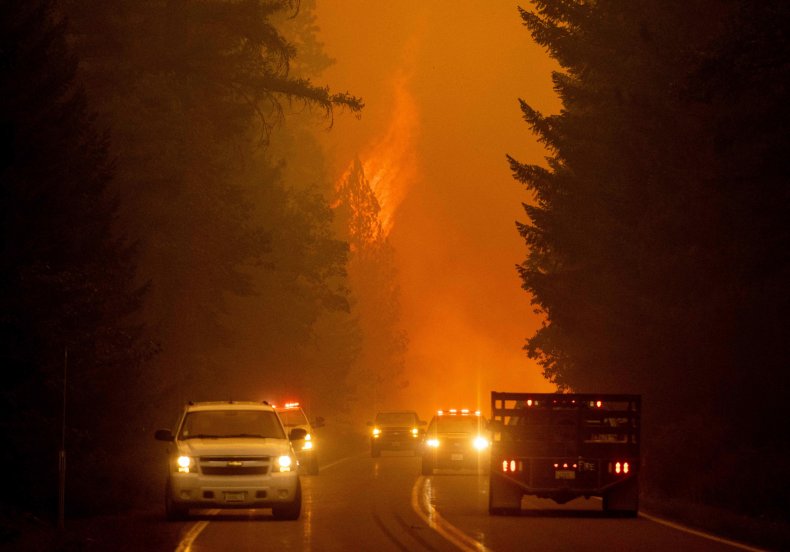 Cal Fire released a "Red Flag Warning" for northeastern California for Wednesday afternoon through the evening due to gust winds and low humidity. A "Red Flag Warning" is the agency's highest alert, and is issued for weather events that may result in extreme fire behavior that will occur within 24 hours.
The Golden State is facing several other fires as the Dixie Fire continues to spread. According to the National Interagency Fire Center, the state is battling 11 fires in total. The blazes have burned more than 406,000 acres.
The second-largest active fire in the state is the Beckwourth Complex, according to the fire center. The blaze has burned 105,670 acres and is 98 percent contained.
Newsweek reached out to Cal Fire and the U.S. Forest Service for additional comment but didn't receive a response before publication.