The Dixie Fire in California has grown to over 725,000 acres and officials have pointed to drought conditions as the reason for the fire's increased activity.
Data posted on the national wildfire incident system, InciWeb, shows that the Dixie Fire has burned 725,822 acres and is currently 40 percent contained.
The Dixie Fire has grown by nearly 25,000 acres over the past weekend as on Friday, officials with the California Department of Forestry and Fire Protection (Cal Fire) said that it burned at least 700,630 acres.
In an update for the Dixie Fire's West Zone on Sunday, Cal Fire officials said "Northern California has experienced large fire activity and will likely experience an extended fire season. Fires burning in northern California are exhibiting extreme fire growth based on critical fuel conditions."
The update continued, "Under these drought conditions, wildfires are burning rapidly with extreme severity and have traveled up to 8 miles in a single day. Fuel conditions are much worse than previous years and along with wind is causing much greater fire spread. Firefighters are experiencing conditions never seen before, such as increased spread rates, spotting and active nighttime burning."
The Dixie Fire was first reported by officials on July 14 and has continued to grow since. It is now burning across three different California counties: Butte, Plumas and Shasta.
According to data from Cal Fire, the Dixie Fire has damaged at least 91 residential, commercial and other structures while over 12,000 have been destroyed by the fire.
As Cal Fire officials noted, drought conditions in California have led to increased fire activity. According to drought conditions from the National Integrated Drought Information System, at least 95.6 percent of California is considered to be in "severe drought" conditions while 88.4 percent is facing extreme drought.
The Dixie Fire previously became the second-largest wildfire in California history after it surpassed the 2018 Mendocino Complex fire which burned 459,123 acres.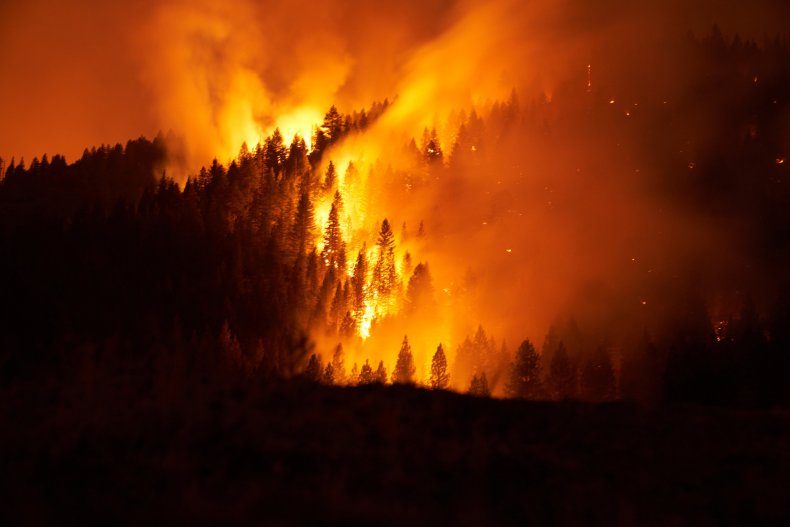 Lynette Round, a public information officer for Cal Fire, previously told Newsweek that "We are seeing a busier start to our fire season due to the high heat and lower than normal rainfall."
"The expansive Dixie Fire has seen tremendous growth due to high heat, low humidity and gusty winds. The firefighters are working extremely hard in difficult conditions (steep terrain and the weather) to protect life and property," Round wrote in a statement to Newsweek.
Numerous pictures of the Dixie Fire have been posted across social media since it first started.
"Stunning new images of a wildfire disaster in California," the Weather Channel wrote in a tweet.
Brett Forrest of KRNV News shared a video of the fire's blaze and wrote, "This fire whirl jumped 395 and lit the east side on fire. Scariest footage I've shot yet."