California's Largest Teachers Union Calls State's Plan to Reopen 'Recipe for Propagating Structural Racism'
The United Teachers of Los Angeles (UTLA), California's largest local teachers union, called the state's school reopening plan "a recipe for propagating structural racism" on Monday.
"We are being unfairly targeted by people who are not experiencing this disease in the same ways as students and families are in our communities," UTLA President Cecily Myart-Cruz said during a Monday news conference.
"If this was a rich person's disease, we would've seen a very different response. We would not have the high rates of infections and deaths," Myart-Cruz continued. "Now educators are asked instead to sacrifice ourselves, the safety of our students and the safety of our schools."
The union's criticism came hours after California Governor Gavin Newsom and state lawmakers announced their school reopening proposal, which doesn't require schools to reopen but offers $2 billion in financial incentives for those that do by the end of March.
Some California school districts have not opened their classrooms since the beginning of the coronavirus pandemic in March 2020.
Under the proposal, counties with new daily COVID-19 case rates of seven or fewer per 100,000 residents must open elementary schools and at least one grade in middle or high school for in-person learning to receive a portion of the $2 billion in funds. Counties with higher daily case rates are required to open kindergarten through second grade in order to collect funding.
Teachers are not required to be vaccinated for COVID-19 to return to the classroom under the proposal.
Los Angeles County is currently in California's purple tier of COVID-19 restrictions, meaning that the area has "widespread" infections with more than an 8 percent positivity rate. The purple tier is the state's highest risk category.
Myart-Cruz demanded that schools in Los Angeles County remain closed while in California's purple tier and until teachers and staff receive both doses of the coronavirus vaccine.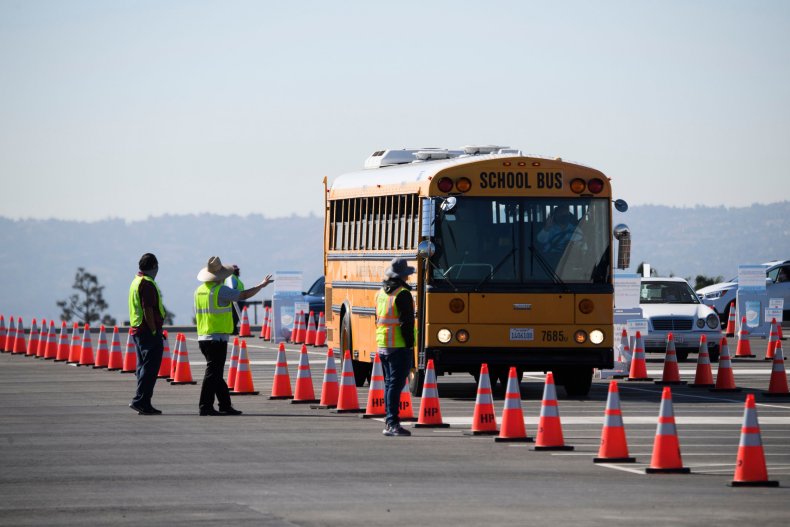 Myart-Cruz added that the plan ignores schools in low-income areas that have higher case rates, saying that the plan "would send extra dollars to affluent areas that are able to reopen because of low infection rates, leaving students from low-income communities of color behind."
The UTLA President also accused wealthy, white parents of "driving the push behind a rushed return."
"If we rush now, it will now put everything we have all sacrificed over the past year at risk," Myart-Cruz said.
Los Angeles Unified School District is the second-largest district in the U.S. with nearly 600,000 students. The school district is also the largest in California with about 10 percent of the state's public schoolchildren.
Newsweek reached out to UTLA, but didn't hear back in time for publication.