California's McFarland Fire Grows Over 50k Acres in Two Days, New Evacuations Ordered
California's McFarland Fire has grown by more than 50,000 acres over the past two days, prompting officials to issue new evacuation orders for nearby residents.
According to an update posted on the national wildfire incident system, InciWeb, the McFarland Fire has burned at least 107,102 acres and is currently 51 percent contained.
On Monday, officials said that the McFarland Fire burned at least 51,909 acres and was 68 percent contained, indicating significant growth over the past two days.
In an InciWeb update on Wednesday, officials said, "Predicted winds pushed hard overnight and created active fire behavior."
The update continued, "Today, crews will maintain, strengthen, and secure existing lines along Hwy 36 and Vestal Road and secure the structures. Crews will focus efforts on establishing new control lines along the southern area of the fire. Mop up and patrol will continue along the fire's northwest area. There is ongoing damage assessment within the fire perimeter."
Officials also announced that a Red Flag Warning was in effect, which is issued when warm temperatures, low humidity and strong winds combine to increase fire behavior.
In response to the McFarland Fire's growth over the past two days, law enforcement agencies have announced new evacuations.
In a Facebook post on Tuesday night, the Tehama County Sheriff's Office announced that residents located "North of Petty John Road to Hwy 36W and west of the intersection of Hwy 36W and Canon Road to to Tehama/Trinity County line," were under an evacuation order.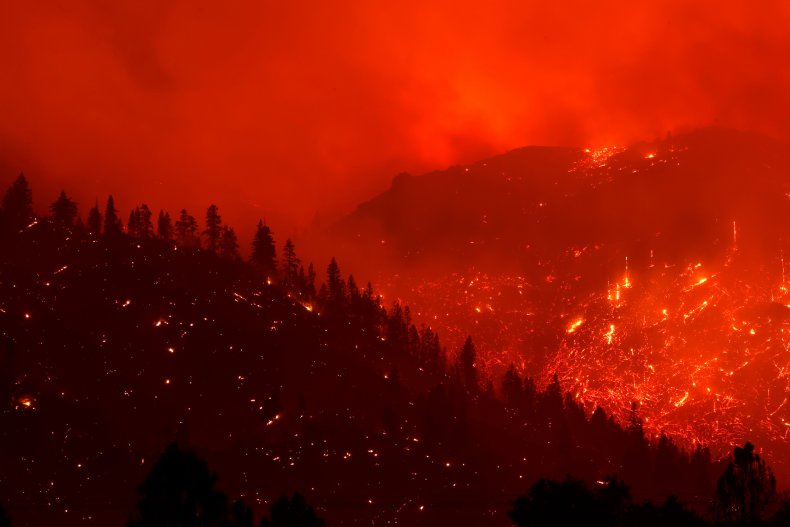 A full map of the evacuation orders issued by the Tehama County Sheriff's Office can be found here.
Earlier this week, the Shasta County Sheriff's Office issued a mandatory evacuation for all residents located in the township of Platina.
"Residents are encouraged to use Platina Road as an evacuation route. There will be a temporary evacuation site at the Igo/Ono Elementary School," the Shasta County Sheriff's Office said in a tweet on Monday.
According to the recent InciWeb update, 631 fire personnel are working to contain the McFarland Fire, including 19 hand crews, 34 engines, seven helicopters, 13 dozers, 11 water tenders and three masticators.
California is also facing several other active wildfires, including the Dixie Fire, which is the second largest wildfire in state history. According to data from the National Interagency Fire Center, there are currently 11 active wildfires in California. Combined, the active fires in the state have burned over 1 million acres.
The National Weather Service in Sacramento, California, posted three satellite images to Twitter on Wednesday showing the size of the McFarland Fire, the Dixie Fire and the Caldor Fire.
"With critical fire weather in the forecast, please continue to practice fire weather safety," the tweet said.