California's Recall Ballot Questions Explained
Only five days remain until Californians decide whether to remove Governor Gavin Newsom or keep him in office for the remainder of his term, but many voters are still confused about how the recall process works.
There are only two questions on the recall ballot. The first asks voters if they want Newsom removed from office and the second asks which of the recall candidates they would pick to replace him.
Voter confusion is in part due to the infrequency of recall elections in California. While there have been 179 attempted recalls of state officials in California since the state adopted its recall process in 1911, only 11 have qualified for a ballot, and only six of those have been successful in removing the targeted official from office.
Advice Newsom's campaign has shared with voters on how to handle their ballots has also created confusion. Newsom and other high-profile Democrats have discouraged voters from picking among the 46 candidates who are running to replace him, which has led many voters to wonder if they are allowed to vote for a replacement candidate even if they vote to keep Newsom in office.
Some voters are also uncertain how a new governor would be selected if Newsom is recalled, and how long that individual would serve as governor.
With these questions still puzzling some voters less than a week from the September 14 recall election, Newsweek explains what is on the ballot and what voting on each question means.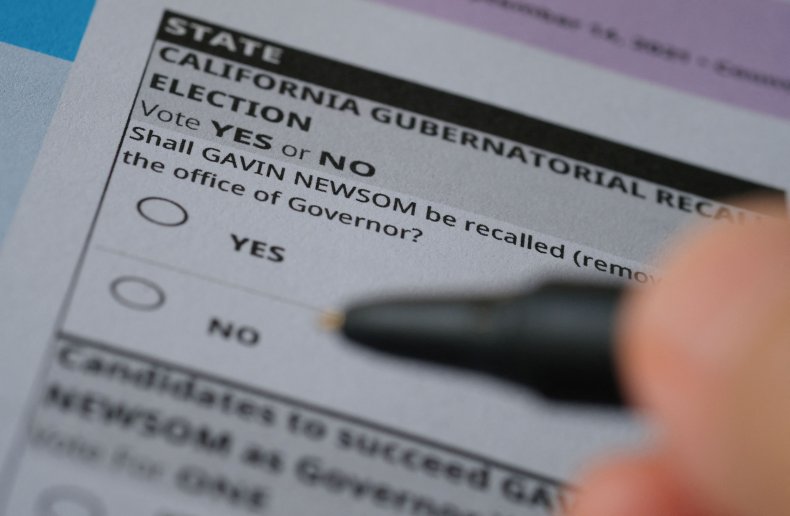 Ballot Question No. 1
The first of two questions that appears on the recall ballot asks, "Shall GAVIN NEWSOM be recalled (removed) from the office of Governor?" Voters are offered two options: "Yes" and "No." If a voter selects "Yes," they are voting to remove Newsom from office before the official end of his term. If a voter selects "No," they are voting against the recall effort and in favor of keeping Newsom as governor.
Newsom will be ousted from office only if more than 50 percent of voters who return their recall ballots vote "Yes" on this first question. If the "Yes" votes do not meet that threshold, Newsom will remain in office and finish his term, which is due to end on January 2, 2023.
If the "Yes" votes meet the 50 percent threshold, the second question on the ballot comes into play. Regardless of how each voter votes on the first ballot question, every voter is allowed to vote on the ballot's second question—even those who want Newsom to remain in office.
Ballot Question No. 2
The second and final question on the recall ballot starts with, "Candidates to succeed GAVIN NEWSOM as Governor if he is recalled" and prompts voters to "Vote for ONE." Beneath this prompt is a list of the 46 candidates who qualified for the recall ballot. Each candidate's profession is listed beneath their name, and their political party preference is included next to their name.
Per the state's recall rules, Newsom's name does not appear as an option on the ballot's second question. On the list are 24 Republicans, nine Democrats, two Green Party candidates, one Libertarian and 10 candidates who chose to appear on the ballot without an identified party preference.
Voters are also permitted to vote for a write-in candidate, but if they choose to do so, they must pick one of seven names that appears on the California secretary of state's certified list of write-in candidates. That list includes two Democrats, one Republican, one American Independent and three candidates who indicated no party preference.
The second ballot question will come into play only if more than 50 percent of votes cast for the first question are in favor of removing Newsom. If that is the case, the candidate who receives the greatest number of votes will become the new governor. The replacement governor does not need to receive a majority of the total votes cast among the recall candidates—they just need to receive more votes than each of their competitors.
Newsom's campaign has encouraged Democrats to leave the second part of the ballot blank. But every voter is allowed to pick a replacement candidate regardless of how they vote on the ballot's first question.
If Newsom is recalled, the replacement candidate will take over as governor after California Secretary of State Shirley Weber certifies the election results. Weber has 38 days after the election to do so.
Since he is in his first term, Newsom will be able to run for re-election next fall if he defeats the recall. But if Newsom is recalled, his replacement will complete the term Newsom is currently serving and could also run for office again next fall.
A California gubernatorial election will be held in November of 2022 regardless of the outcome of the September 14 recall.