California's Vaccine Rollout Still Patchy Despite Biden's Expansion
The effects of California Governor Gavin Newsom's revamped vaccine delivery system and President Joe Biden's distribution expansion are still waiting to be felt by state officials as some hospital experience major improvements, while other continue to wait on supply.
Last week, Newsom announced that the state would centralize its county systems as a way to speed up a sluggish and patchy vaccine rollout.
At the federal level, the Biden administration has promised to rush additional vaccine doses to states and to purchase 200 million more doses. In the meantime, 10 million doses would be distributed each week for the next three weeks.
Desi Kotis, chief pharmacy executive at the University of California, San Francisco's UCSF Health, told Newsweek that the changes have been most visible in the state's mega sites. California officials have turned Dodger Stadium, Disneyland and other large venues, like UCSF's campus, into mass COVID-19 vaccine sites.
"Take our mega site, which opened up a week ago, as example. We started our first day at 550 vaccinations, and our goal was 500. Today, a week later, we're at 1,000," Kotis said on Friday. "The thought is, it's going to get up to 3,000, 5,000 [a day].
"We would not have been able to reach those goals before," she added.
She said UCSF is opening up its vaccination appointments to Californians over the age of 65 and evaluating other vulnerable patient populations now that it has almost finished vaccinating all of its high-risk health care workers.
But while larger sites are seeing an uptick in supply, smaller clinics are still waiting for a surge in vaccines to come through.
"We don't have supply," Dr. Grace Lee, infectious disease specialist at Stanford Medicine, told Newsweek. "We have the capacity and we just do not have the supply. Our local team is chomping at the bit to get more doses. We have clinics, we have people. Everything's set, but we don't have doses."
Lee is helping to administer vaccine doses at a vaccination site in Santa Clara County. While the center specializes in pediatrics, Lee said they have received an influx of calls from older adults in other counties looking to schedule a vaccine appointment. She hopes that the new third party administrator, Blue Shield, introduced by Newsom, will effectively centralize the state system and allow her to vaccinate those outside her county.
"I do hope that by having a third-party administrator or functionally on the state level, then it doesn't matter. As long as you live in California, you can receive a vaccine," Lee said. "I don't care if you live in Monterey County, Santa Clara, San Mateo, I can just vaccinate you. That's what I want, from the ease perspective of the vaccinator."
The state's health care system has faced supply shortages since the vaccine became available, leading to one of the slowest rollouts across the U.S.
The delays were exacerbated by California's overwhelmed hospitals, where intensive care unit capacity hit zero percent in the state's hardest-hit regions, and the growing number of COVID-19 cases. California is the only state to surpass 3 million infections.
On January 21, California was 19th on a list of states that had administered the greatest doses per 100 people, based on data from Our World in Data. A week later, the state had moved up to 13th on the list.
"California doesn't want to be in the position where it is—at the bottom of the states. This is a way for the governor and for the health officials at CDPH to make sure people are utilizing the vaccine that's allocated for them," Kotis said.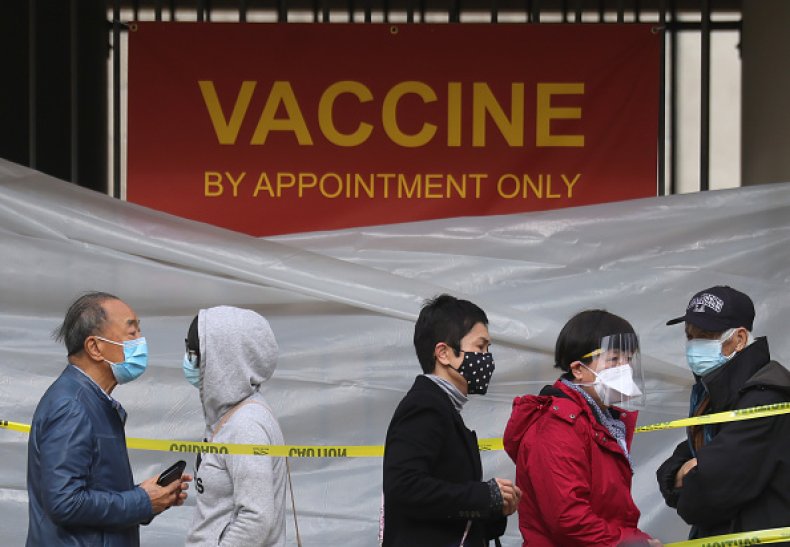 Uneven distribution has left some health officials wondering why certain sites have seen a boom in supply while others have seen little change, even after the new state and federal aid allocations. At best, some hope that the doses are at least being delivered to areas that have been disproportionately affected by COVID-19.
"The reason I can be patient—and we were one of the last counties to receive the vaccine—is because my assumption is that the state was allocating to counties that were hardest hit," Lee said. "That's totally fine, and I 100 percent agree with that. But it's hard. I do feel it would be super helpful to know [where the vaccines are] because, at a local level, we're trying so hard to answer to our patients."
She emphasized that its important accessibility is factored in when allocating supply.
"We are so focused on efficiency that we can't lose sight of equity," she said.
"It is more challenging, requires more resources, more intensive outreach, in order to ensure equitable distribution," she added. "While I don't think we should waste doses in the future, or waste any doses ever, if you don't keep yourself accountable to that, it's easy to go really fast and just watch the disparity grow wider."
As California's health care systems try to navigate the new vaccination plan, the state Department of Public Health is promising to push out more doses and encouraging hospitals, pharmacies and health care clinics to use at least 65 percent of their vaccines to avoid having large inventories of stagnant vaccines.
"It's clear that we'll be receiving more supply, and I'm feeling confident that we can ramp up, especially for those of us that have these mega sites," Kotis said.
Lee echoed that optimism for smaller vaccine sites as well. "I'm hoping that this will start to look different in another week or two," she said. "Right now, our constraint is absolutely not at the capacity. It's literal that we need supply."
Last Thursday, the Federal Emergency Management Agency announced it would help Biden's COVID-19 response by supporting and establishing more federal vaccine sites.
Although it is unclear how many sites will be set up in each state, Kotis said the agency will likely wait to make those designations based on how the virus could surge or decline in various areas—which could once again change where supply will go.
"These things move really, really quickly," she said. "We're constantly having to be nimble and having to pivot, but every day is something new that we need to address and make priority."