California's Wildfire Latest Update: Death Toll, Photos Show State's Deadliest Blaze as Only 'Ash and Bones' Remain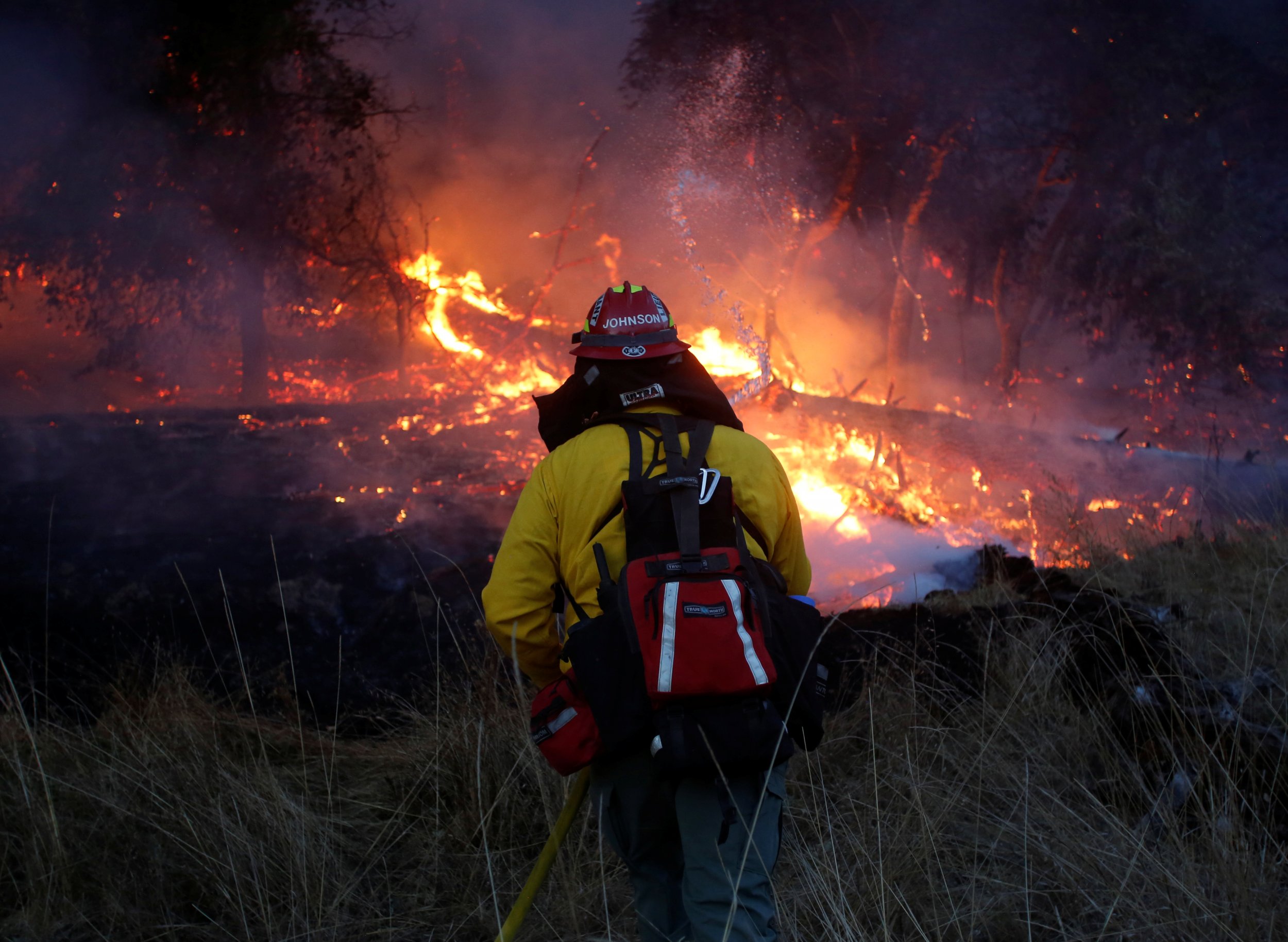 Firefighters have largely contained the wildfires that have swept California for days, but the Golden State is a scorched landscape of devastated towns, flattened homes and hundreds of miles of ash-covered land where 40 people died, 100 were injured and thousands are homeless.
The death count is likely to rise, with Sonoma County Sheriff Rob Giordano saying some victims may never be identified.
"Some of them are merely ashes and bones," Giordano said at a press conference. "We may never get truly confirmative identification on ashes. When you're cremated, you can't get an ID."
About 11,000 firefighters continue to battle the remaining flames and look for survivors.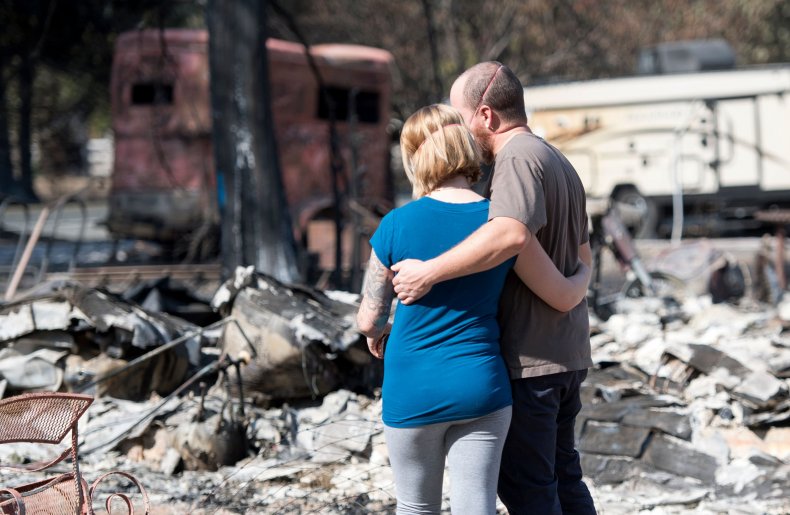 Californians Return to Gutted Homes, Piles of Ash
As portions of the wildfires are contained, evacuation orders are lifted and Californians return home, but some have discovered that only a coating of ash awaits them. Thousands of houses are destroyed, and some families are left homeless, trying to find a place to stay in one of the most expensive areas of the country.
Amid the challenges of rebuilding their lives, citizens will likely face additional problems with California's real estate, like zoning and building regulations and sky-high prices in the market. AccuWeather, a weather forecasting organization, predicted that the economic impact of the fires could exceed $70 billion, placing an unexpected strain on California's budget.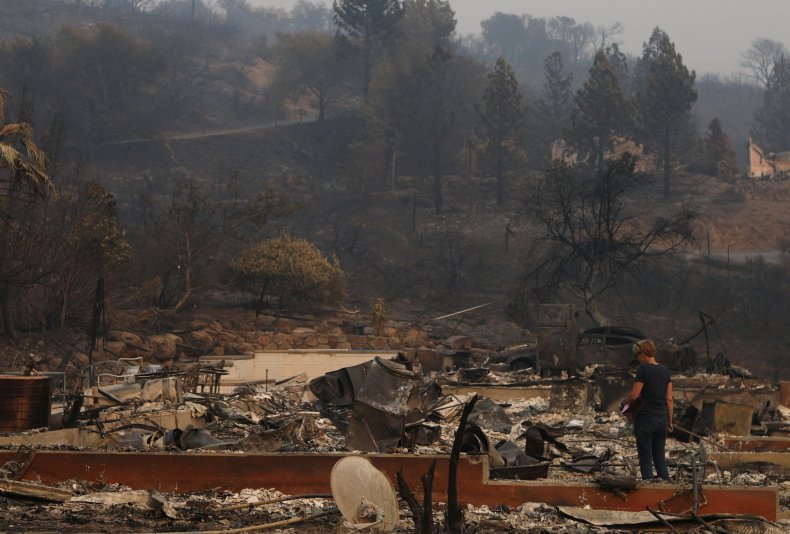 California often experiences its worst wildfires in October, when gusty winds and dry conditions make the state a tinderbox. California averages about 5,400 wildfires each year, with tens of thousands of acres destroyed by the flames, but the simultaneous blazes have proved challenging to fight.
Napa and Sonoma counties have been devastated by the Tubbs fire, which has burned at least 44,000 acres and was 60 percent contained as of Monday. In eastern Napa, the Atlas Peak fire has burned across 51,000 acres and is 65 percent contained. The Redwood Complex fire in Redwood Valley spread across 35,000 acres, with 45 percent containment reported.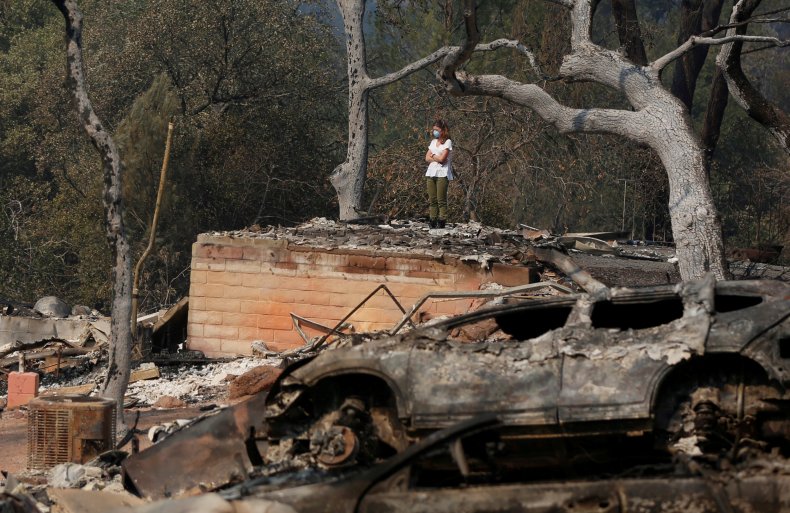 Smoke from the fires spread to San Francisco, about 60 miles south of the wildfires, prompting an advisory in the region. Napa's wine region is expecting to be devastated by the fires, as Newsweek reported.
As of Monday morning, President Donald Trump has not used Twitter, his favored method of communicating with constituents, to address the California wildfires. But the White House said the burning of land was "heartbreaking" and the loss of life is "truly devastating."
Photos From California's Wildfire Destruction