California's Wildfires as Seen Up Close by Firefighters, First Responders and Photojournalists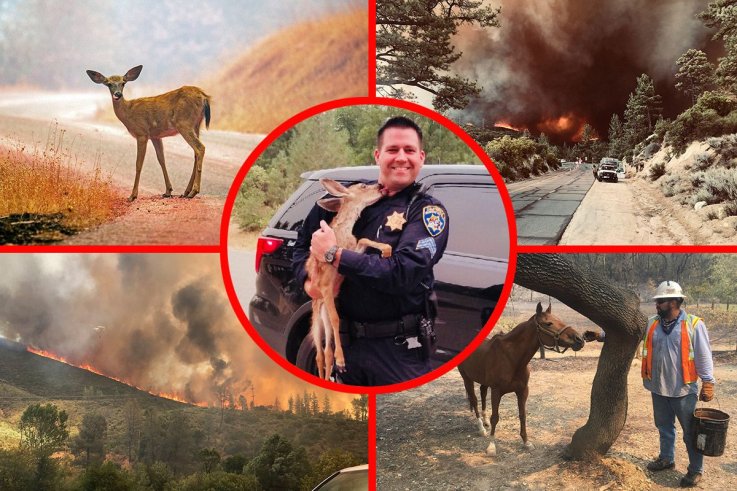 Wildfires have scorched almost 4.3 million acres across the country so far this year, less than last year, but more than the 3.7 million-acre average for the same period over the last decade.
One of the California fires prompted a rare closure of much of Yosemite National Park last week, while another forced mass evacuations from the mountain resort community of Idyllwild, east of Los Angeles.
But the deadliest and most destructive of the 17 major fires blazing in California is the Carr Fire, which has destroyed more than 650 homes and killed six people, including two firefighters. More than 160 fire departments from California and around the country have been deployed to help quell the week-long blaze.
At the height of its fury on Thursday night, the blaze was whipped into a "fire tornado" by gale-force winds that drove flames across the Sacramento River into the western end of Redding, as thousands of residents fled for their lives in a chaotic evacuation.
Haunting photos of the wildfires have been captured not only by photojournalists, but by firefighter units and other first responders called to the scene in an effort to tackle the various blazes.
Twitter accounts run by local fire services and highway patrols have documented their officer's brave efforts, as well as the dizzying scale of the fires.
The Madera Mariposa Merced Unit of California Department of Forestry and Fire Protection (Cal Fire) captured one of their helicopters on the brink of a huge column of smoke and flames as it attempted to provide aerial support to the fire in Ferguson.
San Francisco Highway Patrol posted a heartwarming image of an officer holding a baby deer which the team pulled from the fires.
Meanwhile, photojournalists have also been capturing dramatic images from the scene. In one stunning photo, a burned-out antique car, scarred with heat damage, sits in an arid, copper-colored landscape under yellow skies.
It's uncertain when the firefighter's saga will end. The blaze remained unpredictable, said Chris Anthony, a division chief with Cal Fire.
"Under these conditions that we are seeing right now, it's not going to take much for the fire to have the extreme spread that we saw a couple of days ago," he said. "We are simply not getting a break."
Officials said they were feeling more optimistic on Sunday afternoon and starting to gain ground on the Carr Fire. They pledged to return people to their homes as soon as possible.
—Reuters contributed to this report