'Call of Duty: Black Ops Cold War' Prestige Guide - How to Prestige and What Keys Do
Call of Duty: Black Ops Cold War features a brand-new Prestige system that may be a bit confusing for new players who just started ranking up. Below, we outline the basics of Prestige, including Prestige levels, rewards and what you actually do with Prestige Keys. The system was outlined in an official blog post earlier this month, but we'll break down the facts to their most relevant bits.
The Basics of Prestige in Black Ops Cold War
The source blog post is pretty word-heavy, but here's a concise list with all the details you're looking for.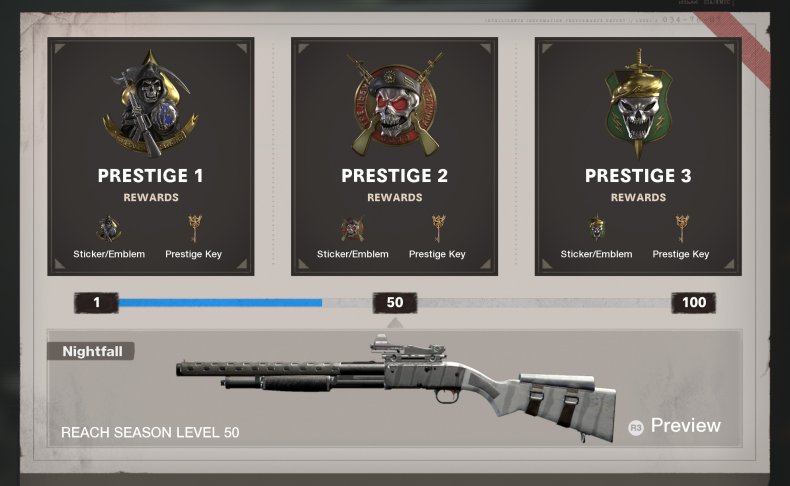 Just like always, players must work through Rank 55 to unlock all the Create-a-Class content and rewards they're entitled to.
After rank 55, you reach Season level 1 with additional rewards for Season level 50, 100, 150 and 200. The only exception is the pre-season period, which has three Prestiges at Season Level 1, Season Level 50 and Season Level 100.
When reaching Prestige, you never lose any Create-a-Class content like you would in the past.
When new seasons start, you don't start back entirely at square one. Instead, your progress begins at your highest previous Prestige. This allows you to reach high Prestiges without necessarily grinding through every season.
After Season Rank 200, you reach Prestige Master status. From here, you can climb all the way to Season Rank 1,000 with rewards every 50 levels. These rewards are usually Tier Skips or Prestige Keys.
Seasonal Rank will also carry over between Call of Duty: Modern Warfare and Call of Duty: Warzone, offering ample opportunities to reach the top ranks.
So what do Prestige Keys do?
If you've already worked hard enough to earn your first Prestige Key during the pre-season, unfortunately that can't be used until Season 1 begins. Every 50 Season Levels, players receive a Prestige Key that you'll soon be able to spend in the Prestige Shop. Prestige Keys allow you to spend keys on classic Prestige icons from previous Call of Duty titles. You can equip these icons if you reach the title of Prestige Master for a given season.
All these facts considered, the Prestige system in Call of Duty: Black Ops Cold War offers tons of grind with far fewer barriers to that grind. Those who want to engage heavily with the Prestige system will never run out of rewards, while those who skip a season or two don't lose much progress toward another Prestige. In theory, the system adopted by Black Ops Cold War should appeal to all players by being dense but not completely prohibitive to the casual fan. Without any major sense of loss, there's always a reason to keep going.
Call of Duty: Black Ops Cold War is available now on PS5, PS4, Xbox Series X|S, Xbox One and PC.
What do you think of the Prestige system in Black Ops Cold War? How will you spend your Prestige Keys? Tell us in the comments section!